October 21, 2023
Reading Time:
4
min
4xDev Review – Key Features, Pros And Cons Revealed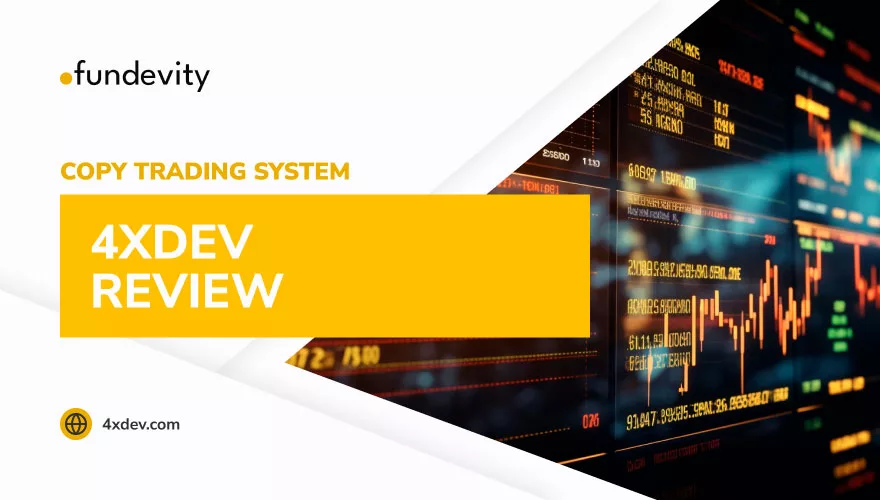 4xDev company is coming from Ontario, Canada and they have been present in the market since 2015. With their attractive offer, they managed to spread all across the world.
Since this firm designs trading tools based on customers' requirements, you need to have a bit of knowledge about trading. This is not the perfect thing for beginners. But there are some tips you can use from this 4xDev review to still trade safely.
| | |
| --- | --- |
| | General information |
| Name: | N/A |
| Regulation status: | No regulation expected |
| Warnings from Financial Regulators: | No official warnings |
| Website link: | 4xdev.com |
| Active since: | 2015 |
| Registered in: | Canada |
| Contact info: | Web form, e-mail, Skype |
| Trading platforms: | N/A |
| The majority of clients are from: | United Kingdom, India, Ukraine, South Africa |
| Customer support: | Yes – Live chat |
| Compensation fund: | No |
Legal Information
Surprisingly, such a developed and transparent company operates without ownership information revealed. As it seems, the company is based in Ontario, Canada. For more than 7 years they have been providing trading tools for customers.
Therefore, it's important to note that for such a service the company is not required to have regulations. However, to use any of their tools, you need to have a trading account. Make sure you have it with a licensed firm. At least regulated by any of the top-tier institutions like FCA, BaFin or ASIC. Also, we recommend you read our Monaxa review to learn what to avoid.
4xDev Features And Costs
Primarily, the company has developed a few apps that can help traders with trading. Mainly, these apps are focusing on improving your trading results. Those products are:

Forex Licenser – Piracy protection

Forex Tester – Backtesting software

Forex Copier – Copy trading tool

Code Protection – Privacy protection

Forex Speed Up – One-click trading
Services
Besides these general products, the company can develop custom tools. The tools could be optimized for a few platforms. Those are:
Meta Trader 4 & 5

Ninja Trader

cTrader

TradingView
All custom and simple projects cost you $300, while more complicated ones are up to $1.000. Once you prepay for the service, the company has 5 business days to complete the project. However, for urgent projects required to be finished in 2 days, there is a 20% higher cost. Most importantly, under special conditions, you have a money-back guarantee.
Payment Methods
One of the best things about this company is that there are almost 40 payment options available. That tells you something about it. Some of those are:
Credit/Debit cards

PayPal

Wire transfer

PoLi

iDEAL

Sofort + 35 more
User Experience with 4xDev
On the positive side, the company has earned quite a lot of positive comments. In fact, all 53 reviews on Trustpilot show us the remarkable service of this firm. It seems their customers are coming from all over the world, but mainly from:

United Kingdom

South Africa

India

Ukraine
But we are interested to hear your opinion as well. Feel free to send us a message or leave a comment below. Also, we recommend you check out our MobaTrade review. There are some bonus tips you could find useful in choosing a brokerage.
Customer Support
Generally, the company doesn't have operating hours. On the positive side, there are numerous contact options, and we find one extremely good. You can reach out to this company via e-mail, live chat and surprisingly, Skype. 
Also, the company seems to be on the Upwork platform. Therefore, booking a meeting with their developers seems quite easy.
Affiliate Program
Another big benefit of this company is its partnership program. Once you start recommending tools to other traders, you can get a fixed 25% commission for every sale! 
However, the total amount will depend on the project costs. Additionally, the company provides you with a statistical system to track your affiliates.
Main Perks and Disadvantages Of 4xDev Tools
In the first place, the company's services seem completely reliable. There are numerous options and full transparency within the offer, except for the ownership details. Generally speaking, a rare company with that many positive experiences.
On the other hand, clients need to be already involved in trading. To be precise, to have experience. In order to make an adequate request for a tool, you need to know what you are looking for. Yet, to gain proper knowledge takes years. After all, you have to test out the software the company develops, which also requires a whole lot of experience. 
Instead, you might as well choose AI tools that can make everything more simplified. You are seeing AI controlling now almost every field. The industry just exploded. Therefore, take advantage of it.
Is It Possible to Make Money By Online Trading?
Regardless of the tools you are using, you must find a suitable broker first. If you are working with a company that will rip you off, all those tools become useless. For that reason, we always recommend looking for Tier 1 regulated investment firms.
But something that every trader is looking for is to have software working for them. In the case of AI Analysis Bot, you get something even better. Right trading signals while you are controlling the money! There are no unexpected losses or discrepancies that you often see with auto-trading systems.
Don't get fooled by those swindlers. Instead, book a free first consultation with our team today! After that, you'll be richer in knowledge about the safe trading environment and benefits of AI Analysis Bot.
FAQ
What Is 4xDev?
4xdev is a software developer for trading tools. The company is based in Canada and has been operating since 2015.
Is 4xDev Regulated?
No. Their services don't require regulations. However, to find out tips on choosing the right broker, contact our experts for detailed guidance.
What Are The Services Of 4xDev?
The company develops trading tools on request. But for all types of traders, a more suitable option is the AI Analysis Bot. Contact us to find out more.