August 07, 2023
Reading Time:
6
min
ActiveMarket.io Review: Finding the Truth Behind this Questionable Broker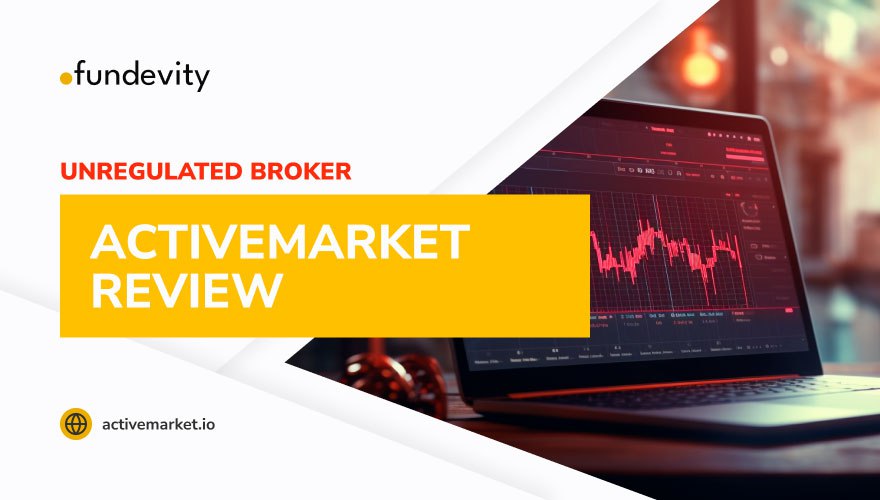 Welcome to our sweeping review of ActiveMarket.io, a forex broker that claims to be reputable and safe. In this ActiveMarket.io review, we will dive deep into the facts to determine if ActiveMarket.io can be trusted or not. 
Your financial safety is paramount. What's more, our goal is to provide you with the necessary information to make the best possible decision. Stay tuned! 
General information
Name:

Activemarket.io

Regulation status:

Unregulated Broker 

Warnings from Financial Regulators:

Finanstilsynet

Website link:

https://www.activemarket.io/

Active since

2019

Registered in

the UK, Denmark, Sweden, and Norway. 

Contact info:

+442076600794, 

Trading platforms:

Web

The majority of clients are from:

Australia

India 

United States 

Philippines

Canada

Customer support:

Email, phone, and contact form

Compensation fund:

No
ActiveMarket.io Legitimacy: A Deceptive Front Uncovered
ActiveMarket.io acts like a well-established broker with its headquarters in the UK. Also, it claims to have additional offices in Denmark, Sweden, and Norway. The company boasts licenses from multiple countries across three continents. This includes the USA, Europe, and Asia. However, our investigation reveals a different story.
Contrary to their claims, ActiveMarket.io operates without a valid Forex license. This truly casts doubt on their credibility. Moreover, the Financial Supervisory Authority of Norway, responsible for overseeing ActiveMarket.io in Norway, has issued a warning. It states that the company is unauthorized and involved in deceptive practices.
Such revelations make it clear that ActiveMarket.io cannot be relied upon for a safe trading experience. To protect your funds, it is best to avoid this fake broker altogether.
False Regulatory Claims
Let's talk about how dangerous it is for a broker to lie about being regulated. The lies about having regulations from respected authorities can be very harmful. The ActiveMarket.io Bitcoin scam claims that their accounts are cleared by licensed and regulated financial institutions in the USA, Europe, and Asia. 
However, they're misleading traders and putting their money at risk. If you take a closer look at their website, you'll find that these claims are nothing but lies. The supposed oversight by respected authorities like the FCA in the UK, SFC and JSDA in Asia, and SEC in the US is simply not true. 
This deception should raise a big red flag and make you think twice before trusting ActiveMarket.io with your money. Stay cautious and always verify a broker's regulatory status to protect yourself from potential financial harm.
Trading Assets: A Lack of Diversification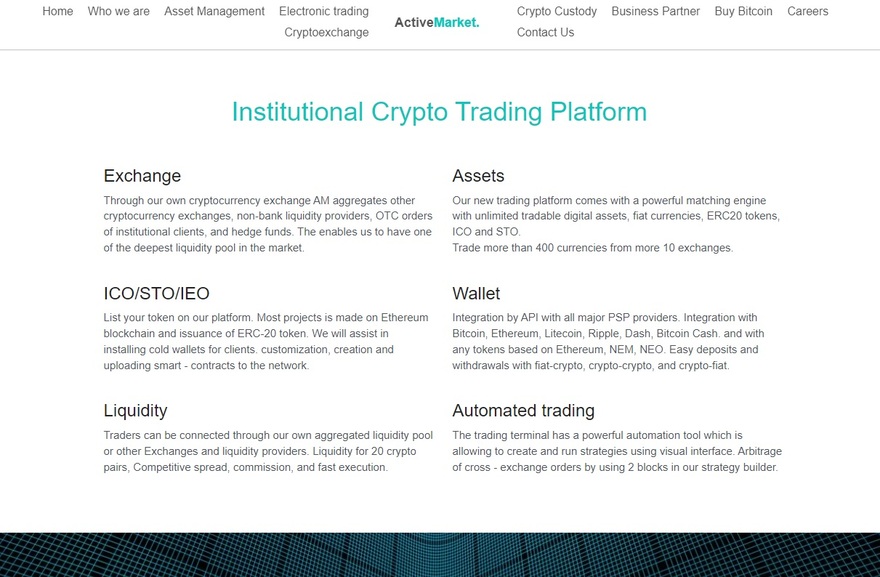 ActiveMarket.io allegedly offers a variety of investment options. These include stocks, Forex, bonds, CFDs, crypto coins, and commodities. Yet, the lack of a valid license and debatable practices make us skeptical about their offerings.
Legitimate brokers prioritize diversification, providing a full array of trading assets to suit different traders' preferences and risk appetites. This diversity allows investors to spread their risks and make wise judgments based on market trends.
If you are looking for a trustworthy broker that offers a vast selection of trading assets, steer clear of unregulated brokers like ActiveMarket.io. Instead, opt for reputable brokers that genuinely prioritize their clients' interests. You can always contact us for a free consultation on this! 
Trading Platforms Available
Unfortunately, our attempts to access the ActiveMarket.io platform were met with delays. This raises many problems about the efficiency of their registration process. Reputable brokers understand the value of providing a seamless and swift onboarding experience to their clients. This enables them to start trading without unnecessary hurdles.
For a secure and steadfast trading environment, it is best to choose brokers that offer industry-standard trading platforms such as MetaTrader 4 (MT4) and MetaTrader 5 (MT5). These platforms are well-known for their reliability, ease of use, and robust features. Moreover, they guarantee a smooth trading experience for traders of all levels.
Note: Be cautious and avoid deceptive brokers like QuantumAI. Instead, make the wise choice of selecting reputable brokers who genuinely prioritize your safety.
General Trading Environment: Lacking Transparency
Specific details regarding the leverage provided by ActiveMarket.io remains inaccessible. So, why would anyone believe them? Notably, this raises doubts about their transparency and commitment to client education. 
Besides, their claims of automated trading and liquidity might seem appealing, but their lack of credibility diminishes the value of such offerings.
Legit brokers prioritize transparency, providing clear information about leverage, risks, and fees to help traders make smart decisions. A diverse range of asset classes is another hallmark of a reliable broker.
Asset Management Offerings Revealed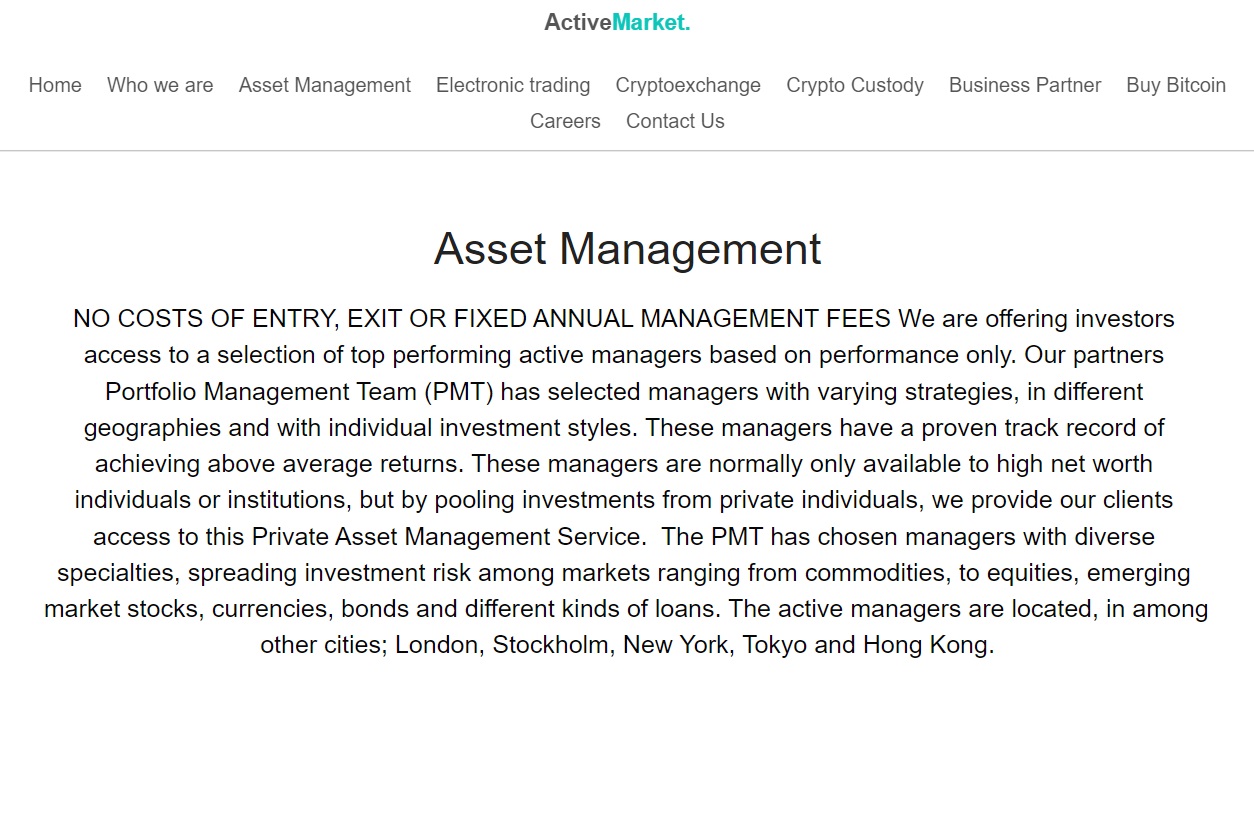 Let's take a closer look at ActiveMarket.io's Asset Management service. They claim to offer investors access to top-performing active managers without any entry, exit, or annual fees. Sounds appealing, right? Well, before you jump in, let's break down the reality behind their enticing promises.
ActiveMarket.io boasts a Portfolio Management Team (PMT) that supposedly handpicks managers. These allegedly have impressive track records and diverse strategies. They claim to provide access to these exclusive managers by pooling investments from private individuals.
Yet, we need to proceed with caution. We know that the ActiveMarket.io regulation is non-existent. This raises big-time concerns about their credibility. Similarly, their promise of zero management fees seems too good to be true and could signal potential risks.
While they mention diversification across various markets, it's essential to verify the truth of these claims.
Lastly, the presence of active managers in major cities like London, Stockholm, New York, Tokyo, and Hong Kong might sound impressive. Yet, we must conduct thorough research before making any decisions. To protect your investments, do your due diligence, seek advice from reliable sources, and be mindful. Your financial security is important, so steer clear of deceptive practices.
Note: Ensure you steer clear of fraudulent brokers like QuoMarkets. Instead, choose reputable brokers that genuinely prioritize your interests.
Earning & Withdrawal Options
The lack of clarity about the ActiveMarket.io trading account options and minimum deposit requirements is a big concern. Combined with their history of questionable practices, investing with this broker poses a substantial risk.
In contrast, reputable brokers offer various account types with clear deposit conditions. They also facilitate multiple payment options. This truly ensures convenient and secure transactions for clients.
For a hassle-free and safe trading experience, choose brokers with transparent payment policies. These offer multiple payment options for better flexibility. This goes without saying! 
Trader Reviews: A Fishy Lack of Feedback
One red flag is the obvious absence of reviews for ActiveMarket.io on trustworthy platforms like Trustpilot. Legitimate brokers usually have a wealth of positive reviews, proving their reliability and devotion to client satisfaction.
The absence of genuine trader feedback is highly suspicious. Moreover, it truly raises doubts about ActiveMarket.io's credibility. A lack of positive reviews from satisfied traders should prompt you to think twice before considering this broker.
Beware of Dubious Brokers: Protect Yourself
Fake brokers, like the activemarket.io trading scam, often employ various tactics to entice traders. To protect yourself from scams, consider the next measures:
Research Thoroughly.

Conduct in-depth investigations into brokers' backgrounds and ensure they comply with regulatory norms.

Check Online Reviews.

Utilize Trustpilot reviews and other user feedback to gain useful insights into a broker's standing and more.

Avoid Unrealistic Promises.

Exercise caution when brokers make promises of utopian profits or bonuses that seem too good to be true.

Choose Regulated Brokers.

Prioritize brokers regulated by reputable authorities. These ensure an extra layer of security for your investments.

Seek Expert Consultation.

If you need assistance in this process, feel free to reach out to us for a free consultation!
Safeguard your financial well-being by making wise decisions and staying cautious against deceitful brokers.
Long Story Short – ActiveMarket.io 
ActiveMarket.io scam presents itself as a reputable broker. But, our investigation reveals a different reality. Their lack of valid licenses, absence of transparency, and dubious methods make them an unreliable choice for FX trading.
To ensure a safe trading experience, it is imperative to choose a regulated broker. It has to be the one with a proven track record of client satisfaction and positive reviews. Your financial well-being is at stake, so don't settle for anything less than the best.
Remember, stay away from fake brokers like ActiveMarket.io and Quantum Trade. Moreover, opt for reputable brokers that prioritize your interests and protect your investments.
Don't hesitate to contact us for a free consultation! Our team is here to help you!
FAQs
What Is ActiveMarket?
ActiveMarket is a broker claiming to be reputable. However, there are questionable practices that make it an unreliable choice for trading.
Is ActiveMarket Regulated?
No, ActiveMarket operates without a valid FX license, casting doubt on its credibility and safety.
Is It Safe To Trade With ActiveMarket?
Based on our findings, trading with ActiveMarket is risky due to their lack of regulatory oversight and fake claims.