July 01, 2023
Reading Time:
5
min
Advanced Markets Review: An In-Depth Investigation of Their Revolutionary Platform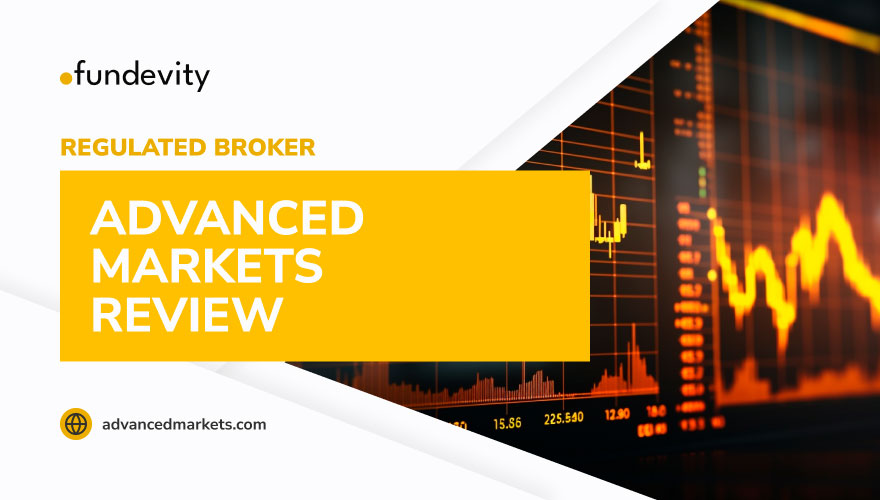 Advanced Markets is a reputable and low-risk trading platform. With a range of 3 trading accounts, they deliver flexible opportunities for all clients. 
Leveraging up to 1:100, Advanced Markets empowers users with enhanced trading abilities, while their competitive spread starts as low as 1.2 pips. Let's dive into more details about this company licensed by ASIC and FCA. Keep reading our Advanced Markets review. 
Safety and Regulation: Advanced Markets' Commitment to Secure Trading
When it comes to finding a reliable broker for your unique needs, Advanced Markets stands out as a trusted option. Established in 2006, Advanced Markets is a Futures Commission Merchant (FCM) and Foreign Exchange Dealer (FDM) registered with the National Futures Association (NFA). 
As a regulated broker, Advanced Markets prioritizes the safety of its client's funds. The company is licensed as an Australian Financial Services Licensee under the Corporations Act 2001. This ensures compliance and protection for traders. What's more, Advanced Markets has implemented a multilevel server system with advanced encryption software.
Advanced Markets FCA regulation means a lot! There is no doubt that this broker is reliable. 
| | |
| --- | --- |
| | General information |
| Name: | Advanced Markets (Bermuda) Ltd |
| Regulation status: | Regulated Broker |
| Warnings from Financial Regulators: | No official warnings |
| Website link: | https://advancedmarkets.com/bermuda/individual/ |
| Active since: | 2006 |
| Registered in: | Charlotte, North Carolina, USA |
| Contact info: | Data is hidden |
| Trading platforms: | MT4 and MT5 |
| Majority of clients are from: | the United States, India, the United Kingdom, and the United Arab Emirates |
| Customer support: | Live chat and Telegram |
| Compensation fund: | Yes |
Exploring Advanced Markets' Wide Array of Financial Assets
Advanced Markets excels in providing a diverse range of financial instruments to suit various trading preferences. The broker's offerings extend beyond standard currency trading. This allows clients to access the 24-hour currency market. It also allows them to engage in Forex trading with the advantage of floating exchange rates. 
But that's not all—Advanced Markets takes it further by offering investment opportunities in commodities, including coffee, cocoa, and natural gas. This provides traders with avenues for diversified portfolios. Moreover, the broker caters to those interested in equity or stock indices, enabling participation in these markets. 
And for those seeking alternative investment avenues, Advanced Markets supports precious metals and energy products. With these instruments on hand, traders can find ample opportunities to maximize their trading endeavors.
Account Types: Tailored Options for Everyone
Advanced Markets includes three distinct account types. These include:
Advanced Plus. This account type is designed for individual traders. It has competitive spreads, access to multiple liquidity providers, and the choice of using either the MetaTrader 4 (MT4) or MetaTrader 5 (MT5) platforms.

Advanced Prime. This account is tailored for professional traders and institutions. It provides deeper liquidity and more advanced trading features. Traders can benefit from advanced order types, FIX API connectivity, and custom liquidity.

Advanced Infinite. Geared towards high-net-worth individuals and institutional clients. This account offers premium features, including tailored liquidity solutions, customizable credit terms, and more. 
Available Trading Platforms
Advanced Markets supports two popular and widely recognized trading venues:
MetaTrader 5 (MT5):

This platform includes an all-inclusive set of trading tools, advanced charting capabilities, and a UI-friendly interface. Traders can access various financial instruments and employ automated trading strategies with expert advisors.

MetaTrader 4 (MT4):

Known for its stability and simplicity, MT4 is a favored choice among traders. It provides access to advanced charting tools and the ability to automate trading strategies.
Deposit and Withdrawal with Advanced Markets LLC
Advanced Markets LLC broker prioritizes depositing and withdrawing funds securely. The broker delivers a streamlined process through bank wire transfers, cards, and BTC. To initiate a deposit, clients need a valid checking or savings account number. Advanced Markets LLC ensures the protection of your funds through secure servers and advanced encryption software.
By focusing on secure transactions, Advanced Markets LLC creates a reliable environment for clients. The broker's commitment to strict security protocols establishes a solid foundation for seamless experiences.
Also, Advanced Markets LLC recognizes investments' significance. It actively seeks opportunities to enhance its offerings. 
Experience the simplified deposit and withdrawal processes offered by Advanced Markets LLC. With their secure platform, you can embark on your trading journey with peace of mind. With a focus on convenience, security, and growth, Advanced Markets LLC stands as a reliable partner.
Note: Advanced Markets operates in several countries. This includes the United States, India, the United Kingdom, and the United Arab Emirates.
Does This Company Offer Bonuses?
Advanced Markets, just like Rallyville Markets, caters to corporate and wholesale clients. It prioritizes their unique needs. Unlike retail traders, they do not offer bonuses or promotional schemes. Advanced Markets delivers tailored liquidity solutions and competitive conditions. They focus on creating a reliable and transparent trading environment for their target clientele. 
By specializing in serving corporate and wholesale clients, Advanced Markets ensures that its services align with the specific requirements of these market participants. This approach enables them to provide a higher level of customization and support. This allows their clients to trade with confidence and maximize their trading opportunities.
Note: When considering forex brokers, it is wise to exercise caution with offshore entities like ST Global Markets.
Hassle-Free Trading with Advanced Markets: Exceptional Customer Support
Advanced Markets FX broker prioritizes excellent customer support to ensure hassle-free trading experiences. While the available methods of communication may be limited, traders have the option to contact the broker's support team through chat and Telegram. This allows direct and personalized assistance, catering to individual needs. 
Moreover, Advanced Markets forex broker acknowledges the importance of prompt responses. It offers a live chat function on its site. Through this feature, clients can conveniently address any urgent inquiries they may have. As a result, this ensures efficient communication with this trusted name in the forex industry.
Advanced Markets and the Power of Customer Reviews
Client feedback and reviews play an essential role in assessing the reputation and performance of a broker. 
Trustpilot reviews for Advanced Markets are unavailable. Yet, it is vital to recognize that the absence of thoughts on this platform does not diminish the broker's credibility. Customer reviews are important as they offer insights into a broker's reputation, support, and performance. 
Exploring other reliable sources, such as industry forums and reviews, is always good. Traders can still evaluate a broker based on its commitment to effective support and regulatory compliance.
Note: Please be aware that Advanced Markets may not have regulations in your particular legal jurisdiction. It is essential to prioritize compliance and protect your money. Feel free to contact us for a free consultation if you seek trustworthy guidance.
Verdict: Advanced Markets' Offerings
In conclusion, Advanced Markets, just like CPT Markets, appears as a highly reputable FX broker. It includes a range of trading instruments and account types. With its competitive spreads, amazing features, and loyal support, this firm delivers a safe environment for trading. 
The broker may have certain limitations, such as the absence of bonuses and a limited selection of payment methods. Still, its commitment to compliance and tailored solutions make it a solid option for clients seeking professional-grade services.
FAQs
Does Advanced Markets accept US clients?
Yes, Advanced Markets accepts clients from the United States.
How many instruments can I trade with Advanced Markets?
There are numerous trading instruments, including forex, commodities, indices, and precious metals.
Does Advanced Markets have a demo account?
Yes, Advanced Markets provides a demo account for traders to practice and familiarize themselves with the platform.
What is the minimum deposit for Advanced Markets?
The minimum deposit requirement for Advanced Markets is $100.