May 10, 2023
Reading Time:
4
min
Aiko Markets Review: Can You Trust Them with Your Investments?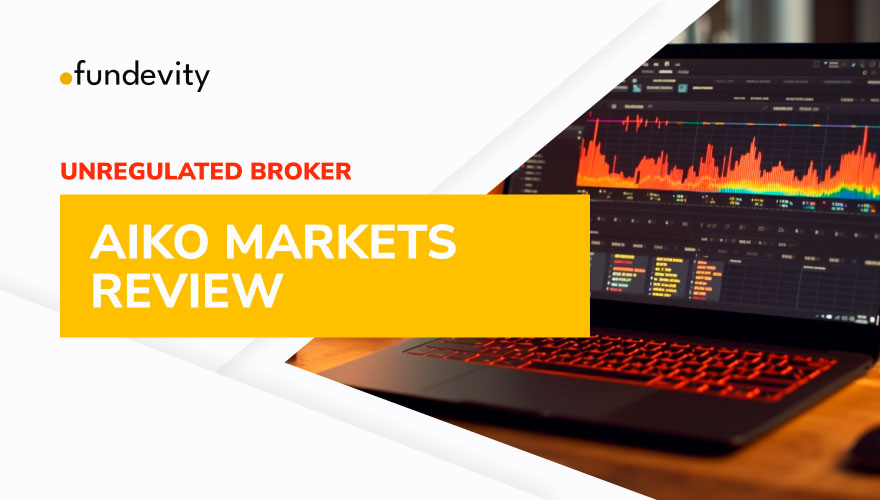 Aiko Markets seems like a professional. Yet, it would be a fallacy to assume that this entity is a reputable brokerage. The reasons to think so are many. The first reason is that it operates offshore without regulation. Secondly, its trading services present high levels of risk. Another reason is that it hides information about its imposed charges. 
In light of these factors, we cannot recommend Aiko Markets. We will elaborate on our rationale in the following Aiko Markets review.
| | |
| --- | --- |
| Headquarters | St. Vincent and the Grenadines |
| Regulation | No Regulation |
| Leverage | 1:500 |
| Minimum Deposit | $10 |
| Review Rating | 1/5 |
| Broker Type | Forex and CFD Broker |
| Platforms | MT4 |
| Spread | 2 pips |
Regulation and Fund Security of Aiko Markets
Aiko Markets is a brand owned by Aiko International LTD, a company registered in St. Vincent and the Grenadines. Although we found evidence of its legal existence, we cannot recommend it as a trustworthy broker. The problem is that brokers registered solely with SVG are not regulated and monitored. That means they're free to do whatever they want. It's like giving money to a stranger who can run with it, no questions asked.
Additionally, money transfers to offshore companies can be risky because they're hard to track. If you get scammed, you'll have almost no way of recovering your money. Avoid unregulated offshore brokers like Aiko Markets. Instead, look for companies regulated by CySEC (Cyprus) and FCA (Britain). CySEC and FCA brokers have deposit insurance funds that cover client losses in broker insolvency.
In conclusion, never trust offshore brokers like Aiko Markets, and Roisea with your money. Choose brokers with a proper license to ensure your fund safety.
Trading Platforms
Aiko Markets boasts excellent trading software, one of the finest in the industry. The MetaTrader 4 platform, known for its advanced features and ease of use, makes it a preferred choice for many traders. Yet, the lack of regulation, in this case, negates all the positive aspects of the broker.
While trading with MT brokers is a sound choice, we advise against dealing with fake brokers who support it. We give you two main reasons:
Lack of regulation

Suspected fraudulent activities
In conclusion, never trust offshore brokers like Aiko Markets or Investous with your money. We urge you to seek a better option. Choose brokers with a proper license to ensure the safety of your money.
Account Types Offered
Aiko Markets provides three live account options: Scalp, Elite, and True ECN. Here is a summary of each:
Scalp – offers leverage of up to 1:500, with trading limited to FX, gold, and silver.

Elite – requires a minimum deposit of $25,000, has a spread starting at 2 pips, with a $10 commission.

True ECN – has a spread starting from 2.5 pips, with a $7 commission.
Unlike the Elite account, there are no minimum deposit requirements for the Scalp and True ECN accounts. This lack of minimum deposit specifications for two of the account types is more than suspicious.
Deposit and Withdrawal Methods
Here is information from their "Terms and Conditions" regarding deposit and withdrawal. Let's take a look: 
Aiko International LTD does not accept cash or equivalents.

Transactions between the customer and Aiko International LTD will be via wire, ACH, or other verified methods.

Aiko International LTD will only perform transactions between the customer's account and the one they own.

Withdrawal options may be limited to prevent unauthorized activity.

Customers can withdraw funds via the portal and expect a processing time of 2-5 business days.

Withdrawals must be made to the same account used for deposits.

Additional information and documents may be required for withdrawals.

Contact customer support for assistance.
How Does the Scam Work?
Forex scams are a nightmare, and unfortunately, they are prevalent in the industry. Scammers create fake websites and call centers, also known as boiler rooms, to deceive traders. They use social media, Discord, Telegram, and misleading ads to reach out to unsuspecting victims. Some even purchase personal information from hackers to cheat.
Once they've gained your trust, they'll offer you quick profits, guaranteed returns, and bonuses that seem too good to be true. And sadly, they are. It's after you've made your first deposit that the real problems begin. Scammers will entice you to deposit more money, promising even greater gains. But when you try to withdraw your profits, you'll be met with obstacles and excuses.
The scammers will claim that you need to pay taxes upfront before they can release your earnings. But in reality, they have no intention of giving you your money back. This is when you realize that you've been scammed, and it's a terrible feeling.
It's essential to be vigilant and cautious when choosing a forex broker. Always do your research and ensure that the broker is reputable and regulated. Don't fall for promises of guaranteed profits and bonuses. Remember, if it seems too good to be true, it probably is. Stay safe and safeguard your hard-earned money.
Aiko Markets
Summary
Aiko Markets, an offshore brokerage, may appear professional at first glance. However, keep in mind that it is not recommended as a trustworthy broker. Lack of regulation, high-risk trading services, and hidden charges are among the reasons. Brokers who are registered in St. Vincent and the Grenadines, where Aiko Markets is registered, are not regulated or monitored. 
The deposit requirement at Aiko Markets is $10, and they offer a demo account. Also, Aiko Markets offers the MetaTrader 4 platform. That is an excellent platform, but the lack of regulation and suspected fraudulent activities negate its benefits.
FAQs 
Is Aiko Markets broker regulated?
No, this is just another unregulated offshore broker.
How much is the minimum deposit at Aiko Markets?
The lowest required deposit is 10$. This is relatively low.
Do Aiko Markets offer a demo account?
Yes, they offer a demo account. This is one of the good signs.