November 21, 2023
Reading Time:
4
min
Aksel Invest Review: Legitimate Broker or Potential Scam?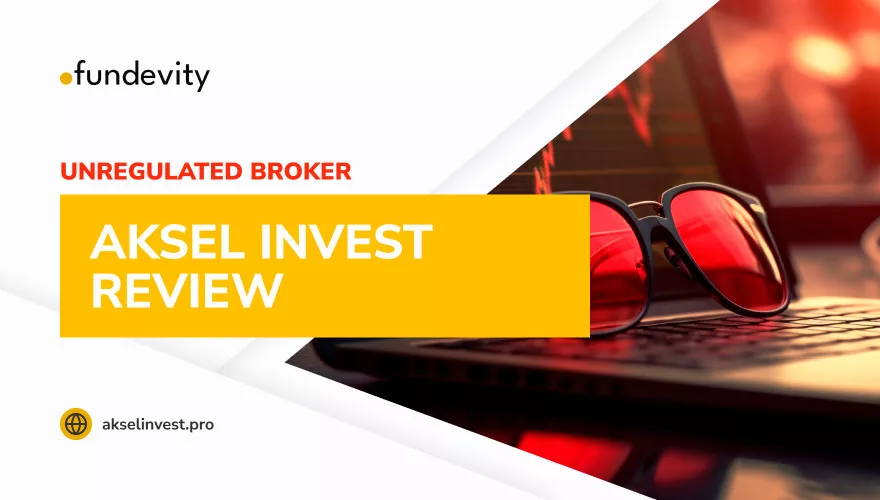 Are you considering akselinvest.pro for your trading ventures? Think twice. AkselInvest's operations are shady. This company clearly lacks regulatory oversight, raising questions about its credibility. In this Aksel Invest review, we'll dive into key aspects that make this broker a questionable choice. Read on for more clever facts! 
| | |
| --- | --- |
| | General information |
| Name | Aksel Invest |
| Type of company | Broker |
| Regulation status | Unregulated |
| Warnings from Financial Regulators | AMF and CBR |
| Website link | https://akselinvest.pro/ |
| Active since | 2023 |
| Registered in | Poland |
| Contact info | [email protected], [email protected] |
| Trading platforms | Web-based |
| Majority of clients are from | Poland, Romania, Spain, France, Ukraine |
| Customer support | Contact form and email |
| Compensation fund | No |
Safety and Regulation: What's the Deal?
AkselInvest's lack of transparency on registration and regulation is alarming. We will explain why! Our investigation found a hint of Poland in their Terms and Conditions, but the Komisja Nadzoru Finansowego (KNF) says otherwise. 
This company is not regulated in Poland. The Autorité des Marchés Financiers (AMF) in France and The Central Bank of the Russian Federation warned against it, citing no authorization. The bottom line is that AkselInvest is risky. So, it's best to avoid this bogus trading company. 
Why Does Regulation Matter?
When choosing a forex broker, don't overlook the crucial factor of regulation. This is a seatbelt for your investments. Reputable regulators like the FCA, ASIC, and CySEC ensure brokers stick to strict standards, protecting your funds.
These regulations exist to maintain order and integrity. So, before diving into the forex market, make sure your chosen broker plays by the rules. Unregulated brokers often point to big scams after all. 
Trading Software
The web-based trading software here reflects its fishy reputation. This software is not reliable at all and indeed corresponds to the broker's questionable practices. 
Choosing brokers equipped with the MetaTrader platform might be a wiser move. MetaTrader stands as a globally acknowledged, stable, and reputable platform. 
MT4 and MT5 are excellent platforms for a few key reasons. They're easy to use, making them great for both new and experienced traders. The charts and tools they offer give you a clear picture of all market trends! What's outstanding is that these platforms support automated trading. 
So, you can use expert advisors and many different strategies. In addition to that, they're super reliable and fast when it comes to making trades. And we all know this is crucial in the fast-paced world of forex! 
Another bonus is that MetaTrader platforms are backed by trusted regulators. So, if you want a straightforward and secure trading feature, MT4 and MT5 are solid choices.
Tip: Are you interested in Switch Markets trading company? With this firm, you may trade forex, crypto, commodities, indices, and CFD shares on the MT4 platform. The broker doesn't charge fees, and the spreads start at 0.0 pip.
General Trading Features
The Aksel Invest scam claims to offer a basket of solid features. They flaunt over 300 products in their toolkit, providing users with options aplenty. Leverage is thrown into the mix, with promises of up to 1:200 to boost trade volume. 
Also, speed is a highlight, emphasizing ultra-fast trade execution for a comfortable experience. Still, we don't believe them, as they don't even offer the MT4 platform.
They praise minimal commissions and tight spreads as well. All in all, given the broker's doubtful reputation, these claims need a closer, skeptical look.
Account Types and Prices 
Aksel Invest broker offers various accounts. Let's take a look at them below! 
Bronze: $250

Tight spreads

Limited assets

Order sizes: 0.01 to 15 lots

Support, signals, learning materials

Silver: $5,000

Tight spreads

Limited assets

Order sizes: 0.01 to 20 lots

Support, signals, learning materials

Gold: $10,000

Tight spreads

Limited assets

Order sizes: 0.1 to 25 lots

Support, signals, learning materials

Platinum: $25,000

Tight spreads

All assets

Order sizes: 0.1 to 30 lots

Personal analyst, signals, advanced training

Diamond: $100,000

Tight spreads

All assets

Order sizes: 0.1 to 35 lots

Personal analyst, signals, advanced training, comprehensive guide
Payment Methods
This business offers a narrow choice: MasterCard, Visa, bank transfer, and Piastrix. Solid? Not quite. There's no PayPal, crypto, Paysend, Skrill, or other reliable platforms. Notably, this raises more reliability questions. 
Caution is advised again, so always do your research first! Their payment options lack security and diversity.
Trading Instruments
This shady FX company talks about a range of trading instruments. Let's take a closer look at those: 
However, keep in mind the broker's questionable reputation. Know that the information provided may not align with the actual trading experience.
Client Reviews from Trustpilot
Now, what is there to know about the reviews from other traders? Trustpilot reveals a less-than-stellar average rating of 3.2 stars. We must say that limited insights into other traders' experiences heighten our concerns.
Opting for tools and brokers with a more solid 4.5-star rating or higher becomes a must. This guarantees a more secure and trustworthy trading endeavor for all traders.
Note: Is AIMSCAP legit? This company talks about affiliation with many financial authorities. This includes the Securities and Exchange Regulator of Cambodia and the Labuan Offshore Financial Services Authority of Malaysia. Yet, a simple review reveals these claims are baseless. 
Scam Broker Tactics
Staying savvy in trading means keeping an eye out for those shady broker moves. We are talking about the ones that promise sky-high returns, flood you with aggressive marketing, and throw hurdles in your withdrawal path.
It's all about choosing brokers who play by the rules, follow strict regulations, and believe in transparent practices. This way, we build a protective wall against falling for these tricks. Being in the know and being cautious helps traders sidestep the risks posed by these less-than-honest brokers. After all, it's our money on the line, and a little vigilance goes a long way.
Bonus – Earning Money Trading
Venturing into the domain of FX trading for profit? Explore our free consultations and expert advice on reputable platforms, avoiding scam firms. Our AI Analysis Bot offers a reliable companion for stress-free research. 
It provides valuable insights for the best trading decisions. Try it free for 20 days, exploring detailed FX and stock analysis reports monthly to effortlessly boost your profitability.
Final Words
As you know, exploring financial markets requires cautious decision-making. We can only conclude that this company only looks solid and legitimate. Still, things change when you dig a little deeper. AkselInvest's offerings are shady, and you must be careful at all times! 
That is why exploring alternatives, such as our AI Analysis Bot, can provide a more secure and better trading experience. Keep it simple and stay educated!
FAQs
What is Aksel Invest?
This is a shady broker that is not worth your time.
Is Aksel Invest a Legitimate Broker?
No. This trading company lacks regulation.
Is It Better to Invest With a Broker or a Prop Firm?
Prop firms are often higher risk than traditional brokers and may not have the same regulatory protections.