February 16, 2023
Reading Time:
5
min
Alfabtc Review: Don't Risk Trading With Alfabtc.Com?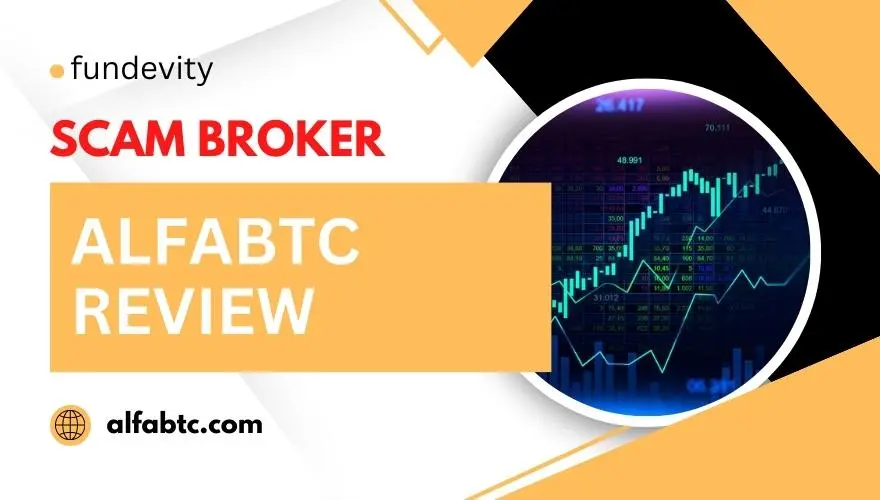 Reading this Alfabtc review is a must for everyone that's showing interest in the Forex market. We have encountered some shady-looking broker companies, but this trader brought our suspicion to a whole new level. Things like misleading websites, and inconsistent information are always a first sign, which was, in this case, reinforced by a lot of complaints and negative reviews from Alfabtc users.
One of the things we always advise our readers is to go with the trader companies that have years of track record on the market. That way you are minimizing the possibility of being the next cyber fraud victim. Online investment scams are the most common thing, and you should be aware of that fact.
Keep reading throughout this article to find out what to pay attention to while choosing your broker, and how to keep your funds protected.
| | |
| --- | --- |
| Company | Alfabtc |
| Website | https://www.alfabtc.com/ |
| Address | 10 Newfoundland Place, London E14 4BH, United Kingdom |
| Email | [email protected] |
| Phone | +442037723257, +442037726993 |
| Minimum Deposit | 10000€ |
| Leverage | 1:100 |
| Bonuses | Welcome bonus |
| Regulation | No regulation |
| Warning | N/A |
Is Broker Alfabtc Reliable? Safety and Regulation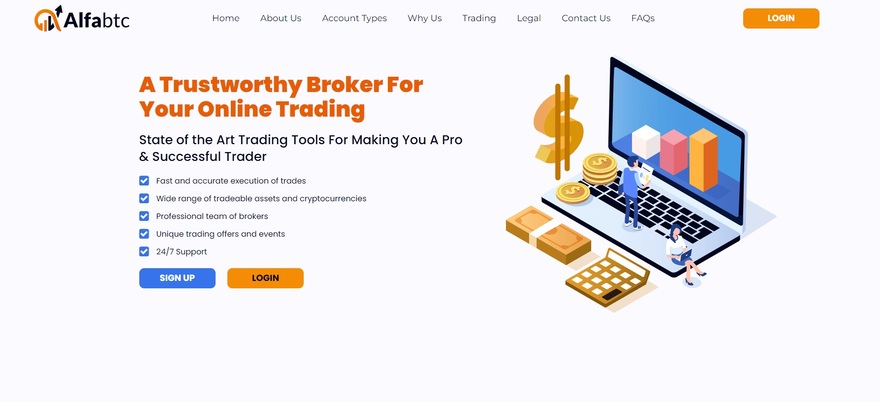 Alfabtc is a UK-based company, or at least that's what they are claiming. Nowadays, scam brokers love to use the UK as a fictional headquarters. But, we didn't want to make hasty decisions, so we researched the Financial Authority register. Their name did not come across, which makes them an unlicensed broker. This is clear evidence that this is yet another financial fraud.
Also, they have a section on their website called "Affiliates and Regulations". They claim to be a functional consumer trading branch of a three-way conglomerate of some of the most respected and recognized corporate crypto trading firms on the planet. This conglomerate consists of Agenta Investment Management AB, Cryptopay Limited, and ASSET MANAGEMENT L.P.
Alfabtc also claims that in this capacity it provides customers with "protection by three different financial regulatory commissions, namely Finansinspektionen – Sweden, Financial Conduct Authority – UK, and Canadian Securities Administrators – Canada".
The problem is, there is not a single evidence of the connection between Alfabtc and these companies, nor the existence of a "tripartite conglomerate" between these companies. If these allegations were true, there would be a track in the licenses of these companies. But, that's not the case.
Also, the official regulator for Canada is the Regulatory Organization of Canada (IIROC). There is no such entity as "Canadian Securities Administrators".
We have noted in the beginning that these inconsistencies are common for fraudsters, like Alfabtc.
If you somehow do decide to go with this broker, we have to tell you that your money can disappear overnight. And not because of your decisions on the market, but due to their scam. Since they aren't unregulated you can not hold them accountable. With this and all the other problematic things about them, it's almost certain that they are performing an investment scam.
Overview of the Broker's Trading Platform
One of the most important things for choosing a broker company is its trading platform. Alfabtc claims to be using a web-based trading platform. The problem with Alfabtc is that they do not say a lot about this platform, and you can't access it. With no real information about the platform on the website, we have to assume that they don't have any.
This means your money is not invested and you will never see the promised returns. When you ask to withdraw some of your funds, you will be surprised by hard-to-meet minimum trading volume requirements and hidden fees that amount to tens of percentages of your funds. Also, they can always change these conditions, since no financial regulator is supervising them.
Scammers hide behind fake names and offshore companies that are uncontrolled and unregulated, so it will be impossible to hold them accountable.
When it comes to reliable trading platforms, there are industry standards called MetaTrader 4 and MetaTrader5. Those platforms you want to be using. But pay attention to if trader companies provide access to them, or they just say they are.
Trustworthy companies we recommend do use these industry standards and do everything by the rules. No shady business, and no financial swindlers. It's the safe way to go. Keep reading this Alfabtc review to find out how they are.
Available Alfabtc Funding Methods
Customers of Alfabtc can invest in:
Forex
Commodities
Indices
Shares
Cryptocurrencies
As you can tell, there are several funding methods for Alfabtc users. However, more options don't mean more rights for the customers. With all the things we have mentioned so far, this is an as shady broker as it can get. We highly advise you not to go with this intermediary. Scammers tend to attract customers with the story of providing more possibilities for their users.
If you got scammed by this phony trader, do not feel embarrassed. But next time go with the licensed and supervised intermediary.
How Does the Scam Unfold?
Financial scams, like this one, are always sophisticated and well-organized. Alfabtc has experienced personnel that has been frauding people for a long time. Once you leave your contact number, expect to be called in a short period, by one of their salespersons. They will try to convince you that there is an easy way of getting rich. A shortcut.
People have always been trying to become millionaires overnight, and that makes scammers' lives easier. They will sweet talk you into investing funds with them. And after you deposit a certain amount of money, they will encourage you to invest more, and more money. But as we explained earlier, you are not making any profits, because all the money ends up in the fraudster's bank accounts.
Alfabtc Summary
Alfabtc is allegedly a UK-based broker company, which the FCA doesn't confirm. They are unauthorized for the services they are offering, and they are not being supervised by the financial regulatory entities. They claim to be a part of a "tripartite conglomerate", with not a single piece of evidence backing that story up. You can not access their trading platform, which makes us presume that there is none.
With that being said, we assure you that your money is not being invested. This is a scam trader company, and you need to get far away from it. Whatever you do, do not invest your money in them.
FAQs About Alfabtc Broker
Alfabtc is it regulated?
Alfabtc is an unregulated and unsupervised broker company. That means your funds can disappear at any time, and you can't hold them accountable
Is Alfabtc a Safe Place for My Money?
Alfabtc is an unsafe place to invest your money. Instead, you should go with some of the trustworthy companies we have listed.
Is a Demo Account Available on Alfabtc?
Alfabtc does not provide demo accounts, but legitimate brokers often do that. You should pick one of our recommended trader companies.