October 21, 2023
Reading Time:
4
min
Algoriz Review – Advanced Features And Limitations To Pros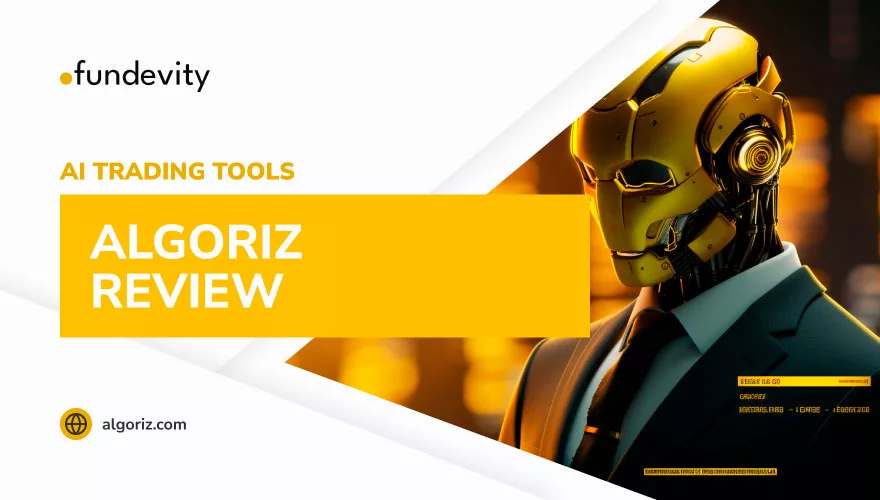 Algoriz company specializes in developing AI tools that help traders automate strategies in equity and crypto trading. With their registration in 2022, it takes quite a lot to build a reputation. Even though, their goal is quite optimistic.
As it seems, the company is based in the US, New York City to be precise. It all looks quite solid, but let's see in this Algoriz review if this software is the right choice for you.
| | |
| --- | --- |
| | General information |
| Name: | Algoriz Inc |
| Regulation status: | Unregulated |
| Warnings from Financial Regulators: | No official warnings |
| Website link: | Algoriz.com |
| Active since: | 2022 |
| Registered in: | US |
| Contact info: | e-mail, web form |
| Trading platforms: | Proprietary AI Trading tool |
| The majority of clients are from: | United States, India, United Kingdom, Canada |
| Customer support: | No |
| Compensation fund: | No |
Legal Information
This investment firm is allegedly owned by Algoriz Inc. Yet, the company is not listed in any registers as a legitimate firm, which might be disturbing for some.
Since the company doesn't offer trading services, they don't require licensing. Yet, be aware of the broker you are dealing with since they must have Tier 1 licenses. At least if you are looking for a safe trading environment.
Main Perks And Software Advantages
The idea of this software is to automate the trading environment. Once you build your own strategy, the money flow keeps building itself. Generally speaking, quite an interesting project. Yet, there are a few limitations.
Firstly, the software can only work on equities and crypto. Secondly, it requires building your own strategies. But if you don't know anything about trading, it could be an issue. Think logically, if you already know something about it, you wouldn't need them to tell you that.
Lastly, but most importantly, the company claims they have tested more than 10K strategies. But proofs are nowhere to be seen.
Pricing And Benefits
In general, pricing plans are not very expensive, especially if the software works. However, it's obvious pressure on customers to purchase higher packages. Otherwise, it's not profitable even in an ideal case.
The plans are:

#1 – Free

#2 – $29/month

#3 – $69/month

$4 – Custom
Only from the third option you can get unlimited features and significant benefits. Before that, you can consider everything a test. The worrying part is the custom offer. It's not revealed what it could possibly include, therefore, be cautious.
Is a Demo Account Available?
Apparently, the company offers a free version of the software. However, you are limited to only a few algorithms and screeners. Therefore, the full potential is hidden.
Main Disadvantages
To use this technology you must have a broker account. Since the company offers direct linking to your account, they must integrate that into the platform. But be careful what broker you are choosing. In case the broker is not licensed, you shouldn't continue with anything. Ultimately, even if the software somehow works, brokers can rip you off.
For that reason, we invite you to read our XpresTrade review. Once you understand the safety behind the trading, you'll be able to choose a broker wisely.
Company's Reviews
Important to realize is that Agloriz doesn't have any publicly available reviews. Nobody is talking about this so-advantageous technology. Therefore, you might as well give it some time. Instead, you can choose a bit more proven tools like AI Analysis Bot.
Who Are Their Main Clients?
Research shows that this software is offered mainly in a few countries. Those are primarily:

United States

Canada

United Kingdom

India
If you are one of those who tested this software, leave a comment below and let us know what you think about it.
Is The Company's Customer Support Top-Notch?
Any company that offers tech solutions generally has a live chat option. With technology, you never know when it could fail. Therefore, you must have quick contact options. 
However, with Algoriz company that's not the case. Instead, you can only reach them via e-mail and web contact form. Not the quickest option if you like. Imagine some system failure and you don't have any solution. We are sure anyone would get upset.
Are Fully Automated Options Safe?
Generally speaking, you never know with the automated systems when they could fail. We can see examples of everything. Thus, in many cases, they don't cost you. But if you continue using Algoriz software and it fails, who would you blame? The company, of course.
That's why it's important to understand how to properly use AI tools. For instance, the AI Analysis Bot gives you lightning-fast signals, but you are in control of your funds. Which is a way safer option. But still, it's the key to finding a reliable broker as well. Where our YellowStoneFX review can help you do it properly.
Is It Possible to Make Money By Online Trading?
Trading in general is quite an interesting activity. Yet, it can be quite disturbing if you don't know what you are doing. Or you are trading with the wrong company. Overall, clients are nowadays very scared of swindlers. They don't know who they can trust.
That's why our team of experts is there to provide you with a free first consultation. Whether you are looking for a safe brokerage or trusted technology, we are here. Ultimately, the choice is yours. Nobody should or could get you into something that you don't want.
On top of all, once we explain to you fully the benefits of AI Analysis Bot, you will forget about all your problems. But let the software show itself. Book your first consultation already today and change the course of your trading career completely!
FAQ
What Is Algoriz?
Algoriz is allegedly a US-based company with AI tools offered for crypto and equity trading.
Is Algoriz Safe?
Since the company is not listed in any US registers, no. To find out how to choose the right ones, contact our specialists for in-depth guidance.
Are my strategies secure on Algoriz? Does Algoriz share my ideas or trades with them?
Your strategies are kept in a secure database. Allegedly the company doesn't share your strategies with anyone. But for more advanced and safer options, contact us for advice.