September 17, 2023
Reading Time:
4
min
Algotechs Review: Understanding the Risks and Anonymity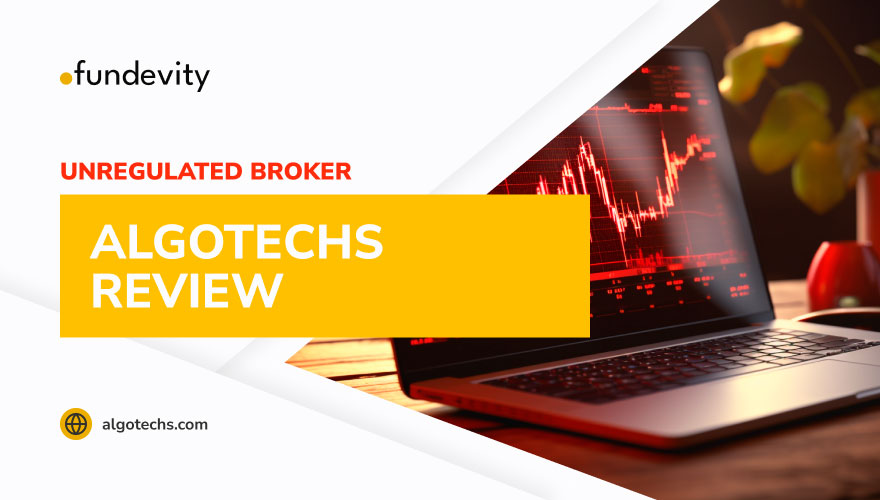 Today, we're diving deep into the world of Algotechs. This is a phony platform that claims to redefine trading and financial success. In this extensive Algotechs review, we'll disclose the intricacies of this firm, providing you with a clear picture of what lies beneath the surface. Keep reading for more mind-blowing details! 
General information
Name:

Algotechs

Regulation status:

Unregulated Broker Scam

Warnings from Financial Regulators:

FCA

Website link:

algotechs.com

Active since

2020

Registered in

n/a

Contact info:

Data is hidden 

Trading platforms:

n/a

The majority of clients are from

South Africa 

Czechia

Serbia 

France 

India 

Customer support:

n/a

Compensation fund:

No
Algotechs 101 – Regulation and Location
When we look at Algotechs.com, one thing that stands out is their lack of transparency. They've decided to keep the identities of their owners and managers a secret. Notably, this naturally makes you wonder about the legitimacy of their operation. We can safely say that this is a scam! 
On the flip side, when we think about Tier 1 regulated brokers, they operate in a very different way. They follow strict rules and regulations set by respected authorities (ASIC, FCA, CySEC). These rules are there to protect you, providing a higher level of safety and dependability. It's quite different from the mystery surrounding Algotechs.com and VastWealth.
So, the bottom line is that transparency and regulation are essential in trading. We should always be aware of that. 
Warning from FCA
The Financial Conduct Authority (FCA) from the UK, has raised a big alarm concerning Algotechs. They've issued a strong warning, and here's why: 
There have been allegations that Algotechs has been offering financial services in the UK without proper authorization. 
Note that this kind of allegation is a big deal and not something to be taken lightly.
Because of these allegations, Algotechs finds itself on the watchlist of suspected scam brokers. 
This is a list that nobody wants to be on, and it understandably heightens concerns not just among traders but also within the broader industry. 
Trading Assets at Algotechs.com
When it comes to the assets supported by Algotechs.com, information is scarce. 
For a secure and diversified trading experience, it's always wise to opt for firms that provide a broad range of assets, including crypto, commodities, stocks, indices, and currencies. Choosing a broker with Tier 1 regulation that supports these can add an extra layer of protection. This goes without saying. 
Algotechs Trading Platforms – Are There Any?
The Algotechs trading scam fully leaves us in the dark regarding the trading platforms they offer. As we know, their website appears to be malfunctioning and there's a lack of info in general. 
Notably, the absence of popular platforms like MetaTrader 4 and 5 is a big concern. Why? Everybody is aware of how reliable these two are. These two are truly favored by 80% of retail traders due to their modern interfaces, support for many trading strategies, and a rich selection of charting tools and indicators.
Trading Environment – Accounts and More
Algotechs had several account types in the past, including:
Each one had distinct deposit requirements. 
Unfortunately, due to the inaccessibility of their website, we cannot provide specific details about bonuses now. Leverage, a powerful yet potentially risky financial tool, demands careful consideration. Regulatory bodies in the EU and the UK have imposed leverage caps to protect retail traders.
Withdrawal Policy at Algotechs
Is there something to say about their withdrawal policy? Not really. When it comes to their withdrawals, again, the lack of accessible details raises concerns big time. 
The difficulties of depositing and withdrawing funds remain unknown. This is mainly due to the ongoing issues with their website and the limited feedback from users. This can be unsettling for people who seek transparency and ease in managing their funds. So, make sure to choose trusted partners who support PayPal, bank cards, crypto, Skrill, and more! 
Trader Reviews on Trustpilot
So, what do traders have to say? Examining Trustpilot reviews exposes the broker and its dreadful reputation. Many traders clearly hate it! 
With an average rating of 2.9, these reviews reflect the experiences of traders who have used the platform before and had something to see. The lower rating highlights issues and frustrations faced by users. It's a clear reminder that you should choose brokers with strong reputations and ratings of 4.5 stars or higher for secure trading overall.
Note: InvestFW should be an example of a promising FX broker. They have strong regulations and they care about their traders. 
How Does the Broker Scam Work?
Understanding the tactics of fake brokers, like Algotechs and Meandbit, is crucial for you to stay safe. These entities are often associated with big fees, misleading (or broken) websites, and questionable practices. As a cautious trader, always conduct thorough research before engaging with any broker. 
Going for brokers with solid reputations and regulatory oversight gives you peace of mind. Also, it lowers the risk of becoming a victim of dubious tactics.
Can I Make Money From Online Trading?
While online trading offers potential profits, it's wise to approach it with some tools and help. We are here to offer free consultations to empower you with the insights needed to make the best possible decisions! 
Besides, our AI Analysis Bot simplifies research and provides trading advice based on avant-garde predictions. It's a practical advantage that goes beyond intuition. It will truly help you make more informed decisions!
With our AI Analysis Bot, you gain access to a useful tool that enriches your trading experience. By reserving your spot for our upcoming launch, you can enjoy a generous 20-day free trial with no initial payment required. What's included in our free plan? You'll receive 5 FX analysis reports and 5 stock analysis reports per month. These resources can be great for traders seeking to make well-informed choices and improve their trading.
To conclude, the Algotechs scam raises huge concerns as you can see. It's best to avoid it! To have a secure and reliable trading experience, it's better to go for Tier 1 regulated brokers with a proven track record of reliability. Your security should always be a priority, and choosing the right broker plays a crucial role in watching over your investments.
FAQs
Is Algotechs Regulated?
No, Algotechs entirely lacks regulation.
How To Contact Algotechs?
Contacting Algotechs is challenging as their website is broken.
How Can I Delete My Account in Algotechs.com?
Sadly, Algotech's lack of clarity extends to account management, and there's limited info available on deleting accounts.