November 01, 2023
Reading Time:
4
min
Alphachain Traders Review: Inside Alphachain Traders' Smart Training Programs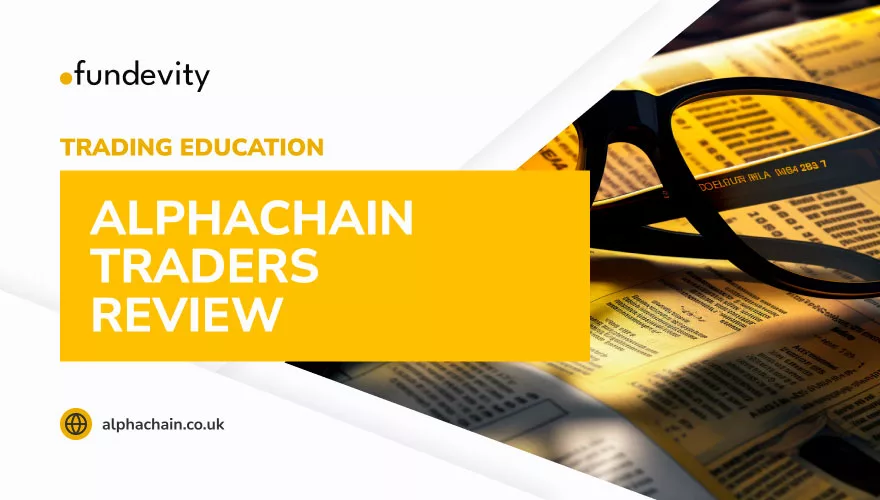 Alphachain Traders, headquartered in London, UK, is a well-known player in the prop trading industry. In this Alphachain Traders review, we will fully examine this popular prop firm. We will explore the unique opportunities they offer traders.
What Sets Alphachain Traders Apart?
At its core, Alphachain Traders is a prop trading institute that caters to individuals worldwide. They offer many programs tailored to various skill levels. The company's commitment to nurturing talent is evident in its 2021 achievement, funding 534 traders with an impressive account value of $6.5 million. 
This prop firm provides a diverse range of services, covering over 67 countries and encompassing 100+ trading instruments. These include forex, indices, commodities, and crypto.
General information

Name

Alphachain Traders Ltd.

Type of company

Trading Education

Regulation status

Unregulated/Not expected

Warnings from Financial Regulators

No official warnings

Website link

https://alphachain.co.uk/

Active since

2019

Registered in

43 Berkeley Square, Mayfair, London, W1J 5AP

Contact info

[email protected]

, 020 7097 3984

Trading platforms

Web Terminal

Majority of clients are from

United Kingdom, United States, Netherlands, France, India

Customer support

Email, live chat, phone, and form

Compensation fund

No
Empowering New Traders
For those new to the trading arena, Alphachain Traders offers accessible avenues to gain valuable experience. Regardless of prior experience, traders can enroll in specialized training courses designed to impart essential skills. 
The courses are great, and allow individuals to learn at their own pace. People can use virtual funded accounts and expert trading tools here. Upon successful course completion, traders are granted access to live-funded profiles.
The available programs suit diverse interests and skills, including:
Crypto Trader Program

: This one-month course equips participants with essential skills to trade crypto at a CPD-accredited level. The course covers unique topics such as on-chain analytics, priced at £2,250 (inc. VAT).

Algorithmic Trader Program

: Over a three-month period, traders learn to create, test, and run algorithmic trading strategies. This program, priced at £3,420 (inc. VAT), provides 1-2-1 mentoring, a clear progression plan, and webinar guidance.

Crypto Algorithmic Trader Program

: Focusing on theoretical market concepts, this three-month course hones algo coding skills. A strategy assignment assesses their proficiency, with the course costing £3,950 (inc. VAT).

Global Trader Program

: Priced at £3,420 (inc. VAT) for a three-month course, this program integrates various topics such as trading psychology and investing techniques. Participants benefit from daily superb webinars and mentoring with CEO Adam Haeems.

Funded Forex Trader Program

: Designed for in-depth knowledge of global forex markets, this program allows participants to analyze charts and identify trading opportunities under mentor guidance. Starting at £1,950 (inc. VAT) for a one-month course, it offers the potential for an extended duration based on success.
Upon completing these programs, you are granted access to trading capital. Also, subscription-based profiles offer ongoing support, including live data feeds, 1-2-1 mentoring, and webinars. We appreciate these offerings! 
Easy Access for Experienced Traders
Experienced traders can opt for the Alpha Funded Trader program. By completing a brief questionnaire detailing their experience and risk management approach, traders can gain entry into the program.
This company offers 2 funding options:
$15,000 Funded Trading Account

: This account provides 1:100 leverage, a 50% profit split, and a weekly risk limit of 5%. Traders can initiate positions on major currency pairs, equity indices, and commodities. A one-time set-up fee of £795 including VAT is applicable.

$20,000 Funded Trading Account

: With identical terms to the $15,000 account, this option provides a higher initial funding level. The one-time set-up fee for this account is £999 including VAT.
Market Access
As a funded investor with this company, individuals gain access to a diverse array of trading assets. Major FX pairs, equity indices like the FTSE100 and S&P 500, and commodities like Gold, Brent Oil, and Crude Oil are all at your fingertips. 
Besides, depending on your country of residency, you might have access to cryptocurrencies, broadening your trading horizons.
Tip: Level Fields AI stands at the forefront of artificial intelligence. It offers solid data-driven insights and strategies and is based in the United States.
Pricing Made Simple
When it comes to pricing, this firm keeps it crystal clear. For direct funding investors, there are no hidden fees – just a one-time joining cost (£795 for a £15k account or £999 for a £20k account). 
And here's the best part: the Alpha Funded Traders product offers a risk-free experience. That means you can trade without the constant worry of losing your own money. Still, you should maintain a balance above the weekly loss limit.
Pros and Cons of Alphachain Traders
This company comes with its perks. These are access to diverse assets, 1:100 leverage, and various funding options made to your experience level. 
Their customer service is top-notch too. You can reach out via email or phone, ensuring you're never left in the dark. Yet, there are a few drawbacks, like the platform being limited to MT4 and the 50% profit split. So, this might feel a bit restrictive compared to other platforms.
Tip: Is EquitySet Legit? Being a non-broker, the company operates on the grey side of the law. Be careful with them!
Safety First – Security Measures
While this firm isn't regulated, they do take your safety seriously. Their platform uses the latest encryption tech. 
Also, you can add extra layers of security like two-factor authentication (2FA) and one-time passwords (OTP) for fast verification. Rest assured, your data is in good hands.
Real People, Real Reviews: Trustpilot's Take
Wondering if this firm is reliable? According to Trustpilot, it's rated a fantastic 4.7 out of 5 stars from 153 reviews – that's pretty impressive! 
When choosing a trading platform, always opt for well-reviewed, trusted brokers. Look for ratings around 4.5 stars and above for a safe trading experience.
Can I Earn Money Trading?
Looking for an extra edge in trading? Our AI Analysis Bot is your go-to companion. It provides valuable insights and predictions, making your trading journey smoother and more profitable. Plus, you can try it for free for 20 days – no strings attached. 
Get five detailed FX analysis reports and five stock analysis reports every month. It's like having a personal trading advisor by your side!
Conclusion
When it comes to trading, simplicity, clarity, and support are key. While Alphachain Traders offers good opportunities, try to explore all your options. 
Make smart decisions and consider clever tools like our AI Analysis Bot! This one is designed to make your trading experience as easy as possible. Your journey to financial success begins with the right choices and the right support. So choose wisely!
FAQs
Is Alphachain Traders Legit?
Yes, Alphachain Traders is safe, offering solid training programs and transparent trading services.
What Services Does Alphachain Traders Offer?
Alphachain Traders provides various training programs, market access, and support.
Can I Earn Money in Online Trading?
Yes, with the right skills and strategies. Check out our AI Analysis Bot for more profitable trading!