August 10, 2023
Reading Time:
6
min
Alpho Review: A Trustworthy and FSA-Regulated Offshore Broker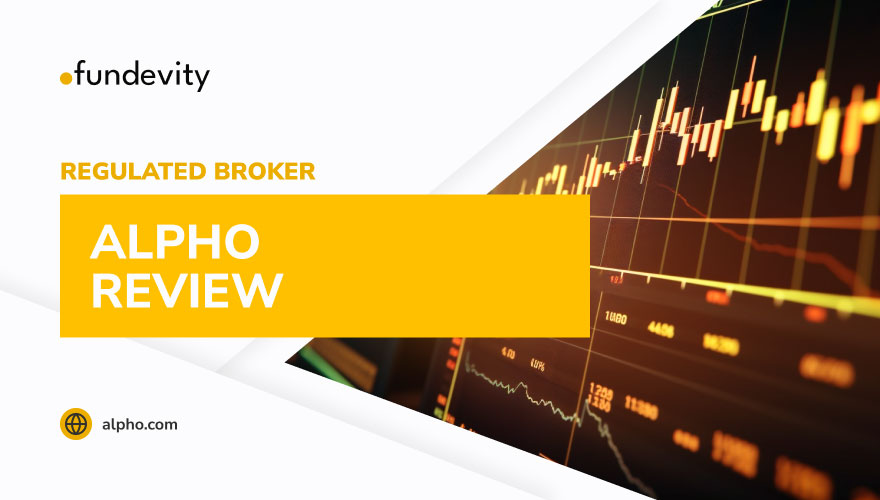 Alpho.com is an offshore broker regulated by the Financial Services Authority of Seychelles (FSA). Although the FSA might not be as well-known as other regulatory bodies, it still provides client protection measures. 
In this Alpho review, we explore the features, assets, and trading platforms of this online broker. Discover whether Alpho is a legitimate broker, the trading assets and platforms they offer, and much more. We'll also discuss the broker's trading environment, the account opening process, fees, customer support, and user reviews.
Alpho License: Legitimacy and Regulation
When considering a broker, regulatory compliance is critical. Alpho.com, an offshore broker, falls under the Financial Services Authority of Seychelles (FSA). The FSA was created in 2013 by the Financial Services Authority Act. It oversees the licensing, supervision, and development of financial services in Seychelles. 
The FSA provides essential investor protection measures. Namely, traders who lose money because of broker misconduct are compensated using client funds. It also requires periodic financial statements from brokers to ensure their solvency.
Remember: The Seychelles Financial Services Authority oversees non-bank financial services in Seychelles. They are ensuring fair trading conditions by protecting traders from fraudulent activities. 
General information
Name:

Gulf Brokers Ltd

Regulation status:

Regulated Offshore Broker – FSA

Warnings from Financial Regulators:

No official warnings

Website link:

alpho.com

Active since

2016 (2006 for domain age)

Registered in:

Seychelles

Contact info:

Phone: +44 203 966 0067

Trading platforms:

MT5

The majority of clients are from

the United States 

India 

France

Brazil 

Democratic Republic of the Congo

Customer support:
Yes (24/5 support at [email protected])
Compensation fund:

Yes
Trading Assets at Alpho: Forex, Commodities, and More
Alpho offers over 1,000 financial CFD instruments to its clients, going the extra mile. You can trade over 65 currency pairs, commodities, shares, and indices, including gold, silver, and oil. Alpho has many assets for traders to explore, but no cryptocurrencies are available. 
Despite this, traders will find a broad selection of assets to trade. This may suit many traders out there. Still, keep in mind that offshore regulations are not so strict. You may want to opt for brokers regulated by BaFin, CySEC, and others. Why? You will get a vast range of trading instruments, and more importantly, you will be safe while trading.
Trading Platforms Available at Alpho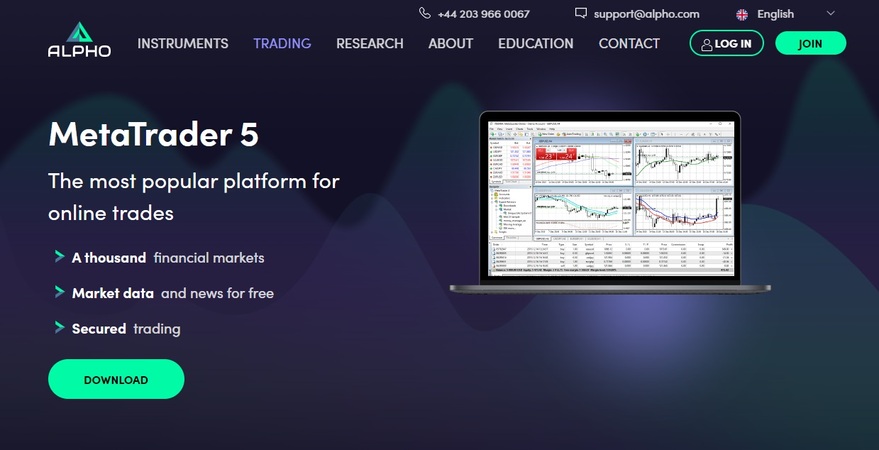 Alpho.com provides access to the renowned MT5 trading platform for the Web, Windows, and MAC. Alpho MT5 has more advanced charts. It also has extra timeframes, an economic calendar, and improved email functionality. Traders can easily trade and access their accounts from anywhere in the world. 
Customers can also access different trading tools, such as expert advisors and advanced order types. Notably, these tools can be customized to meet the different needs of traders. The Alpho broker also offers 24/5 customer service and educational materials.
Trading Ambiance Explored
We already covered that Alpho.com uses the MetaTrader 5 platform for trading. This versatile platform offers a wide range of tools for price analysis and multi-asset trading. Traders can modify default graphs, draw lines, and isolate trends easily. 
Alpho offers maximum leverage of 1:500 for Forex trading. This gives traders many profit chances, but it also increases the risks. Traders need to manage risks carefully in the unpredictable market.
Alpho Accounts: Exploring Your Trading Options
Brokers offer different account types for various skill levels, knowledge, and experience. On the other hand, some brokers provide a single account that covers all your trading needs.
The number of account types and features varies from one broker to another. Traders at Alpho can sign up for one account that gives them access to 886 trading instruments. This account type also provides the MetaTrader 5 platform, and a maximum leverage ratio of 1:500. This streamlined approach simplifies the account selection process. And it allows traders to focus on their trading strategies and goals.
How to Open an Account?
Opening an account with Alpho is straightforward. By clicking on the "Join" button on the broker's homepage, traders enter the registration portal. 
There, they provide the necessary details, read the terms and conditions, and proceed to the client portal. After that, users can choose between the live Alpho account type or a demo account. The verification process must be completed before real trading can begin.
Leverage: Understanding the Risk
Alpho allows traders to open bigger positions and increase market exposure with a maximum leverage of 1:500. This can be done even with a small initial deposit. 
While leverage can lead to significant gains, it also amplifies loss risk. Try to be cautious and avoid overleveraging, as it can result in negative balances on your accounts.
Alpho Mobile App
Alpho facilitates on-the-go trading with the Alpho mobile app for Android and iOS systems. 
Traders can use the app to get real-time quotes, trade with one click, and access multiple technical indicators. This allows them to manage their accounts anytime and anywhere. Keep that in mind. 
Demo Account: Practice Before Trading
For beginners, Alpho offers a free demo account. This feature allows traders to familiarize themselves with the MetaTrader 5 platform. 
They can test the broker's trading features without risking real funds. Unfortunately, the Alpho broker does not specify whether the demo account has an expiration date.
Note: As of now, Alpho does not have any special bonuses or promotions on its website.
Fees: An Overview
Alpho has relatively low fees for certain instruments, but some fees might be higher than others. 
If you don't trade, deposit, or withdraw for a month, the broker charges a $10 fee. This is an important fact to keep in mind. Margin calls are executed only through the platform, without direct communication via phone or email.
Note: Stay away from brokers engaging in questionable practices, such as Tesler.
Education: Empowering Traders with Knowledge
Alpho offers a decent educational program, including a free online guide available on the broker's website. Yet, other resources such as webinars are not provided, limiting traders' learning opportunities. 
Experienced traders can also benefit from the broker's range of trading tools and resources. Yet, the lack of webinars and other educational materials prevents traders from fully understanding the markets' complexity. This could be a disadvantage for those looking for more comprehensive educational resources.
Stop Loss
Stop loss is a key risk management tool. It allows traders to set a predefined level at which open positions will automatically close. Notably, it is a way to limit potential losses. 
This helps traders avoid the potential for large losses from sudden market movements. It also ensures that traders adhere to their risk management strategy. Stop Loss orders can also be used to lock in profits if the price moves in the trader's favor.
Note: Avoid brokers with unfavorable trader feedback, such as Supreme Capital. Your peace of mind matters.
Alpho Withdrawals
Alpho facilitates fee-free deposits and withdrawals via debit/credit cards and Perfect Money. Deposits are usually instant, but withdrawals are initiated as soon as possible. The broker provides different ways to deposit and withdraw based on where the trader is located. Alpho provides traders with fast, convenient, and secure payment solutions. The broker also has a secure payment gateway and utilizes strong encryption tech to protect your financial data. 
Alpho, along with its competitors, earns money from spreads. Spreads are the gaps between buying and selling prices. To start trading with Alpho, a minimum deposit of 100 USD is required. Different instruments can have varying spread levels, which is common.
Regarding fees, Alpho follows a mixed approach. It offers low fees for certain instruments, while for others, the fees are relatively high compared to its peers. Additionally, if your account is inactive for one month, the broker charges a 10 USD fee. This time frame is shorter than what other brokers usually allow.
Customer Support
Alpho provides 24/5 multilingual customer support via email, phone, and contact forms. While the broker claims to prioritize customer service, some users have reported difficulties reaching a live agent over the phone. You can get in touch with Alpho using the following contact information:
Address: Suite C2, 2nd Floor, Orion Mall, Palm Street, Victoria, Mahé, Seychelles.
Social Media: Facebook, Instagram, LinkedIn, and YouTube.
Insights from Traders: Alpho's Reputation Unveiled
Trustpilot reviews for Alpho show a generally positive sentiment, with a TrustScore of 4.4 out of 5 based on 18 reviews. The majority of users rate the broker as "excellent" or "very good." The reviews mention Alpho's high-quality customer service, fast response times, and helpful and knowledgeable staff. 
This demonstrates that Alpho is a reliable and trustworthy broker. Still, you should avoid brokers with negative trader reviews like Swiss Vests.
Long Story Short – Alpho
To sum up, Alpho.com is a solid FX broker. The regulation by the Financial Services Authority of Seychelles ensures client protection. The broker has a good education program, but it doesn't have extra resources such as webinars. 
Alpho wants to give you a dependable trading experience. You can use their easy-to-use mobile app. You can also deposit and withdraw money without any fees. Yet, traders need to be mindful of potential fees for inactive accounts, which come into effect after a relatively short period compared to other brokers. Overall, Alpho strives to be a dependable platform for traders. 
If you're interested in learning more about regulated brokers, contact us for help! We know trading can be overwhelming. And, we want our readers to make informed decisions. Let us help you find the best trading solution for you.
FAQ Section
Is Alpho Regulated?
Yes, they are regulated by the Financial Services Authority of Seychelles (FSA).
What Are The Alpho Platforms?
The broker in question uses the popular MT5 platform.
How Much Is Alpho's Withdrawal Fee?
They don't charge any fees for withdrawal, apparently.