October 26, 2023
Reading Time:
4
min
AltFINS Review: Your Partner in Smart Crypto Trading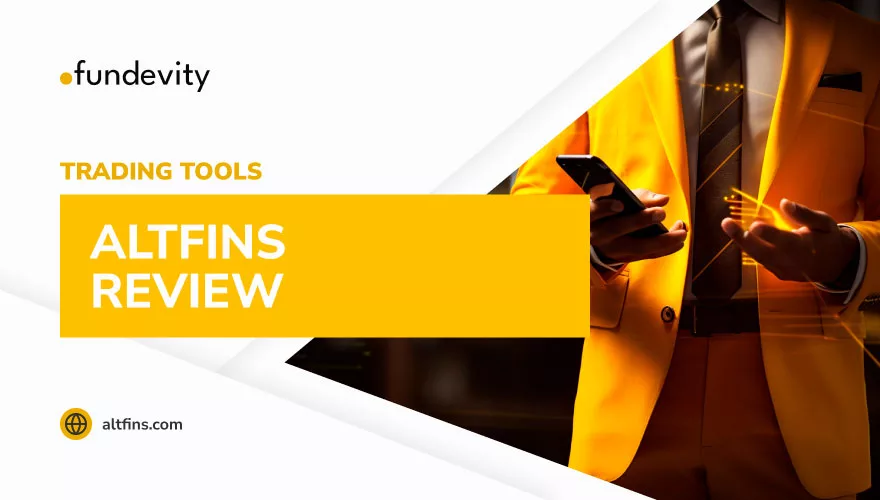 Welcome to the world of AltFINS, where crypto analysis makes a big impact. In a universe as dynamic as digital assets, having the right tools and insights is critical. 
AltFINS provides a sophisticated yet UI-friendly platform for traders that has many things to offer. Let's explore them together in our informative AltFINS review. Stay tuned for more interesting details! 
| | |
| --- | --- |
| | General information |
| Name | AltFINS |
| Type of company | Trading Tool |
| Regulation status | Unregulated/Not expected |
| Warnings from Financial Regulators | No official warnings |
| Website link | https://altfins.com/ |
| Active since | 2018-02-09 |
| Registered in | Bratislava, Slovakia |
| Contact info | [email protected] |
| Trading platforms | Web Terminal |
| Majority of clients are from | United States; India; Germany; Netherlands; United Kingdom |
| Customer support | Email, social media and Telegram |
| Compensation fund | No |
Exploring the Heart of AltFINS
AltFINS, founded by Wall Street expert Richard Fetyko, offers a UI-friendly platform for crypto investors. You can analyze altcoin trading strategies, get alerts, and keep an eye on your portfolio. If you're new to crypto trading, it's a handy tool.
The AltFINS team, including Richard Fetyko, Tomas Fecko, Daniela Hajnikova, Marek Urban, and Jozef Korcak, are financial and tech experts here to help you in the crypto world. They aim to provide valuable advice on finance and tech matters.
Trading Tools at AltFINS
Trading tools are the compass guiding crypto traders through the market's twists and turns. AltFINS offers a robust arsenal, featuring over 60 analytical indicators. Some of them are the Relative Strength Index (RSI) and Moving Averages (MAs). They have them on a multitude of altcoins and trading pairs. 
Updated every 5 minutes, these indicators empower traders with real-time insights. They exist to help in swift and informed decision-making.
Tip: AltFINS often publishes trading videos that provide a breakdown of the crypto market and offer trading tips.
Chart Patterns
With this feature, you can see market trading patterns every 15 minutes. As we can see, the platform has 16 patterns showing market trends.
AltFINS' automatic pattern recognition spots 26 trading patterns at different time intervals (15 min, 1h, 4h, 1d). This truly saves crypto traders loads of time.
Customer Service
When it comes to customer support, AltFINS prioritizes responsiveness. While a direct phone number isn't available, users can utilize the live chat feature on the website or email [email protected] for assistance. 
Besides, AltFINS maintains an active presence on social media platforms such as X, YouTube, and Telegram. Notably, their Discord server is a treasure trove of crypto trade ideas, community chats, and other useful features, fostering an engaging user experience.
AltFINS Pricing: Plans for Every Trader's Budget
AltFINS recognizes the diverse needs of traders and offers a range of subscription plans. Free users enjoy basic services, including email and live chat support.
Registered users, however, gain unlimited access to multiple exchanges. They also get automated coin tracking, comprehensive trade history, and much more. For even better features, altfins.com offers paid plans: 
Basic

at $180 annually, 

Essential

at $400 annually, and 

Premium

at $600 annually. 
These plans ensure accessibility for traders at every level, accommodating various budgets.
Note: We don't have any personal experience with DeltaFX. Yet, it's worth noting that this broker is regulated by the FSC, which doesn't offer as strong protection. Make sure to use Tier 1 regulated brokers. ASIC, FCA, CySEC, and BaFin-regulated companies are always a good choice.
AltFINS User Benefits
AltFINS not only provides cutting-edge analysis tools. We can see they also offer an exclusive opportunity through the AFINS Token Rewards Program. 
This program grants users access to discounts and exclusive features. They truly want to create a sense of community among crypto traders. By democratizing access to cutting-edge analysis resources, AltFINS levels the playing field. What they do is allow smaller traders to thrive in the crypto market.
AltFINS User Experience
AltFINS prides itself on its user experience. And we can see why. The platform's smart design simplifies navigation for both beginners and experienced traders. We can say there are some similarities between their interface and KuCoin's.
Users can create and monitor customized screens, watchlists, and alerts, boosting their trading efficiency. Besides, altfins.com keeps users informed about market changes through its news feed, Discord server, and exclusive newsletter. Also, new traders benefit from extensive crypto educational resources and webinars. This clearly guarantees a supportive environment to learn and grow.
Note: Crystal Trust claims it's a trustworthy, regulated forex broker. But, that's simply not the case! Our advice is to avoid this trading scam. To discover some popular and reputable trading companies, contact us for a free consultation today! 
AltFINS vs Opponents
AltFINS' unique selling point lies in its exclusive focus on the cryptocurrency market. Yes, many other platforms cover a wide range of assets. Still, this company specializes only in crypto assets. This is a big plus for all the crypto enthusiasts out there (and there are a lot of us). 
This specialization ensures in-depth, fine analysis made specifically for the crypto space. Moreover, this is what sets AltFINS apart from its competitors.
Trader Reviews on Trustpilot – Real Voices
According to Trustpilot, altfins.com shows an amazing 4.7-star rating based on reviews from 178 traders. This mind-blowing reputation underscores the platform's reliability and user satisfaction. 
It's smart for traders to choose safe companies with ratings of 4.5 stars and above. This always ensures a secure and trustworthy trading experience. This is the unwritten rule! 
Your Trading Profitability
Are you ready to start trading for profit? We're here to support you every step of the way. Contact us for free consultations and expert advice on the best trading platforms today!
Also, discover our AI Analysis Bot, your all-in-one research companion, providing invaluable trading advice and predictions. What is the best part? Enjoy a 20-day free trial, exploring five detailed FX analysis reports and five stock analysis reports each month. With our guidance, boosting your profits has never been more effortless. Give it a try today and boost your trading experience!
Final Words
We already know that the world of cryptocurrency platforms is just expanding. We will undoubtedly see a huge number of new platforms emerging by the following crypto bull run. 
Speaking of altfins.com, it truly stands out for its outstanding crypto education and expertise. While it offers a good platform, we also encourage you to explore our AI Analysis Bot. This is a superior choice for intelligent trading. Stay educated, trade confidently, and always protect your assets in the digital world. 
FAQs
What Is AltFINS?
AltFINS is a crypto analysis and trading platform, offering advanced tools for traders.
How Safe Is AltFINS?
AltFINS prioritizes security, using encryption and secure protocols.
How Does AltFINS Work?
AltFINS analyzes crypto markets, providing traders with real-time insights, alerts, and tools.