May 04, 2023
Reading Time:
5
min
Crystal Trust Review: All the Lies Behind This Scam Broker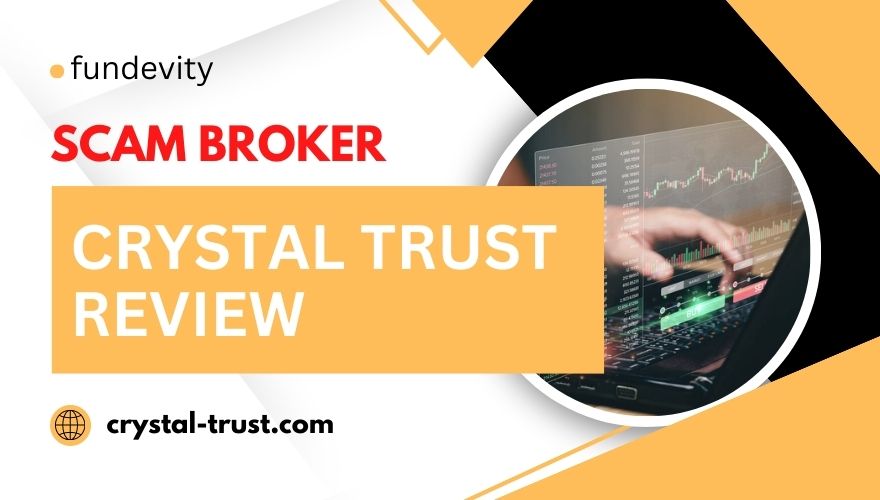 Crystal Trust Review, The world of FX trading is a tricky one, especially when it comes to dealing with unlicensed brokers. That's why we've taken a closer look at Crystal Trust in this review. It's important to note that this broker, which operates under the name Crystal Trustee Company Limited, is reportedly based in New Zealand without proper licenses.
If that's not enough to raise some red flags, this brokerage firm is also known for providing unsafe trading conditions. Their trading platform is subpar at best, and they've been accused of fabricating trading conditions. 
Trading with Crystal Trust and other similar shady investment firms can be risky business. So, take the time to read this Crystal Trust review and learn more about the malicious tactics employed by this scam.
Also, we recommend you not to invest in the fraudulent brokers HubKoin and Syos Space.
| | |
| --- | --- |
| Company | Crystal Trustee Company Limited |
| Regulation | Unregulated  |
| Warning | N/A |
| Website | crystal-trust.com |
| Address | New Zealand |
| Email | N/A |
| Phone | N/A |
| Minimum Deposit | N/A |
| Leverage | 578:3 |
| Bonuses | N/A |
The Truth About Crystal Trust's Lack of Regulation
When it comes to Crystal Trust, things are not always what they seem. Despite its claim to be headquartered in New Zealand, a country with a reputation for strictly regulating its forex markets, the truth about this firm is far less impressive.
For starters, Crystal Trust falsely boasts about being regulated by the Registrar of Companies, an institution without authority over financial markets. After searching its records, it is clear that Crystal Trust is not even registered with this agency.
To lawfully operate in New Zealand, monetary corporations must be authorized by the Financial Market Authority (FMA). Yet, Crystal Trust is not listed in the FMA database, indicating that it is an unlicensed and unregulated entity.
In essence, Crystal Trust is a wolf in sheep's clothing. It pretends to be a fair business when in fact it is rife with deceit, poor services, and unfavorable exchange terms. Don't be fooled by their lies – steer clear of this suspicious brokerage firm.
Crystal Trust Trading Platform: A Comprehensive Review
When it comes to trading software, Crystal Trust boasts about having an impressive 16 trading platforms available. It may be hard to believe, but this number exceeds even the leading brokers in the industry. 
However, it is vital to note that MetaTrader 4, which is considered one of the best trading programs, is not incorporated into Crystal Trust's offerings. Instead, this unscrupulous broker only provides a single platform that falls short in comparison to current trading programs such as MT4, MT5, cTrader, and Sirix. It's clear that Crystal Trust is not living up to its promises and is once again caught in a lie.
Similarly, it's important to understand the limitations of a web trader. While it may allow for trading through a web browser, it lacks the versatility of the latest programs that can be accessed through multiple devices, such as mobile apps and computer software. In addition, web traders have generic functions and lack the advanced features of more sophisticated venues. 
Accordingly, it's crucial to opt for only regulated brokers that deliver state-of-the-art tech. Don't be tricked by brokers like Crystal Trust, who make false promises and provide inadequate services. Decide wisely and invest in a broker that provides the best tools for success.
Crystal Trust – Account Types Available
Speaking of account options at Crystal Trust, this broker scam is not forthcoming with information. This means that future traders are left in the dark about important details such as the terms of the exchange connected to an account, the minimum deposit, and other applicable specifics until they invest their money. It's clear that Crystal Trust is not interested in transparency or providing potential clients with the necessary information to make educated decisions. That is a fact!
Also, the lack of a demo account is another red flag. Demo accounts are rudimentary for people to practice their trading techniques and test trading conditions without risking any actual money. It's concerning that Crystal Trust does not offer this valuable resource, which is a common feature among legitimate brokers.
Moreover, this unethical broker likely charges exorbitant fees for depositing funds. Why take chances with this fake broker when you can start trading with reputable companies for less than 50 USD? It's essential to prioritize safety and security when it comes to trading, and that means investing with brokers that are transparent, reliable, and offer fair pricing. Don't fall victim to Crystal Trust's shady tactics – choose a broker that prioritizes your success and safety.
Deposit and Withdrawal at Crystal Trust
When it comes to these processes at Crystal Trust, there is a lot to be concerned about. This odd broker is not transparent about the minimum required deposit, which is a major cause for concern. This lack of information makes it easier for the broker to take advantage of unsuspecting people and potentially charge them more than what was initially agreed upon. Crystal Trust is not interested in creating a fair and transparent trading environment for its clients.
Moreover, funding methods at Crystal Trust involve cryptocurrency payments, which can be risky and difficult to trace. This raises questions about the safety and security of the deposit process. In addition, it's important to note that there are no guarantees when it comes to money withdrawal with unauthorized brokers like Crystal Trust. This dishonest broker will do everything in their power to prevent traders from withdrawing their funds, which can lead to significant losses and frustration.
It's essential to invest with brokers that are transparent and trustworthy. Crystal Trust is not one of those brokers, and it's crucial to avoid falling prey to their fake tactics. Always do your research and choose a broker that offers a transparent and secure deposit and withdrawal process, as well as reliable customer service. Don't let phony brokers like Crystal Trust take advantage of your hard-earned money – invest wisely and think about your safety.
How the Scheme Was Implemented
Lots of people want to try their hand at investing in the financial markets. Sadly, scammers are aware of this and prey on people's lack of knowledge to take advantage of them. These scammers create fake broker web pages, which don't offer any real benefits. They are designed to trick people into thinking that they're investing their money, but in reality, they're just getting scammed.
Once you give out your contact information, pro scammers will keep calling you. They'll try to convince you that they can handle all the tricky parts of investing for you, but you'll never see any actual profits. Often, you won't even be able to withdraw any cash. It's important to know that scams can happen to anyone and never feel embarrassed about reporting a scam.
The terms and conditions of these scam sites can be confusing and full of traps. That's a fact! For example, you may see high minimum trading volume requirements. Scammers will hide their addresses and names and operate through offshore firms to avoid being caught. Even if you manage to meet all the withdrawal conditions, they will disappear and move on to their next deceitful tactic.
It's essential to be cautious and do your research before investing your hard-earned funds. Always choose regulated brokers with a good reputation and positive customer reviews. Don't let scammers take advantage of your financial goals and aspirations – stay alert and invest wisely.
Crystal Trust
Summary
Crystal Trust is an unlicensed and unregulated brokerage firm, based in New Zealand. This company provides unsafe trading conditions and fabricates trading conditions. Despite claiming to be regulated by the Registrar of Companies, it is not even registered with the agency. 
Moreover, the broker's trading platform is inadequate and does not offer the latest technology. Crystal Trust is also silent about account types, minimum opening balances, and other relevant specifics. Stay safe and avoid this broker.
FAQs
Is It Safe to Trade on Crystal Trust?
No. This forex broker is not regulated and you should avoid it.
Can I Open A Demo Account with Crystal Trust?
No. This broker scam does not offer a demo account.
What Is The Funding Method of Crystal Trust?
Funding methods at Crystal Trust involve crypto payments.