September 17, 2023
Reading Time:
4
min
AssetsTrade Review: Is AssetsTrade Scam or Legit?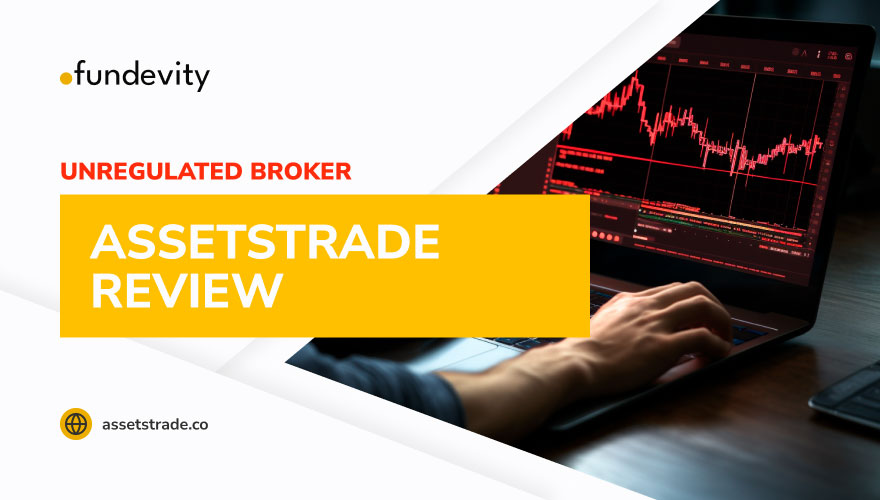 Are you thinking about trading with AssetsTrade? In this AssetsTrade review, we'll talk about this broker's agenda, and cover all the critical aspects. Keep reading to gain a better understanding.
AssetsTrade Company Details
AssetsTrade describes itself as an American company based in LA, even sharing a US contact number. Yet, there's no legal information about this broker, which raises big concerns for us. They display a Certificate of Incorporation from Cardiff, UK, which adds more questions than answers. 
AssetsTrade offers investment plans with extravagant returns and accepts only crypto. We strongly advise caution with this broker, and we'll explain why throughout this review.
General information
Name:

AssetsTrade

Regulation status:

Unregulated Broker Scam

Warnings from Financial Regulators:

No official warnings 

Website link:

assetstrade.co

Active since

2020

Registered in

USA & UK allegedly

Contact info:

Data is hidden

Trading platforms:

n/a

The majority of clients are from

United States

India

Nigeria 

United Kingdom

Germany

Customer support:

n/a

Compensation fund:

No
Assetstrade Legitimacy and Security
Is AssetsTrade legit? Simply put, No. AssetsTrade operates without regulation and tries to mislead investors with worldwide regulation claims. Their presentation includes a suspicious certificate of incorporation, supposedly registering them in both the UK and the US. Still, no such firm as the "Registrar of Companies for England and the USA" exists. They also claim to be "a registered and licensed company authorized to operate anywhere in the world," which lacks foundation. There's no universal forex license. In the US, brokers need licenses from the Commodity Futures Trading Commission (CFTC) and National Futures Association (NFA), while in the UK, they must be authorized by the Financial Conduct Authority (FCA). Our thorough search found no record of AssetsTrade being regulated in either the US or the UK. This lack of regulation raises significant doubts about their credibility.
When selecting a broker, choose those regulated by trusted authorities. Unregulated brokers like AssetsTrade and Investing X operate without supervision, risking your assets. And regulated brokers stick to strict standards, offering you essential protection. Keep that in mind. 
Trading Assets Available
When choosing a broker, assess the range of trading assets they offer. AssetsTrade presents itself as a company providing automated trading systems. Still, they fail to provide clear information about the specific trading assets they support.
To guarantee a better trading experience, it's smart to opt for a reputable broker offering a wide range of assets. Look for options that include crypto assets, commodities, stocks, indices, and currencies. Besides, prioritize brokers with Tier 1 regulations for better security.
Note: Avoid fake brokers that have received warnings, such as TradeCare365. Their only goal is to steal from you. 
Trading Platforms at AssetsTrade
One of the essential aspects of a broker's offering is its platform. Sadly, the AssetsTrade scam leaves us in the dark regarding their trading platform. They don't provide demo trading accounts, and notably, Metatrader accounts are clearly absent. This lack of clarity is troubling.
It's worth noting that the absence of popular trading platforms like MetaTrader 4 (MT4) and MetaTrader 5 (MT5) is a significant drawback. These platforms are preferred by a majority of retail traders for their customizable interfaces, support for various strategies, numerous charts, indicators, and other features. 
MT4, for instance, offers an advanced charting package, extensive back-testing capabilities, and a wealth of technical indicators. MT5, its successor, provides even more progressive tools, making them among the most favored trading terminals in the FX industry. However, the lack of these platforms on AssetsTrade's offering is troubling.
Trading Environment – Accounts, Bonuses, and More
AssetsTrade has 5 trading plans, but critical details like leverage, spread, or margin requirements are absent. 
These plans appear more like standard investment systems, featuring fixed Rates of Return (ROI) starting at 3%, with unclear terms. The mention of a 24-hour contract adds to the confusion. 
Now, to register with AssetsTrade, you must provide a wallet address during the process. Without this address, registration is impossible. Also, they exclusively accept crypto assets, including Bitcoin, Ethereum, and Litecoin.
This uncommon approach sets AssetsTrade apart from standard forex brokers. 
It's essential to have a clear understanding of a broker's trading conditions before committing your funds. Beware of that! Without details on leverage, spreads, or margin requirements, you may be trading blindly.
Remember that leverage, while a useful tool, can amp up risks when misused. In response, regulatory bodies in the EU and UK have set a leverage cap of 1:30 for retail traders. This limitation ensures that traders are not exposed to excessively high risks. Therefore, it's advisable to stay away from high-leverage forex brokers, as they can be riskier.
Withdrawal Policy
AssetsTrade sets a minimum deposit requirement of $100 for their trial plan, with crypto as the only funding method. 
However, as we said earlier, they do not accept credit cards, which may bother some traders. Your best bet is to avoid this shady company! 
Trader Reviews on Trustpilot
AssetsTrade.co raises further suspicion by having zero Trustpilot reviews. Nowadays where online reviews play a significant role in assessing a company's reputation, the absence of any feedback is devastating. 
When choosing a broker, it's nice to opt for reputable and popular brokers with high ratings (4.5 stars or more) on platforms like Trustpilot. Positive reviews and high ratings indicate safety and reliability.
Scam Broker Tactics
Beware of fake brokers like AssetsTrade and EUFM. Suspicious brokers often come with risks, including high fees and a lack of proper regulatory oversight. 
They may create fake websites and engage in social media scams. Remember that shady broker tactics can lead to losses and can damage your trading experience.
Can I Make Money From Online Trading?
Online trading can certainly be profitable, but it requires knowledge and the right tools. 
We're committed to helping you make smart decisions. Notably, we offer free consultations to guide you on your trading journey.
Also, we've developed an AI Analysis Bot designed to help traders like you in making better decisions. Our bot relies on advanced predictions rather than intuition, providing valuable trading advice. By using our AI Analysis Bot, you can gain a practical advantage in your trading efforts. You have the opportunity to be among the first to try it, as we offer a generous 20-day free trial with no initial payment required.
What's included in our free plan?
5 FX analysis reports per month

5 stock analysis reports per month
By leveraging our tools and expertise, you can improve your trading and increase your chances of success. We're here to support your journey toward profitable online trading.
Lastly, when considering a broker, prioritize those regulated by reputable authorities like FCA, ASIC, and CySEC. Assetstrade's lack of transparency, fake claims, and absence of popular trading platforms make it a risky choice. Opting for verified, regulated brokers is essential! 
FAQs
What Is Assetstrade?
Assetstrade is an unregulated broker with questionable legitimacy, lack of transparency, and fake claims.
Does Assetstrade Have a Mobile Trading App?
No, Assetstrade does not offer a mobile trading app.
Can I Withdraw my Funds from Assetstrade.co?
Assetstrade's withdrawal process is uncertain, so the answer is no.