June 15, 2023
Reading Time:
5
min
EUFM Review: Unveiling the Dubious Broker's Regulatory Concerns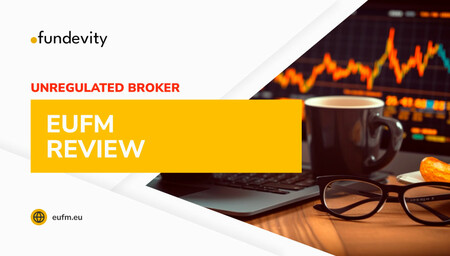 Welcome to our sweeping EUFM review, where we shed light on the alarming practices of a dubious broker that raises concerns among everyone. In this article, we will delve into the deceptive tactics employed by this entity and examine the multiple complaints lodged against them. 
As we uncover the truth behind EUFM, you'll gain insights into their regulatory standing. You'll also understand why caution is crucial when dealing with this broker. Join us as we navigate the murky waters of EUFM and strive to protect investors from possible risks.
| | |
| --- | --- |
| Company | EUFM Ltd |
| Headquarters | Marshall Islands |
| Website | EUFM.eu |
| Warning | BaFin, CNMV, CONSOB, DFSA, FSMA |
| Platforms | WebTrader |
| Minimum Deposit | $3500 |
| Leverage | 1:500 |
| Spread | n/a |
Disclosing the EUFM Scam: Lack of Regulation and Multiple Warnings
EUFM presents itself as a brand of EUFM Ltd. Yet, the absence of a clearly defined headquarters raises concerns about its regulatory status. The broker's terms suggest that it operates under the laws of Estonia. Yet, investigations by the German regulator have revealed that EUFM is based in the Marshall Islands. Neither of these countries inspires confidence in terms of security and safety.
EUFM, operating as the European Financial Markets broker, is not registered with any Tier 1 regulatory body. It is offering illegal financial services.
Warnings Against EUFM: Regulatory Authorities Speak Up
Numerous regulatory bodies have issued official warnings. This is in response to complaints received about EUFM.
Several regulators from Spain, Germany, and Italy have initiated separate investigations due to numerous fraud cases involving EUFM. The Spanish regulator has explicitly stated that the firm operates without proper legal authorization.
Germany's BaFin uncovered forgery by EUFM, including the distribution of fake BaFin documents to clients. Besides, Italy's CONSOB has condemned the abusive financial services provided by this firm.
Further official warnings from the Belgian FSMA and Danish DFSA have been reissued based on the initial warning by the CNMV.
Where Is EUFM Trading Scam Active?
Based on available information, the European Financial Markets trading scam appears to be predominantly active in Germany, Spain, Switzerland, France, and Italy.
Please note that this information serves as a cautionary notice to potential investors. It aims to expose the fraudulent practices associated with EUFM.
Exploring EUFM's Trading Platform: Limited Availability
Speaking of the EUFM trading platform, there is only one option: WebTrader. Yet, this platform falls short in terms of elements and tools. It delivers a plain interface with a limited number of charts and indicators, leaving skilled traders unimpressed. 
Besides, the broker claims to have competitive spreads but fails to provide any specific details. The leverage, set at 1:500, lacks regulation, raising concerns about risk management.
Mobile Trading App: Restricted to Web Browsers on iOS and Android
Notably, EUFM does not offer a dedicated mobile trading app. Instead, users are required to access the platform through web browsers on their Android or iOS devices. 
This limitation can be inconvenient for clients who prefer a dedicated mobile app. Keep that in mind and avoid fake brokers such as EUFM and Grow Pro Markets.
Decoding EUFM's Trading Accounts
EUFM presents clients with four account classes to choose from:
Basic Account – Minimum deposit: 3,500 EUR

Standard Account – Minimum deposit: 7,000 EUR

Pro Account – Minimum deposit: 25,000 EUR

VIP Account – Minimum deposit: 100,000 EUR
While EUFM offers a range of account options, the minimum deposit requirement of 3,500 EUR for the Basic Account is considerably high. Yet, the competitive aspect of these accounts ends there. The leverage provided is unregulated, ranging from 1:200 to 1:500, which raises concerns about risk management. 
Besides, EUFM claims to offer the popular MT4 platform for VIP clients, but upon a thorough inspection of their website, no evidence of MT4 was found. This is highly suspicious.
| | | | | | | | |
| --- | --- | --- | --- | --- | --- | --- | --- |
| Broker | EUFM | FXTM | OctaFX | FPMarkets | XM Broker | HFM | FBS Broker |
| Minimum Deposit | $3500 | $10 | $100 | $100 | $5 | $5 | $100 |
Payment Methods: Limited Options and Potential Fees
When it comes to depositing funds with EUFM, the company provides only two payment methods:
Namely, EUFM falls short of providing detailed information about depositing and withdrawing money. While the business does not explicitly mention any commissions for deposits, its policy states that if your account remains inactive for more than 6 months, a fixed fee of 10% per month will be charged.
For withdrawals, you must withdraw funds using the same method you used for depositing. Yet, it's important to note that the broker imposes high withdrawal fees. Wire transfers have a fee of $50, while card withdrawals incur a fee of $25. The company vaguely mentions the possibility of fees or charges for alternative payment methods but does not provide explicit details.
Misleading Bonuses and Promotions
EUFM entices people with bogus bonuses that can reach up to 50%. Yet, accepting these seemingly inviting bonuses comes with a catch. Trapped within the fine print, investors discover that by accepting the bonus, they are restricted from withdrawing their funds. 
This practice raises concerns about transparency and the true intentions behind these promotions. Investors must understand the terms and conditions before considering any offers from bogus brokers like EUFM or Enerixinvest.
Beware of Bogus Brokers: Unveiling Deceptive Tactics
Unmasking the deceptive tactics employed by fake brokers is crucial for potential investors. These fraudulent entities often resort to various tricky strategies to attract trustful individuals. From offering utopian bonuses to promising extraordinary returns, they create an illusion of profitability. 
Yet, once investors fall into their trap and deposit funds, they face countless obstacles when trying to withdraw their money. These unscrupulous brokers may impose hidden fees, restrict withdrawals based on arbitrary conditions, or even disappear altogether. It is essential to exercise vigilance, conduct research, and only choose reputable brokers.
Best Performing Forex Brokers
Choosing the best FX trading broker can be challenging. We've probed and vetted forex brokers to make your selection easier. Our measures include regulation, platform technology, pricing, support, and reputation. So, what are the finest forex brokers today? See the table below for a sharp comparison of our recommended brokers.
| | | | | |
| --- | --- | --- | --- | --- |
| Broker | Country, | Rating | Min. Deposit | Website |
| FXTM Broker | Cyprus, UK, Mauritius | 4.5 | $10 | Forextime.Com |
| OctaFX Broker | Cyprus, SVG | 4.4 | $100 | OctaFX.Com |
| FP Markets Broker | Australia, Cyprus | 4.7 | $100 | FpMarkets.Com |
| XM Broker | Cyprus, Belize, Australia | 4.7 | $5 | XM.Com |
| HFM HF Markets Broker | Cyprus, UK, South Africa, UAE, Kenya | 4.3 | $5 | HFM.Com |
| FBS Broker | Cyprus, Belize, Marshall Islands | 4.85 | $100 | FBS.Com |
Your Trusted Source for Reliable Broker Recommendations
Our unwavering commitment is to provide reliable recommendations for safe trading brokers. Our priority is to protect people from potential scams by equipping them with valuable data. Through our expertise and careful research, we aim to establish a secure trading environment. 
Join our vibrant community on social media to unlock a wealth of insights, expert suggestions, and more. With our guidance, you can confidently make educated decisions when selecting a trading partner. Contact us today for a free consultation and take a decisive step towards a secure trading expedition.
EUFM Summary: Exercise Caution with this Broker
EUFM, a broker claiming to be a brand of EUFM Ltd, raises red flags and demands maximum caution from potential investors. With a lack of clear headquarters and regulatory information, EUFM's credibility is highly questionable. Multiple warnings from regulatory bodies, including CNMV and BaFin, exposed the firm's fraudulent activities and unauthorized financial services. Their trading platform offers limited features, while the high minimum deposit requirements and unregulated leverage further deter adept traders. 
Depositing and withdrawing funds with EUFM is riddled with potential issues, including limited payment methods and high fees. Moreover, their dubious bonus offers restrict investors from accessing their funds. When considering brokers, it is crucial to prioritize security, making EUFM a broker to avoid at all costs.
FAQs
Is EUFM a legitimate broker?
EUFM's legitimacy is highly debatable due to regulatory concerns and multiple warnings from authorities.
What is the minimum deposit for EUFM?
EUFM inflicts a high minimum deposit requirement of 3,500 EUR.
What trading products are available with EUFM?
EUFM includes limited trading products, including FX and other financial instruments.