May 03, 2023
Reading Time:
4
min
Atomic Trade Review: The Truth About This Scam Broker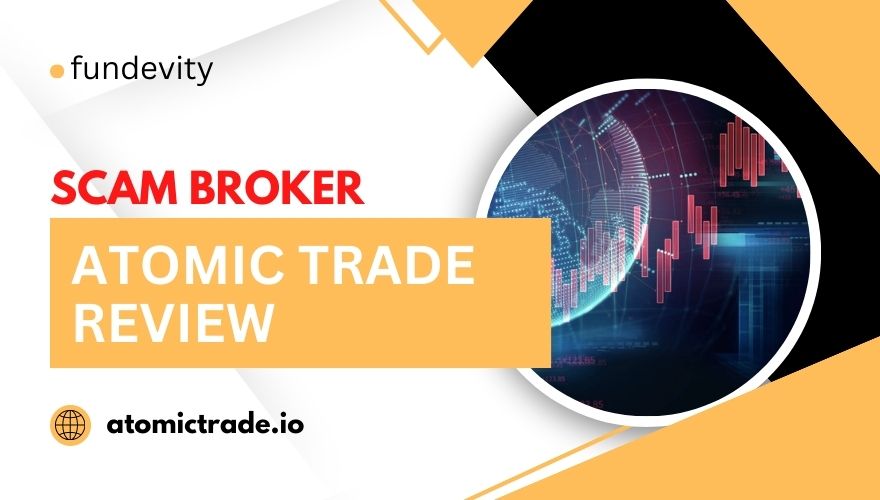 Atomictrade.io claims to be a British broker, but we can confirm that this claim is not legitimate. This anonymous website is suspicious and could be a big scam. In our Atomic Trade review, we will reveal everything that you need to know about this broker. 
There are several warning signs, and we will focus on the most critical ones. Let's hop into more details so you can see why we strongly suggest avoiding the Atomic Trade broker scam.
What is more, we strongly advise you not to invest in RB Bitdeal and Moneta Markets fraudulent brokers.
| | |
| --- | --- |
| Leverage | N/A |
| Regulation | No Regulation |
| Headquarters | UK (Allegedly) |
| Minimum Deposit | $2500 |
| Review Rating | A low score (1.0 Overall Score) |
| Broker Type | Forex |
| Platforms | WebTrader  |
| Spread | 5,4 pips |
Atomic Trade –
License and Regulation 
Atomictrade.io operates without regulation, which is a major concern. We checked for a license but found none. That indicates that their trading activities are completely illegal. Additionally, the brokerage uses false corporate information belonging to a legitimate UK company. 
All of this is a huge red flag. Scammers often use fake information like this. So, we strongly advise you against trading with Atomic Trade as it is likely a scam. Still, if you deposit with them, your funds may be at risk.
Instead, we recommend checking out only trusted and regulated brokers. Brokers regulated by authorities like CySEC (Cyprus) and FCA (Britain) are reliable. They have strict regulations in place to ensure clients' funds' safety.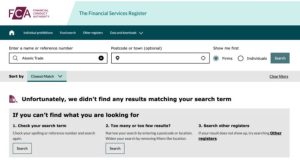 These regulations include client account segregation, leverage restrictions, and negative balance protection. Trading with unregulated brokers, however, may expose you to fraud and financial loss, so it is never wise to do so.
It is advisable to be cautious while dealing with firms like Atomic Trade, Blink Trades, and other doubtful entities.
Atomic Trade –
Trading Software Overview
WebTrader here has an attractive appearance but lacks significant advantages. Compared to MT4 and MT5, it is a platform with limited functionality. Stop wasting your time on an inferior platform like this one. We recommend checking out the lists of MetaTrader 4 and MetaTrader 5 brokers instead.
Brokers with high ratings are trustworthy and regulated by all means. They provide the most reliable retail trading platforms. Both MT4 and MT5 are industry-leading platforms known for their stability. Similarly, the platforms offer automated trading, many tools, and reliable indicators.
Atomic Trade's WebTrader cannot offer these functions. This so-called broker is nothing but a scam.
Available Account Types at
Atomic Trade
Atomic Trade offers six separate trading accounts. They are as follows:
Starting – 2,500 $;

Basic – 10,000 $;

Standard – 50,000 $;

Bronze – 175,000 $;

Silver – 600,000 $;

Gold – 1,000,000 $.
These account prices are outrageous. It's unreasonable for a broker to require $2,500 for a basic retail account. Although the broker does not disclose its leverage, it offers bonuses and many guarantees to investors.
The UK prohibits bonuses, and no legitimate broker would make guarantees of returns. Trading is a volatile and unpredictable business, and no one can guarantee anything.
Deposit and Withdrawal Methods
Looking to trade with Atomic Trade? Think twice before depositing your hard-earned money. With a minimum initial deposit of $2500, this broker makes it tough for small investors to get started. Reasonable brokers, on the other hand, offer account openings for as little as $5.
If you're thinking of funding your Atomic Trade account, be prepared to face some tension. The broker allegedly supports cards and bank transfers, but we couldn't verify this info. The deposit system was not working properly during our investigation.
Withdrawal terms are also unclear, as Atomic Trade has not provided concrete information about restrictions or transaction fees. Given the broker's track record, withdrawals are unlikely to be unlimited or free. It's best to proceed with caution and not invest more than you can afford to lose.
Moreover, Atomic Trade is notorious for its hidden fees. The broker charges a hefty $50 per month for inactive accounts, meaning accounts with no logins, trading, or deposits. This inactivity charge is ten times more expensive than what most regulated brokers charge. It's not easy to justify such high fees for a basic service like account administration.
All these red flags point to one conclusion: Atomictrade.io is a scam. Don't fall for their deceptive marketing tactics and keep your money safe by choosing a trusted and regulated broker.
How Do Offshore Brokers Implement Scams?
Offshore brokers are companies that operate outside of a trader's home country. It's critical to note that while some offshore brokers are legit, others may use deceitful tactics to lure unsuspecting traders. This is a sad reality in the world of trading.
One common strategy used by such brokers is to offer unrealistic profit margins or guaranteed returns. This can be tempting for traders looking to make quick money. Another way they may deceive traders is by hiding fees and commissions, making it difficult to understand the true cost of trading.
However, some offshore brokers take it even further and engage in unethical practices such as insider trading or market manipulation. Traders must research potential brokers comprehensively before opening an account to avoid falling victim to these deceitful strategies.
Unfortunately, brokers like Atomic Trade and GTS Financial have a history of deceiving their clients and operating as unrecorded companies. It's crucial to take note of these similarities and steer clear of such brokers. In short, offshore brokers can be a double-edged sword, offering possible benefits such as tax breaks and access to global markets, but also posing risks such as cons and fraud. Traders must exercise caution before trusting their money to any offshore broker.
Atomic Trade
Summary
Atomic Trade is a broker that claims to operate out of the UK, but this claim is not legitimate, and the website is anonymous and fishy. The broker is not regulated, which is a major concern, and it uses false corporate data belonging to a legitimate UK company. This is a gigantic red flag, and there is a high chance that Atomic Trade is a scam. 
The broker offers a minimum deposit of $2500, which is extremely high compared to reasonable brokers who offer account openings for just $5. All in all, it is not advisable to trade with Atomic Trade or any other doubtful entity. Instead, it is advised to trade only with trusted and regulated firms, like FXTM, OctaFX, FPMarkets, XM Broker, HFM, or FBS Broker.
FAQs
Is My Money Safe with Atomic Trade?
No. Your money is not safe with this broker scam.
How Long Do Atomic Trade Withdrawals Take?
It is unclear how long withdrawals take as people have withdrawal issues.
Does Atomic Trade offer Demo Account?
No. This broker does not offer a demo account for trading.