April 20, 2023
Reading Time:
6
min
Augusta Mortgage Company Review: Essential Factors to Consider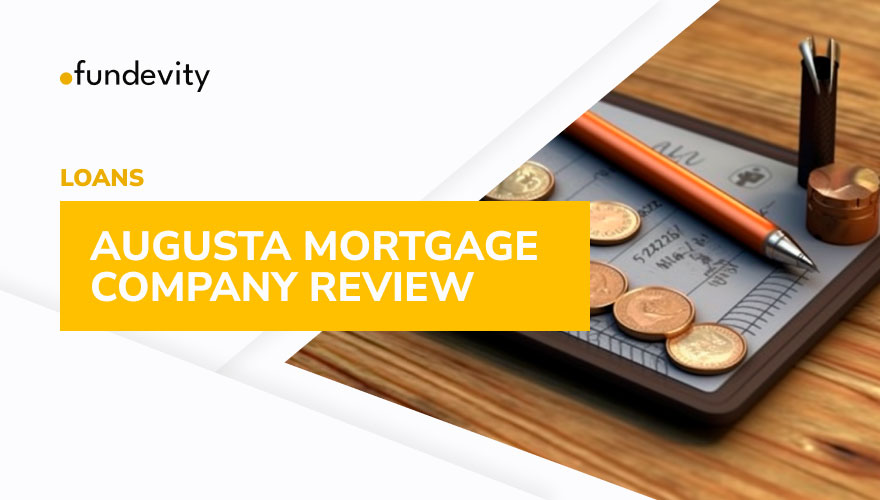 When it comes to choosing a mortgage company, there are several essential factors you need to consider. First and foremost is the amount of money you can borrow from them. 
Second, if they are a good and legitimate lender. And that's why we made this Augusta Mortgage Company review so you can see if they are a right fit for you.

Augusta Mortgage Company provides a range of options for different types of borrowers, including those seeking long-term loans.

The interest rates offered by Augusta Mortgage Company are very competitive and they can vary depending on the type of mortgage program chosen.

In addition to these, funding time is another critical aspect worth considering when selecting a lender. Augusta Mortgage Company has an efficient funding process that can help get you into your dream home quickly.

The company is based in Augusta, Georgia and they have been in business since 1976. They also offer fixed rate, adjustable rate, conventional, FHA, USDA and VA loans. 
Website

https://www.augustamortgage.com/

 

Loan Amount

Up to $1,000,000

Loan Terms(Years)

15, 20 and 30-year terms

Credit Score Range

N/A

Prepayment Fee

No

Origination Fee

Yes

Mortgage Programs

Conventional, fixed and adjustable loans, FHA, VA, USDA, ARM

Employment Statuses Considered

N/A

Intended Use

Home purchase 

Joint Loan Applications Accepted

No

Minimum Age

18 and older 

Property Type

Residential 

Verification Documents Required

Pay stubs, tax returns 
How Much Money Can You Borrow from Augusta Mortgage Company
When it comes to borrowing money from Augusta Mortgage Company, the amount you can borrow will depend on several factors. One of the critical aspects is your credit score and financial history. The higher your credit score and income, the more likely you are to qualify for a larger loan.

Besides, Augusta Mortgage Company offers various mortgage programs that come with different borrowing limits. For example, if you opt for a Federal Housing Administration (FHA) loan program or Veterans Affairs (VA) loans, they typically have specific loan limits.

It's worth noting that Augusta Mortgage Company also considers the property's value when determining how much money they can lend you. Usually, lenders use Loan-to-Value Ratio (LTV), which compares the loan amount requested with the property's appraised value.

In general terms, borrowers may be able to get as much as $1 million or even higher depending on their financial profile and type of mortgage program selected. However, it is essential to remember that just because someone qualifies for a large loan doesn't mean they should take out one since doing so could result in significant debt burdens in the future.

Augusta Mortgage Company Pros & Cons
Augusta Mortgage Company is a mortgage lender that offers various loan programs to its clients. Like any other company, it has both advantages and disadvantages that come along with their services.

One of the main pros of working with  Augusta Mortgage Company is that they have been in business for over 40 years. They also offer a very good array of loan options and each borrower can get a loan specially designed for them. 
On the downside, they are not BBB or HUD accredited and that can collapse their credibility as a company. Always make sure that you are working with a good and reliable mortgage lender.

Pros:
Long time in business

Competitive interest rates

Good loan options 
Cons:
No BBB accreditation 

No HUD accreditation 
What is the Longest Loan Term You May Obtain from an Augusta Mortgage Company?
The longest loan term available at Augusta Mortgage Company is 30 years, which could be an attractive option for those who want the lowest possible monthly payment. However, it's essential to understand that choosing this type of mortgage will come with more accrued interest over time than if you were taking out a shorter-term loan.

It's also worth noting that opting for a longer-term loan doesn't necessarily mean you're stuck with it forever. If your finances improve or if interest rates drop significantly, you may have the opportunity to refinance into a shorter-term mortgage with better terms and conditions down the line.
What Mortgage Rates Does Augusta Mortgage Company Offer?
Augusta Mortgage Company interest rates are offered in a variety of mortgage rates to meet the needs of different borrowers. The exact interest rate you'll pay will depend on factors such as your credit score, loan amount, and down payment.

One type of mortgage rate that Augusta Mortgage Company offers is fixed-rate mortgages. These loans have an interest rate that stays the same throughout the life of the loan, which can be helpful for budgeting purposes.

By offering various types of mortgage rates tailored to individual financial situations, Augusta Mortgage Company provides flexibility in financing options for homeownership goals.
What is the Estimated Funding Time?
When applying for a mortgage, one of the most important factors to consider is how quickly you can receive funding. Fortunately, Augusta Mortgage Company has an estimated funding time that is relatively fast compared to other lenders.

The exact amount of time it takes to receive your funds will depend on several factors, such as how quickly you submit all necessary documentation and the complexity of your application. However, in general, Augusta Mortgage Company aims to fund loans within 30 days or less.

This quick turnaround time can be especially beneficial if you are trying to purchase a home in a competitive market where multiple offers may be coming in at once. With faster funding times from Augusta Mortgage Company, you may have a better chance of securing your dream home before someone else swoops in.
Do They Charge Mortgage Origination Fees?
This lender does charge mortgage origination fees. While having to pay an additional fee can be frustrating for borrowers, it's important to remember that these fees help cover the cost of processing and underwriting your application. And in some cases, paying a small percentage upfront could save you money in interest over time.
Augusta Mortgage Company closing costs are all mentioned on their website so there should be no surprises down the road.
Does Augusta Mortgage Company Charge Prepayment Fees?
On the bright side, Augusta Mortgage Company does not charge prepayment fees on any of their loan programs. This means that if you have the means and desire to do so, you can pay off your mortgage more quickly without incurring any additional costs.

This is great news for homeowners who want to save money on interest charges over time and potentially build equity in their homes faster. By making extra payments or paying off your mortgage ahead of schedule, you can reduce the amount of interest you'll need to pay overall and own your home outright sooner.
What Mortgage Programs Are Available?
Augusta Mortgage Company provides its clients with various mortgage programs to choose from. These programs cater to different financial situations and help provide flexibility in the borrowing process.
Conventional mortgage 

Fixed and adjustable loans 

FHA 

VA 

USDA 

ARM
What Property Usage Types Does Augusta Mortgage Company Allow?
Augusta Mortgage Company offers a variety of property usage types that borrowers can choose from. 
Primary residents

Secondary residents or vacation homes

Townhouses or condos
Be sure to speak with a loan officer about which one would be best suited for your needs before making any decisions.
How Do People Rate the Customer Service and User Experience?
When it comes to choosing a mortgage lender, customer service and user experience are crucial factors to consider. Augusta Mortgage Company prides itself on providing excellent customer service and ensuring that their clients have a smooth loan process.

Many customers have praised Augusta Mortgage Company for their responsiveness and helpfulness in answering questions throughout the loan application process. They also appreciate the personalized attention given by the loan officers who take time to understand each client's unique financial situation.

Overall they hold a good online rating of 4,2 out 5 stars and generally clients satisfaction is great. 
But don't stop there and feel free to reach our team of experts for a bigger list of good and reliable lenders. We are here to make your journey of buying your dream home a breeze!
Contacts of Augusta Mortgage Company
If you're considering working with Augusta Mortgage Company, it's essential to know how to contact them. Luckily, we will provide you with their contact details. 
Office location: 243 Davis Rd, Augusta, GA
Phone number: (706) 860-4200
Fax: (706) 860-4205
Toll free: 1-800-860-4714
Availability of Augusta Mortgage Company
One important factor to consider when choosing a mortgage company is their availability. Fortunately, Augusta Mortgage Company has made themselves readily available to potential and current customers.

They have an informative website that provides valuable information about their services, rates, and products. Customers can easily access the online application form as well as other resources such as FAQs and calculators.

But the only downside is that they are only present in the state of Georgia.
Augusta Mortgage Company Summary
Augusta Mortgage Company is a mortgage company that is based in Georgia and has been in business since 1976.

Their pros include low rates, no prepayment fees, and multiple loan programs to choose from. Some of the cons include limited availability in certain states and no refinancing options.

Augusta Mortgage Company has received positive reviews from many satisfied customers who commend them on their professionalism and speed of funding. They have a 4.2 out of 5-star rating.

The company is registered in NMLS, but doesn't have HUD or BBB accreditation.
FAQs About Loan Company
1.Where is Augusta Mortgage Company?
Augusta Mortgage Company is based in Augusta, Georgia and only offer their services across this state.
2.How is Augusta Mortgage Company rated?
The company has good reviews and a rating of 4.2 out of 5 stars.
3.Who owns Augusta Mortgage Company?
The owner of Augusta Mortgage Company is Mr. Kevin Mcdougal.