August 29, 2023
Reading Time:
5
min
Aurora Holdings Review: Unraveling the Truth About the Broker's Intentions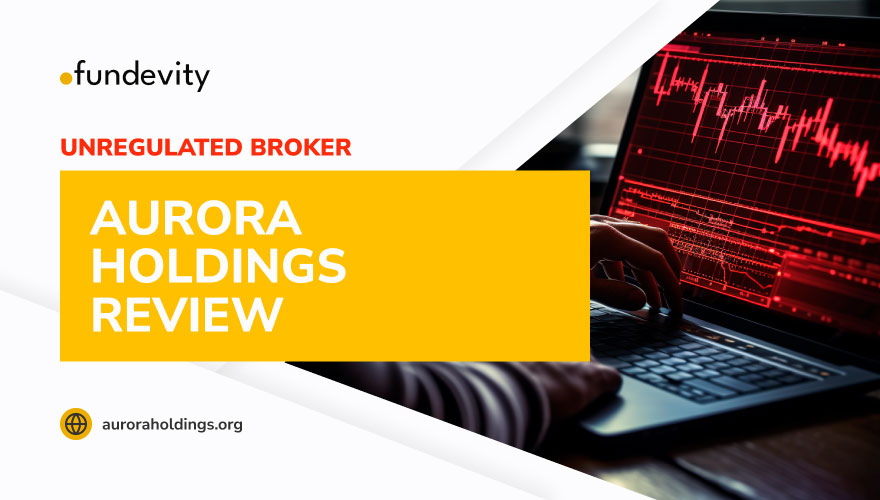 We must know that it's imperative to tread carefully and choose your broker wisely. This brings us to the spotlight on Aurora Holdings, an unregulated broker that has captured attention with its offerings. In this Aurora Holdings review, we delve into the legitimacy of Aurora Holdings, the trading assets it provides, the trading platforms, withdrawal options, traders' reviews, and more. Let's embark on this journey of uncovering the truth about this company.
General information
Name:

Aurora Holdings Inc

Regulation status:

Unregulated Broker 

Warnings from Financial Regulators:

The Financial Commission and the Bank of Russia

Website link:

auroraholdings.org

Active since

2021

Registered in

United Kingdom

Contact info:

n/a

Trading platforms:

n/a

The majority of clients are from

Canada 

United States 

India

New Zealand

Kazakhstan

Customer support:

n/a

Compensation fund:

No
Aurora Holdings Regulation: Behind the Smoke and Mirrors
The first puzzle piece in evaluating any broker is understanding its legitimacy. Unfortunately, when it comes to Aurora Holdings Inc, the legitimacy puzzle is elusive. The website, auroraholdings.org, lacks transparency about its operators. Domain data reveals that it was registered with NameCheap, Inc. on December 22, 2020. 
Interestingly, the real domain owners hide behind the Icelandic anonymization service, Withheld For Privacy Ehf. This raises concerns about the transparency and accountability of Aurora Holdings' operators.
The key takeaway from this situation is crystal clear. Notably, your investments' security hinges on the decision to exclusively trade with Tier 1 regulated brokers. To safeguard your financial interests, opt for brokers boasting regulatory oversight from renowned authorities such as ASIC, BaFin, CySEC, or FCA.
It's also important to note that The Financial Commission and the Bank of Russia issued a warning against Aurora Holdings. Given this warning, exercising caution is essential when considering involvement with Aurora Holdings. Exploring reputable and regulated alternatives would be a prudent step to safeguard your investments and interests.
Trading Assets Available: What's on the Table?
Diving into the trading assets available at auroraholdings.org, the broker allegedly offers a range of options for investors. But they cannot be confirmed as their web page is not accessible at the moment. 
Keep in mind, due diligence is crucial in assessing the authenticity of these assets. Traders need to be wary of potential misinformation and exaggerated claims surrounding the assets offered.
Aurora Holdings Trading Platform
When it comes to a trader's journey, platforms serve as the navigation guiding their path to success. While the Aurora Holdings forex scam does offer some platforms, they remain undisclosed. This lack of transparency raises questions about the technology and tools available for traders on their platform.
Disclosing the platforms is essential as it can profoundly shape a trader's overall experience. 
In an era where technology drives the trading landscape, opting for brokers that offer MetaTrader 4 (MT4) and MetaTrader 5 (MT5) can offer a distinct advantage. These renowned platforms provide a solid foundation for traders with their advanced features and widespread use. Remember, aligning with legitimate brokers that support these industry-standard platforms is a prudent choice.
Trading Environment at Aurora Holdings
Imagine the trading environment as the backdrop for your trading journey. Yet, when it comes to the Aurora Holdings scam, the specifics of this backdrop remain somewhat mysterious. We're not quite certain about the exact features they provide.
To succeed in trading, think of it like putting together a puzzle. You need the right pieces, like solid customer support, useful educational resources, and insightful market analysis. You also need transparency in fees and commissions. These elements combine to shape your trading experience into something meaningful and rewarding.
Before you fully dive into Aurora Holdings, take a closer look at what they offer (which is nothing). 
Similarly, in trading, opting for a broker that emphasizes a supportive environment can greatly enhance your overall experience.
Earning & Withdrawal: A Critical Junction
Earning and withdrawal mechanisms often define a trader's relationship with a broker. 
Aurora Holdings claims to offer earning opportunities but did not disclose further details. It's essential to scrutinize these claims. Besides, the ease and transparency of withdrawal processes play a pivotal role in determining the broker's credibility.
For safe transactions, go for regulated brokers offering clear payment choices. Options like PayPal, Skrill, Advcash, bank cards, and some cryptocurrencies are trustworthy.
Trader Reviews: Voices from the Trading Trenches
The experiences shared by traders through their reviews give us a valuable glimpse into a broker's actual performance. In the case of Aurora Holdings, it's important to approach these reviews with caution. Notably, this broker has earned a low rating of 2.9 on Trustpilot, indicating a less-than-satisfactory track record.
The prevalence of fabricated reviews and paid endorsements is a challenge in the online landscape. As a result, authentic feedback from real traders shines like a beacon. It provides a candid view of Aurora Holdings' strengths and weaknesses. By paying attention to these insights, you gain a clearer understanding of what the broker does well and where it might fall short.
Aurora Holdings: The Scheme of Investment Fraud
Beyond the appealing exterior of Aurora Holdings, a disturbing scheme of investment fraud lurks. It preys on traders who are new. Let's break down how this fraudulent operation works.
Once traders become part of Aurora Holdings, Aron Groups, and similar firms, they unknowingly step into a trap of deception. Supposedly, a financial broker scam makes contact, offering help and guidance. 
However, many of these brokers are actually scammers with a hidden agenda – to manipulate innocent investors. This deceitful game involves unauthorized transactions, accessing online banking without permission, and fabricating fake profits. It's a terrifying scenario that leaves traders feeling trapped and helpless.
Note: Make sure to avoid fake and unregulated brokers like Aurora Holdings and T1Markets. Keep your money safe. 
Aurora Holdings: The Twisted Path of Fund Repayment
The path ahead becomes unclear as traders realize that a simple way out is elusive. Getting back funds becomes complicated, tied to more deposits. Things get trickier with the introduction of alleged tax debts and commissions. Traders end up trapped in a cycle of demands, feeling stuck with no easy solution.
If you're unsure about picking the right broker for your style, or you need a chargeback, just reach out to us! We're here to help.
Aurora Holdings: Banks Involved
As we dig deeper, we find that banks are part of this fraud with Aurora Holdings. This implicates them in shady dealings. Those who were defrauded have a chance to claim damages from these banks.
For victims, a ray of hope emerges amid the darkness. Instead of feeling stuck, there's a way forward. Money laundering steps in as a crucial way to seek fairness through legal means. The money's trail becomes a guide toward the possibility of getting justice.
Important Note: Protect your funds by steering clear of brokers such as VantageMarkets. Your financial security is essential.
Victim of Aurora Holdings: Who Can Help?
When things go wrong, finding the right help is crucial. If you're a victim of Aurora Holdings' fraud, you're not alone. Skilled investment fraud attorneys can offer you a lifeline. They know how to handle the tangled web of this case, from the criminal aspects to recovering funds and claiming damages.
Remember, financial consultants are also here for you. Feel free to reach out to us. We're committed to doing our best to aid you in reclaiming your funds. Just a simple step, and we're by your side.
Long Story Short – Aurora Holdings
Summing up the Aurora Holdings experience, it's clear that navigating this broker requires cautious steps. The lack of clarity regarding operators, dubious marketing practices, and potential fraudulent activities raise significant red flags. As a responsible trader, prioritize your due diligence, seek regulated alternatives, and consult professionals if you suspect foul play.
Need a trustworthy broker? Reach out to us, and we'll match you with the perfect one for your requirements.
FAQs
Is Aurora Holdings Legit?
Aurora Holdings' legitimacy is questionable due to hidden ownership.
Can I Withdraw My Funds From Aurora Holdings?
Withdrawal from Aurora Holdings might be challenging. Beware of that.
How to Get Money Back From Auroraholdings.org?
Reclaiming funds requires legal steps. Consider consulting us or hiring a lawyer.