November 01, 2023
Reading Time:
4
min
Axia Futures Review: The Pros and Cons of Their Trading Programs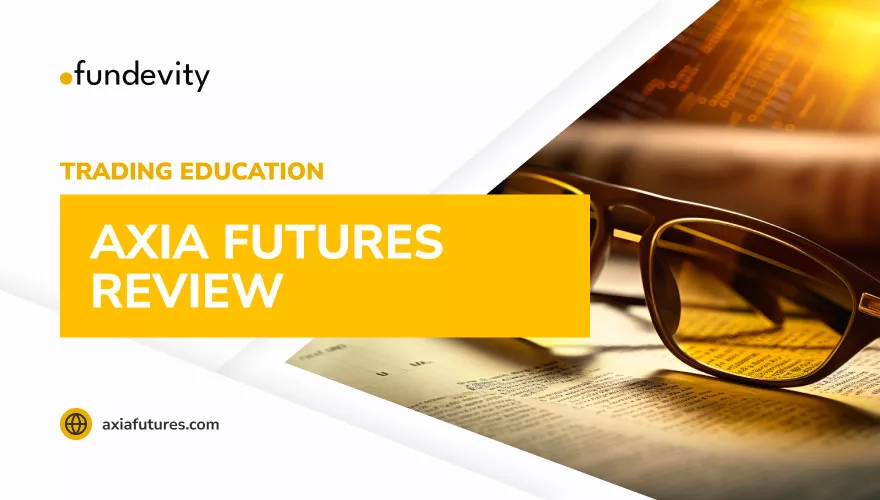 When we think of trading, finding a reliable education firm is essential. Axia Futures, a prominent name in the trading education sphere, has caught our attention. Let's unravel the layers of this London-based trading education firm and explore the offerings that have set them apart. Keep on reading our Axia Futures review! 
General information

Name

Axia Futures LTD

Type of company

Trading Education

Regulation status

FCA Regulated – Axia Markets Pro

Warnings from Financial Regulators

No official warnings

Website link

www.axiatradinggroup.com

,

https://axiafutures.com/

 

Active since

2016

Registered in

London, Wrocław, and Limassol

Contact info

[email protected]

,

[email protected]

, [email protected]

Trading platforms

Web

Majority of clients are from

United States, United Kingdom, India, Germany, Canada

Customer support

Email and ticket 

Compensation fund

Yes
Introduction to Axia Futures
Axia Futures provides trading knowledge and is based in the heart of London. Their mission? To shape new traders into seasoned professionals, with the expertise of a select group of top-performing futures day traders. But among their claims, the burning question remains: Is AxiaFutures truly reliable? 
Join us as we start exploring their company details!
A Glimpse into the Company
At the core of Axia Futures lies a team of elite traders. They serve as the driving force behind their innovative approach. These traders, forming the AXIA Trading Team, are managed by AXIA MARKETS PRO. 
This is an FCA-regulated trading firm with a rich history dating back to 1984. With roots embedded in the CME and LCH trading pits, Axia Futures and AXIA MARKETS PRO joined forces, creating the AXIA TRADING GROUP. So, what is their shared vision? To provide proprietary trading services and world-class training. Their goal is to truly guide traders toward their full potential.
They are situated in key locations such as London, Wrocław, and Limassol.
Axia Futures Courses and Trading Programs
Diving into Axia Futures' offerings, we discover a range of smart trading programs. We can see that each is promising to mold novices into trading virtuosos.
Learn to Trade Career Pathways
6-Week Trader Training Career Programme:

The flagship program, a six-week intensive training modeled on the skills of successful traders.

12-Month X-Ponential Trading Programme:

A personalized 12-month coaching initiative. This one includes weekly group sessions and regular one-to-one mentoring.
Tip: In 2015, Kavout Corporation set its roots in the United States. Ever since, they've been promoting their AI Copilot software, designed to make trading decisions easier.
Foundation Trading Courses
This company believes in the power of foundational knowledge. Here's what they offer:
Trading Decoded (1-week Intensive Trading Course):

An interactive course covering essential trading skills.

Futures Trading and Trader Development:

A comprehensive course made for individuals new to futures trading. This one is available in both interactive and self-guided formats.
Edge Tool Trading Courses
For those craving a deeper understanding, this company presents a series of advanced courses:
Trading with Price Ladder and Order Flow Strategies:

An intensive training program delving into price ladder techniques.

Volume Profiling with Strategy Development:

Exploring volume and TPO profiling with a focus on useful applications and strategy development.

The Footprint Edge Course:

A strategy-focused Footprint course highlighting a unique process-driven approach.
Speciality Trading Courses
Their specialization courses promise many solid benefits. Let's take a closer look:
Central Bank Trading Strategies:

Here you can explore all the Central Bank operations. We can say this is a solid foundation of knowledge.

The Prop Trading Code:

A deep dive into the processes, methodologies, strategies, and templates used by professional traders.
Futures Trading and Trader Development Introductory Course
Axia Futures' 'Futures Trading and Trader Development' introductory course costs £990. The company says this course aims to equip students with fundamental training material. Also, this course has over 15 hours of video material. There are even extra Q&A sessions for knowledge testing. This course introduces students to essential trading tools, including the Price Ladder.
Yet, some might find the price tag exorbitant. This may raise some questions about transparency and accessibility. While the course promises smart training, its steep cost may deter potential learners. 
Tip: Stock Master is your go-to mobile companion for the stock market. It offers everything from live stock updates to detailed charts.
Trader Reviews on Trustpilot
Let's talk about what Trustpilot says about this education platform. It's got an average score of 3.3 out of 5.0, but here's the thing: only 4 users have given feedback. Now, that's not a lot of people, right? Such a tiny group makes us a bit suspicious. Can we really trust such a limited number of reviews to judge the quality of a trading education platform? We think it's wise to be cautious.
When thinking of trading education, it's essential to have trustworthy feedback. That's why we suggest looking for platforms and services with ratings of 4.5 stars or more. These higher-rated options have proven their worth. So, this makes them safer bets for your trading education journey.
Your Path to Profitable Trading Made Easy
Ready to make money online through trading? We've got your back! Making money from home has never been simpler. Reach out to us for free consultations and expert advice on the best trading platforms. And guess what? We've got something special for you – our AI Analysis Bot. It's like having a knowledgeable companion by your side, offering insights and predictions stress-free.
What's even better? You can try it out for 20 days without spending a penny upfront. No hidden fees, just pure trading wisdom. You will get special FX analysis reports and stock analysis reports each month. Your journey to financial success is just a click away. Start your profitable trading adventure today!
Final Verdict
As you can see, this firm appears as a solid player in the trading education domain. Their superb programs suit various skill levels. Mostly, this guarantees traders receive solid guidance. Yet, the pricing of their courses might be too high. As with any significant investment, students must weigh the benefits against the expenses. 
Exploring the world of trading education is a pivotal step for any aspiring trader. Axia Futures, with its blend of innovation and expertise, stands ready to guide you. Remember, every investment in knowledge pays the best interest.
FAQs
What is Axia Futures?
Axia Futures is a London-based trading and education firm.
Do Axia Futures' strategies work for traders?
Yes, Axia Futures' strategies are crafted by experts, offering smart insights and techniques for traders.
Can I make money from online trading?
Absolutely! With the right knowledge and tools, online trading can be profitable. Try our AI Analysis Bot for expert guidance!