June 22, 2023
Reading Time:
6
min
Ayondo Review: Exploring the Features and Undertaking of Ayondo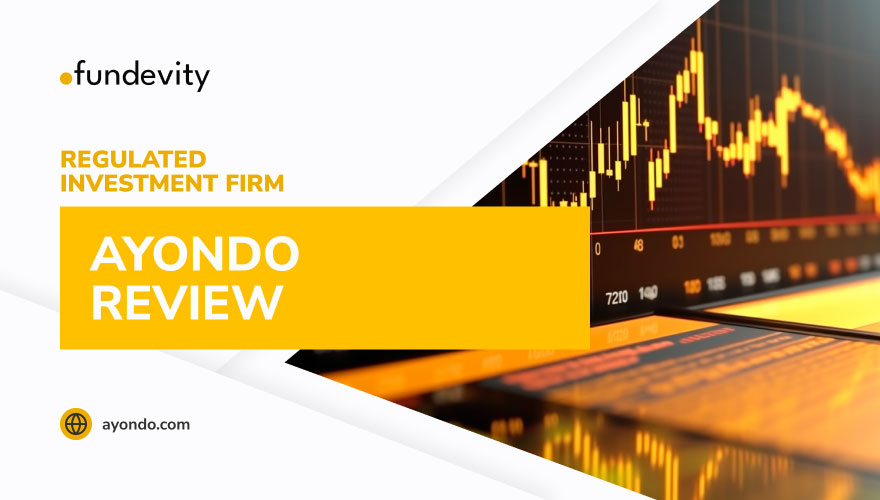 Ayondo is a company that has to offer a spectrum of financial instruments. These are FX, CFDs, and binary options. In this Ayondo review, we will thoroughly examine Ayondo's offerings, covering key aspects such as fees, the demo account, and its crypto capabilities. 
Besides, we'll explore the Ayondo social trading system and app, exploring its mind-blowing features. By the end of this review, you'll better understand Ayondo's platform. This will allow you to make an informed decision. Let's dive in and explore what Ayondo has to offer!
Is Ayondo Legit and Safe?
Ayondo is a financial group comprising Ayondo GmbH, a technology and service provider, and Ayondo Portfolio Management GmbH, which offers exclusive social trading services. Both companies are headquartered in Frankfurt, Germany. Ayondo Portfolio Management GmbH is authorized and controlled by the Bundesanstalt für Finanzdienstleistungsaufsicht, BaFin.
The investment firm, Ayondo Markets Ltd, operates from London and is regulated by the Financial Conduct Authority (FCA). Ayondo also has offices in Singapore, Switzerland, and Spain, fully authorized to cater to clients' needs.
Protection of Client Funds
With strict regulations, Ayondo guarantees a safe trading environment. This goes without saying. Clients trade without the risk of a debit balance or negative balance obligation. 
Besides, Ayondo provides supplementary insurance. It offers up to £1,000,000 per client coverage, surpassing standard FSCS cover. These measures provide clients with added peace of mind and security.
General information
Name:

Ayondo

Regulation status:

Regulated Broker, BaFin, FCA

Warnings from Financial Regulators:

No official warnings

Website link:

ayondo.com

Active since:

2007

Registered in:

Germany

Contact info:

[email protected]

, 0800 9999 94 100

Trading platforms:

ActivTrader, MT4, MT5

Majority of clients are from:

Germany; United Kingdom; Spain; India; Singapore

Customer support:

Email, phone, form

Compensation fund:

Yes
Asset List Overview
Ayondo Markets provides various trading opportunities through Contracts for Difference (CFDs). CFDs are a popular derivative financial instrument that allows traders to gain exposure to various markets. With Ayondo, you can trade CFDs on indices, currencies, shares, ETFs, commodities, and interest rates.
Indices. Trade CFDs on major global indices such as the S&P 500, FTSE 100, and DAX. Take advantage of market movements and speculate on entire markets' performance.

Currencies. Access the forex market with CFDs on currency pairs, including popular ones like EUR/USD, GBP/USD, and USD/JPY. Benefit from the market's flexibility and liquidity.

Shares. Trade CFDs on individual stocks of leading companies around the world. Take positions on price movements and profit from both rising and falling markets.

ETFs. Gain exposure to diversified asset portfolios through CFDs or Exchange-Traded Funds (ETFs). Trade popular ETFs that track indices, sectors, or specific asset types.

Commodities. Explore CFDs on gold, oil, natural gas, and agricultural products. Speculate on the price movements of these essential resources.

Interest rates and bonds. Trade CFDs on the interest rates and bond markets. This lets you speculate on changes in interest rates and bond prices.
With Ayondo's coverage of trading assets, you can benefit from market opportunities. Also, you can tailor your trading strategy to your preferences.
Ayondo's Trading Platforms: Empower Your Trading Experience
Ayondo provides a broad selection of industry-leading trading venues. Explore the impressive range of platforms available. These include MetaTrader 4 (MT4), MetaTrader 5 (MT5), and ActivTrader. Each platform has special features and advantages for everyone's preferences. Let's delve into these exceptional trading platforms.
MetaTrader 4 (MT4). Benefit from MT4's robust functionality. This is a globally recognized platform trusted by traders worldwide. Enjoy advanced charting tools, automatic trading, and a vast library of indicators and advisors. Customize your trading strategies and access a wide range of financial instruments easily.

MetaTrader 5 (MT5). Experience the power of MT5, a state-of-the-art platform designed for enhanced flexibility. Utilize superb analytical tools, execute complex strategies, and access a broad range of markets. MT5's simple design and extensive functionality make it a preferred choice for seasoned clients.

ActivTrader. This is one distinctive Ayondo app. Discover the intuitive and fully-featured ActivTrader platform, offering seamless trading. This venue has an attractive design, lightning-fast trade execution, and many tools. Stay up to date with real-time market data and make educated trading decisions effortlessly.
With Ayondo's support for MT4, MT5, and ActivTrades, you can pick the platform that best suits your trading style. Harness the power of these state-of-the-art venues to unlock your trading potential. 
Account Types: Discover Your Trading Options
Regarding Ayondo's account types, it's imperative to note a few things. The broker hasn't disclosed this entirely on its website. This may be a disadvantage for some traders. Yet, Ayondo Markets offers a demo account and many trading tools.
Ayondo Demo Account: Perfect for New Traders
This firm presents a valuable opportunity with its free demo account. With $10,000 in virtual funds, you can explore the broker's platform and learn the markets.
With your demo login details, you gain access to a plethora of features. These include the ability to observe other traders' performance. You can even create a portfolio of up to 5 traders and employ a simulator. With this, you can assess their performance using historical data. Once you feel confident in your skills, you can upgrade to a live account straight from your Ayondo area.
Take advantage of Ayondo's demo account to sharpen your trading prowess. 
General Trading Environment: Discovering Opportunities
Ayondo wants to create a seamless connection between traders and the markets. The broker employs various strategies to attract and engage users. Through effective communication channels, Ayondo strives to keep traders informed. You will learn everything about market trends, news, and insights. They foster transparent conversations, providing valuable resources and materials to help traders navigate.
While discussing the trading environment, it's vital to address potential risks. Ayondo takes serious precautions against scammers and fraudulent activities. They prioritize secure platforms and applications, protecting traders from malicious software.
Bonuses 
Also, let's touch upon the bonuses and promotions offered by Ayondo. Your trading journey will be enhanced by the broker's enticing opportunities. These bonuses are designed to reward traders and encourage their active participation in the markets. However, it's important to approach these promotions responsibly, considering their terms and conditions.
Ayondo Markets has exciting offers for traders, including attractive cashback deals and a refer-a-friend scheme. You can enjoy 25% cash back on select trades. Further, by referring a friend to Ayondo, you can unlock special rewards and benefits. To explore the latest offers and promotions from Ayondo, simply visit their website.
Tip: LiquidityX, just like Ayondo, presents a seamless and dynamic platform. It empowers traders to navigate financial markets with cutting-edge tools.
Exploring Ayondo's Convenient Payment Options
Ayondo includes convenient payment methods to suit your trading needs. With a minimum investment of $100, even beginner traders can start their journey without hassle. Yet, it's critical to check your account preferences. For instance, social trading accounts may require a minimum deposit of $2,000.
Deposits made through cards are free of charge with no fees. Yet, if your card is issued outside of the European Economic Area (EEA), a 1.75% fee will be applied to process the transaction. Ayondo prioritizes your transactions' security and accepts payments only through 3-D secure cards. Visa developed these for enhanced internet payment safety.
Withdrawing funds from your account is straightforward. Simply submit a withdrawal request, and the funds will be returned to the source. Ayondo ensures a convenient and secure payment experience for its traders.
Ayondo Trustpilot Reviews
When examining Ayondo customer reviews, we found several concerning ratings on Trustpilot. The firm has received an average rating of 1.6 stars. Such a low rating is alarming for a legitimate company. Yes, it's imperative to consider that online reviews can be subjective. Still, these negative ratings raise eyebrows and warrant further investigation. Clients have expressed dissatisfaction with various aspects of Ayondo's services. 
This includes poor customer support, glitches on the trading platform, and withdrawal problems. Please exercise caution and thoroughly research the company before engaging in any transactions. Taking the time to read through these reviews can provide valuable insights and help you make informed decisions.
Interesting: Valutrades, another legitimate broker, has earned many positive reviews for its reliable services. 
Long Story Short – Ayondo
As you can see, this broker offers a wide variety of trading options. With its innovative social trading system, modern platforms, and competitive conditions, Ayondo is an excellent firm. Yet, it's worth mentioning the mixed Trustpilot reviews, with some users expressing dissatisfaction. Ayondo is regulated and provides essential investor protection. 
Despite this, potential clients should thoroughly evaluate the broker. If you're seeking a reliable broker tailored to your specific requirements, we can help you find the best-suited broker. Contact us to discover the optimal solution for your trading journey.
FAQs
Is Ayondo a Good Broker?
This is a regulated broker. However, there are mixed reviews on Trustpilot.
What Countries Are Restricted For Ayondo?
Traders from the United States and Canada are unable to utilize Ayondo.
How To Find A Broker For Safe Trading?
If you need help choosing the right broker for your trading preferences, contact us today! We offer free consultations.