June 29, 2022
Reading Time:
4
min
Bank Loan vs. Dealership Loan: Where Should You Finance Your Car?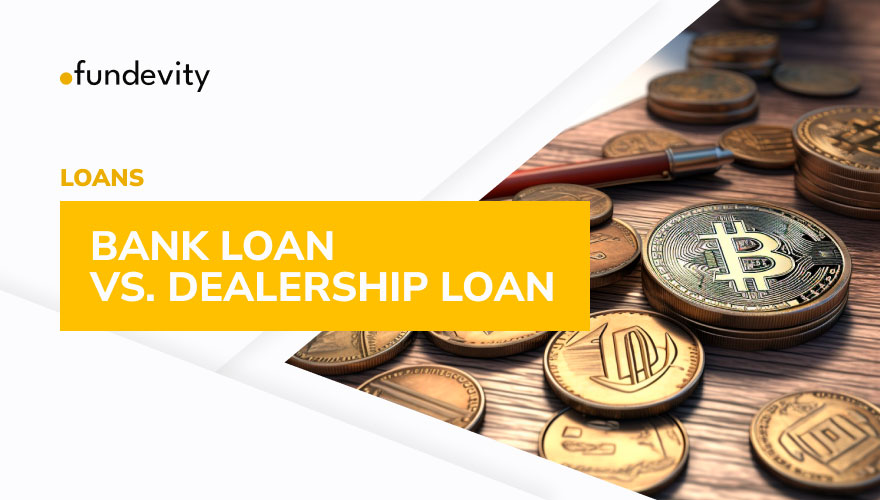 Getting a car loan is a huge choice and a complicated procedure. Both bank or credit union car loans and dealer car loans have advantages and disadvantages that should be considered before making a decision. The best alternative between the two is determined by a number of criteria, and neither option is fundamentally superior to the other.
Because not everyone can afford to pay cash for a car, taking out an auto loan is a simple and handy method to get behind the wheel. However, you must first comprehend the complexities of a car loan. You must be aware of the advantages and disadvantages of each sort of vehicle loan available. This makes determining which one is best for you in terms of convenience, payback, and other variables much easier.
How Does Car Dealership Loan Work?
Car salesmen nowadays will offer you an easy solution to finance your vehicle: in-house auto financing. With numerous freebies, a low down payment, and other incentives that make ownership much easier, this type of car loan has attracted consumers over the years. 
However, before you sign a contract with your favorite vehicle dealer, consider the following advantages and disadvantages of dealership financing:
Advantages
It is far more convenient for purchasers to get a car now that dealers provide their own financing solutions. Showrooms have evolved into one-stop car shopping centers.
Although they do evaluate purchasers' financial capability, in-house financing has fewer rules and criteria; as long as you can pay, you can drive a car out of the dealership.
Want to buy a car but can't afford to put down the required 20% deposit? Then car dealership financing is your best bet. You may drive the car of your dreams in no time since dealers provide more flexible payment terms.
Before asking for a loan directly from the dealer, you'll most likely choose your vehicle.
Dealers may provide incentives for customers who use their financing.
Disadvantages
Because dealerships are so active in pushing things to potential consumers, you can end up buying a model that is more expensive than you can afford or getting extra products and services you don't need.
Although the flexibility of dealership-provided loans is unrivaled, auto loan dealerships have higher interest rates. The higher the interest rate, the longer you wait to pay. This puts a lot of customers at risk of repossession, especially if they opt for a car that is much above their means.
Just keep in mind that if you finance through your dealer, you won't have any say in which creditor delivers the loan.
How Does a Car Bank Loan Work?
The first thought that springs to mind when applying for an auto loan is to go to your local bank. Banks provide excellent service in terms of availability and convenience because they are your one-stop-shop for all things financial.
If you're thinking about getting a car loan from a bank, keep the following points in mind:
Advantages
Accessibility is simple. Every town has a bank, and some cities have more than one. This makes comparison shopping and finding the best bargain much easier.
People may apply for financial products like auto loans more easily thanks to technological solutions like mobile apps, comparison websites, and one-stop online services.
The opportunity to tailor your repayment schedule is the primary benefit of receiving a car loan through a bank. You can construct a financing scheme that is both flexible and inexpensive depending on the conditions of payment and the down payment.
Banks frequently advertise special auto loan rates. Approval can happen quickly, especially if you have a strong or excellent credit history.
If you already have a bank account, it can help you get a loan faster. Banks frequently offer existing customers a rate reduction or other incentive.
Your bank may also be able to help you manage your auto loan in conjunction with your other financial accounts.
Disadvantages
When it comes to application screening, banks can be quite strict. They not only demand a pile of paperwork, but they also perform a comprehensive examination of your credit history and finances to determine whether you can be trusted with their money.
Despite the fact that they have low-interest rates, the convenience fees will increase your overall payment.
Banks normally do not provide the same "all-in" low down payment deals. In reality, bank vehicle loans typically require a larger down payment.
You might get less money overall. This is due to the fact that the bank will determine the loan amount based on your repayment ability.
Which Is the Best Option to Finance Your Car?
Make sure you understand all of the terms and conditions for each of your financing alternatives, and that the fees are within your monthly budget and for the long term.
Calculate the overall cost of the vehicle throughout the life of each loan, as well as any potential trade-offs. You may be willing to spend more in total in exchange for reduced monthly payments if you take out a longer-term loan. Perhaps you're more concerned with the bottom line, in which case a rebate or a cheaper interest rate could be the determining factor.
You'll be ready to make an informed decision once you've examined the options. You may complete your new or used automobile purchase knowing you got the best bargain possible.
It's a good idea to start with a credit evaluation when deciding on the best option. Banks are best for people with strong credit. You'll pay less in interest, which means you'll spend less overall on the car.
"Buy here, pay here" dealerships are beneficial to those with bad credit who require a vehicle. You must, however, consider the interest expense. You should browse around for a reasonable interest rate.