August 09, 2023
Reading Time:
7
min
Belleofx Review: Unraveling the Reality Behind Belleofx.com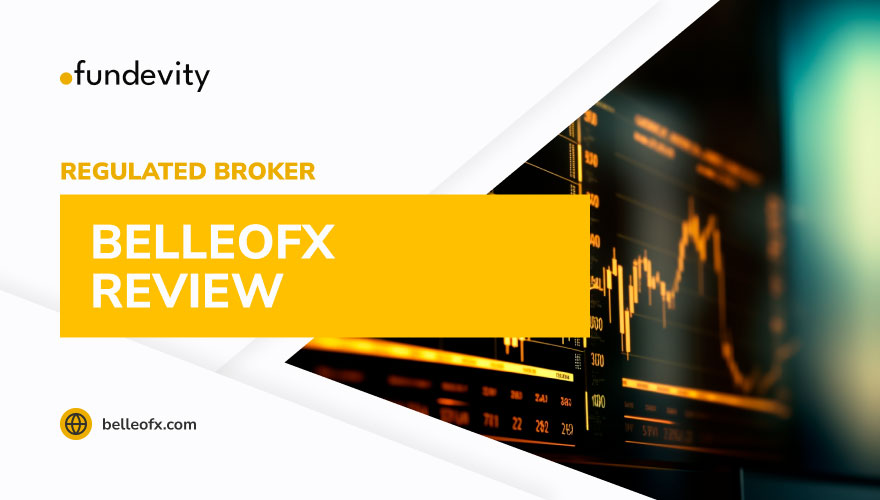 In this BelleoFX review, we delve into the intriguing world of offshore brokers. We will examine BelleoFX, a trading name of BelleoFX UK Limited. 
With its claims of providing a robust MetaTrader 5 trading platform, attractive leverage, and a wide range of assets, BelleoFX has caught traders' attention. But, questions about the potential risks involved in dealing with offshore regulators linger. Join us as we explore the platform's features, trading assets, user reviews, and more. We will determine whether BelleoFX lives up to its promises.
Belleofx Regulation: Understanding the Regulatory Landscape
Belleo Markets is a company registered in Mauritius. They are regulated by the Financial Services Commission (FSC) under license number GB21027167. Belleo Markets – Rep. Office (UAE) operates as a branch of Belleo Markets Mauritius and is authorized by DET with license number 1074850. On the other hand, BelleoFX broker (SVG) is registered in St. Vincent & The Grenadines. They are authorized as an International Business Company with registration number 26000 BC 2020. 
These regulators, however, fall under offshore jurisdictions. That means they have less strict rules than other renowned financial authorities. Notably, this fact raises concerns about potential risks for traders. 
Warnings from Regulators
BelleoFX's history of being blacklisted in the past serves as a crucial reason for us to raise this alarm. The Financial Conduct Authority (FCA), Finanstilsynet, and FSMA all issued warnings about BelleoFX back in 2022, signaling potential risks. What adds a twist to the tale is that 2 regulatory bodies have recently taken down their previous warnings. This sudden change raises eyebrows and prompts further caution.
In online trading, safety is paramount. This is where the importance of opting for a regulated broker comes into play. A reputable and overseen broker can help you navigate the turbulent waters of trading.
BelleoFX's certain aspects raise skepticism. The sequence of events – from warnings to their sudden removal – unveils a layer of uncertainty. When it comes to investing, vigilance is your shield against potential pitfalls. In a landscape that demands thorough evaluation, making smart choices can safeguard your investments and future.
General information
Name:

Belleo Markets (Mauritius), BelleoFX (St. Vincent and The Grenadines), and Belleo Markets – Rep.Office (UAE).

Regulation status:

Regulated Offshore Broker (FSC)

Warnings from Financial Regulators:

FCA, Finanstilsynet, and FSMA deleted the warnings

Website link:

belleofx.com

Active since

2020

Registered in

Mauritius, St. Vincent, and The Grenadines, and UAE

Contact info:

Call

+971 4 541 7900

Trading platforms:

MT5

The majority of clients are from

United Arab Emirates 

India

Pakistan 

Malaysia

the United Kingdom

Customer support:
Yes, a 24/5 live chat, email at [email protected]
Compensation fund:

No
Trading Assets Available at Belleofx: Exploring Market Opportunities
Belleofx touts itself as a multi-asset platform, offering more than 250 trading instruments across various markets. Trading assets include forex, stocks, equity indices, gold, oil, and cryptocurrencies. The platform provides CFDs on over 55 forex currency pairs, ensuring a diverse range of personal trading options. 
Whether you're interested in trading currencies, popular stocks like Tesla, Facebook, Apple, Amazon, and Microsoft, or indices with leverage up to 1:30, BelleoFX has you covered. Besides, commodities such as gold, silver, oil, and various agricultural products present opportunities for both long and short trades. Yet, they also have a suspicious regulatory license. Be aware of that.
The Forex Market
The foreign exchange market is the world's largest decentralized financial market. 
FX market offers traders continuous opportunities to buy or sell volatile currencies. Whether you are an experienced trader or a beginner to CFD trading, the forex market provides a way to take advantage of price movements in one of the most liquid assets.
BelleoFX Stocks
BelleoFX traders can buy or sell stocks without purchasing the underlying assets outright. This convenience is possible through Contracts for Difference (CFDs). 
Through CFDs, traders can profit from both rising and falling stock prices. This grants access to major companies like Tesla, Apple, Facebook, Amazon, Alphabet, Microsoft, Netflix, Starbucks, and more.
Trading Platforms Available: Belleofx Meta Trader 5
When it comes to trading platforms, BelleoFX offers the renowned MetaTrader5 (MT5). That is a multi-award-winning platform that caters to all asset classes. MT5 is the successor to MT4. It offers a state-of-the-art, multifunctional platform. MT5 has advanced technical analysis tools, automated trading capabilities (Expert Advisors), and a UI-friendly interface. 
It can be used across various devices. This includes the Web, Android, iPhone, Windows Desktop, and Mac OS.
Among its many features, MT5 provides a full set of trade orders, advanced depth, many chart types, and nine timeframes for technical analysis. 
Belleofx General Trading Environment: Explore Account Types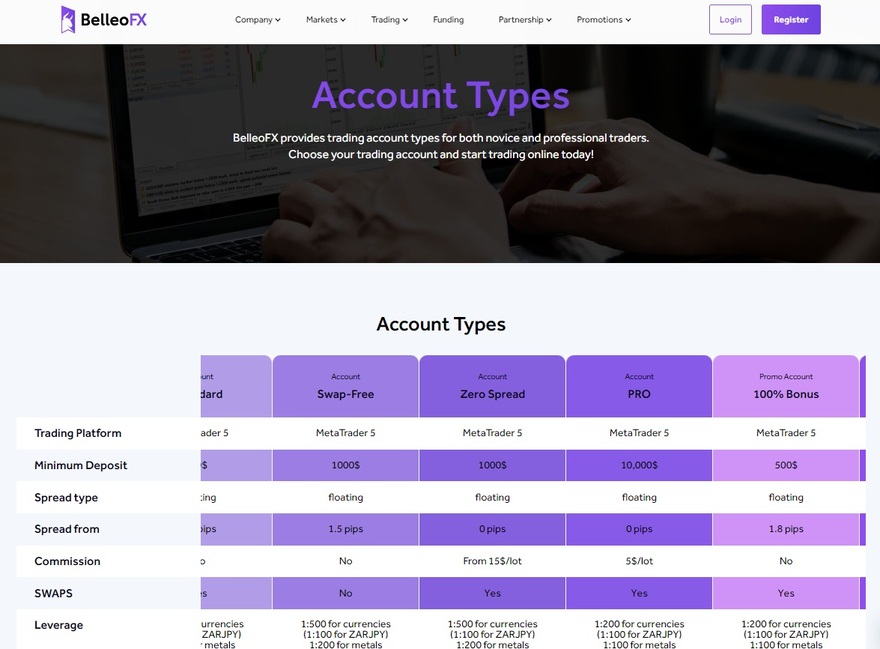 Now, what about the Belleofx account types? BelleoFX offers demo and live trading accounts. Traders can have up to five active demo accounts. What's more, this broker offers six live accounts:
Standard Account: Minimum initial deposit – $100

Swap-Free Account: Minimum initial deposit – $1,000

Zero Spread Account: Minimum initial deposit – $1,000

Pro Account: Minimum initial deposit – $10,000

Promo Account: $500 minimum deposit

PAMM Account: $2000 minimum deposit, floating spread from 0 pips, leverage up to 1:500, SWAPS apply, expert advisors allowed.
Leverage Options
Leverage varies based on the account type chosen. Standard, Swap-Free, and Zero Spread accounts offer a maximum leverage of 1:500.
Yet, the Pro account provides leverage of 1:200. It's essential to exercise caution with high leverage, as it can magnify both gains and losses. This makes it unsuitable for inexperienced traders.
Mobile Trading App: Trade on the Go with BelleoFX
BelleoFX facilitates trading on the go through its UI-friendly mobile trading app. The app is compatible with various devices, allowing traders to stay connected to the markets. 
It monitors their trades and accesses a range of features. This ensures flexibility and convenience for traders with busy lifestyles. What about the BelleoFX iPhone app? This firm offers a user-friendly trading platform for iPhone users.
Demo Account: Practice Your Trading Strategies
BelleoFX's demo account allows traders to practice without risking real money. This risk-free environment enables traders to familiarize themselves with the platform. 
They can test different techniques, and gain valuable experience before live trading. Demo accounts have no expiration date. Yet, inactivity for over 90 days may lead to closure, though they can be reopened anytime.
BelleoFX 100% Credit Bonus
BelleoFX offers a 100% Credit Bonus to clients. This allows them to double their equity by depositing a minimum of $500 into an approved account. The maximum cumulative Bonus Scheme credit amount is $25,000. 
Expert advisors are allowed, and the bonus can be withdrawn if specific requirements are met within the specified time frame. Remember to understand the risks involved in Forex and CFD trading before participating. Terms and conditions always apply.
Autotrading: Embracing Automated Trading Strategies
BelleoFX supports automated trading through Expert Advisors (EAs) on MetaTrader 5. 
EAs allow traders to automate their strategies, enabling them to execute based on predefined criteria. Traders can backtest and optimize their EAs before deploying them on live markets.
Fees: Transparent Pricing at BelleFX
BelleoFX does not charge deposit fees. But, it's essential to consider any potential fees imposed by payment providers. Moreover, there is no inactivity fee charged by this broker. 
BelleoFX withdrawal fees may apply, depending on the payment method used. Yet, these fees are usually minimal. 
Education: Enhancing Trading Knowledge
BelleoFX offers educational resources, including articles, tutorials, and webinars. It helps traders enhance their knowledge and trading skills. 
These resources cater to all traders, enabling them to stay informed about market trends and improve their decision-making. The resources also include real-time market analysis and insights to help traders stay ahead of the market. BelleoFX also offers 24/5 customer support to answer trading-related queries.
Stop Loss: Managing Risk
A crucial risk management tool, stop-loss order, is available on BelleoFX's platform. By setting stop-loss levels, traders can limit potential losses and protect their money. 
This allows traders to focus on maximizing profits while minimizing losses. Stop-loss orders can be set at a predetermined price level.
Delving into the Deposit & Withdrawal Process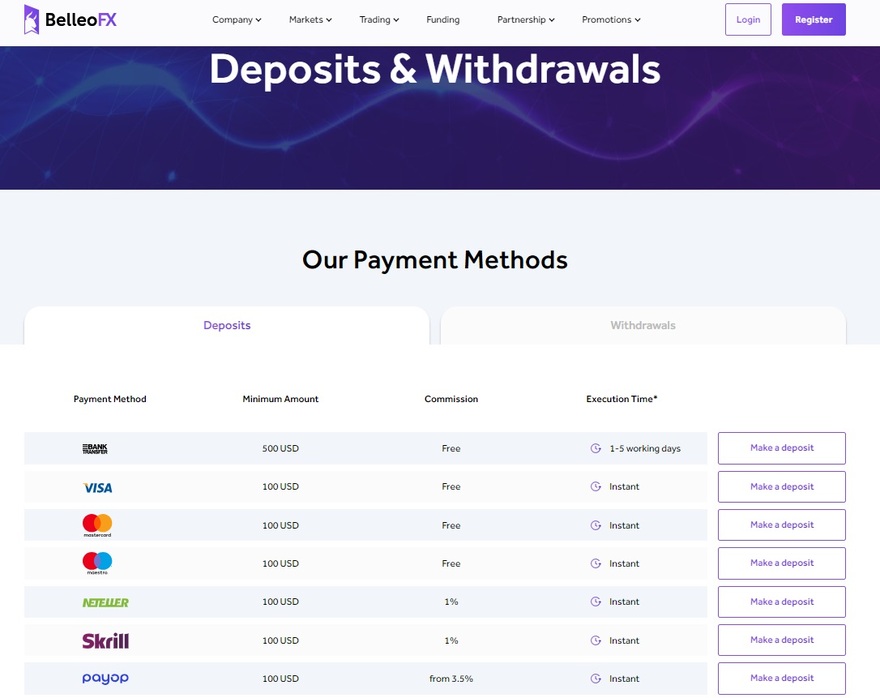 BelleoFX accepts a range of deposit and withdrawal methods. Those are as follows: 
bank transfers,

Visa, MasterCard, Maestro,

Fasapay, 

Perfect Money, and 

crypto coins like Bitcoin, Ethereum, and Litecoin.
Yet, it's essential to verify the availability of these payment options on the platform. BelleoFX's minimum deposit rule is $100, and the broker does not charge deposit fees. For withdrawals, the minimum amount varies based on the payment method: 
$10 for all methods except wire, which requires a minimum withdrawal of $500. 
Customer Support: Stay Connected with BelleoFX
BelleoFX provides various customer support channels. They are as follows:
telephone (+447727725738), 

email ([email protected]),

live chat, 

the request for a callback feature, and

social media platforms like Facebook, Instagram, and LinkedIn. 
The broker's headquarters is in Port Louis, Mauritius. And its registered address is Suite 305, Griffith Corporate Centre P.O. Box 1510, Beachmont, Kingstown St. Vincent and the Grenadines.
Trader Reviews: Analyzing Trustpilot User Opinions
BelleoFX proudly displays a remarkable TrustScore of 4.8 out of 5 on Trustpilot. It received a majority of positive reviews, granting it an "excellent" rating.
While 89% of the reviews award 5 stars and 11% give 4 stars, it's wise to approach these reviews with caution. The authenticity of such feedback could be questionable. This is given BelleoFX's status as a suspicious offshore broker. 
Always remember that you are dealing with an offshore broker, just like STB Markets.
Long Story Short – BelleoFX: Your Decision Matters
All in all, BelleoFX, operating under Belleo Markets, provides a range of trading assets through the MetaTrader5 platform. The platform offers various account types, leverage options, and a transparent fee structure. Traders can enjoy mobile trading, access educational resources, and use risk management tools. Yet, BelloFX is an offshore broker, just like Soltechx. 
Traders should perform deep research before engaging with BelleoFX or Starlight Capital. Remember, every trader's experience may differ, so it's essential to consider your risk tolerance before deciding. Always trade responsibly and make the right decisions for success. 
Book a free consultation with us today! Contact us, and we'll provide you with the most suitable brokers for your specific needs. 
FAQ Section
Is BelleoFX Regulated?
They have an offshore regulation from the Financial Services Commission of Mauritius
What Are The BelleoFX Platforms?
The BelleoFX platform is MT5, serving as the designated trading interface for users.
Does BelleoFX Have a Mobile Trading App?
BelleoFX offers MetaTrader 5 (MT5) for desktops, mobiles, and the web.