March 31, 2023
Reading Time:
6
min
Best Egg Personal Loans Review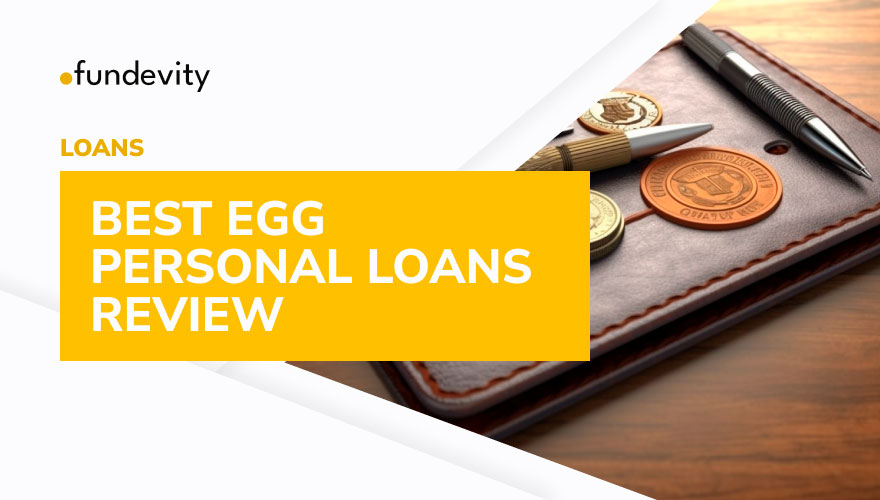 With the rise of online banking, it's easy to get pulled into a shady company offering quick and easy loans with very little information. But is Best Egg a reputable company or just a scam?
In this article, we are going to review Best Egg, which is a loan company that has been around since 2014. We are going to see what services they offer, who they serve, and if it's actually worth your time. On top of that, we will also discuss customer reviews, interest rates, customer service, and more to determine if Best Egg is legit and right for you.
If you are considering taking out a personal loan, you may have come across Best Egg company.
They offer personal loans from 2,000$ up to 50,000$ with both fixed and variable interest rates and terms that last three to five years.
It's important to note that they have origination fees and late payment penalties, but you can check your rate without affecting your credit score on their website. We will talk more about those fees later in the article.
Website

https://www.bestegg.com/personal-loans/

Loan Amount

$2,000 – $50,000 

Loan Terms

Up to 60 months 

APRs

8.99% to 35.99% 

Origination Fee

From

 0.99% and 5.99% 

Prepayment Fee

No

Immigration Status Considered

U.S citizen or permanent resident 

Employment Statuses Considered   

Yes

Intended Use

D

ebt consolidation, credit card refinancing, home improvement, medical expenses, moving or relocation expenses, vacation, taxes. 

Joint Loan Applications Accepted

No

Verification Documents Required 

Pay stubs and tax returns

Late Fee

Up to 40$ 

Minimum Credit Score

640

Minimum Income

An annual income of $100,000 

Loan Purpose

Personal use

Supported Income Types

N/A

How Long To Get Funds

1 – 3 business days

Other Prerequisites

N/A
Best Egg Overview
Best Egg was founded in 2014 and is headquartered in Wilmington, Delaware. As of September 2020, the Better Business Bureau (BBB) gave Best Egg an A+ rating and accreditation. Which is a very prestigious rating for online lenders.
They also have an average customer review rating of 4.6 out of 5 stars on Trustpilot, with nearly 3,000 customer reviews. The most common complaints include issues with customer service and problems with loan funds being released.
Overall, reviewers say that Best Egg offers a good experience and would recommend them to others. Based on their history, reviews, and accreditation from the BBB, it seems that they are a reliable company that offers fair terms on personal loans.
Best Egg Personal Loan Rates, Terms, and Fees
When it comes to personal loans or any other type as well, there are a few key factors to consider: 
Interest rate

Loan amount

Repayment term
Best Egg's interest rates start at 7.99%, which is lower than the average personal loan rate of 9.41%. And depending on your creditworthiness, you could qualify for an even lower rate. For example, if you have excellent credit, you could get a 3-year loan with an interest rate as low as 7.49%.
They also charge an origination fee from 0.99% to 5.99% for all of their loans, as well as a late payment fee of up to $40 and a failed payment fee of up to $10. Additionally, Best Egg does not charge any prepayment penalties for their loans.

While this may sound like a lot, keep in mind that it is still much lower than the typical late fee charged by other lenders. Overall, this amount will be deducted from you only in case you are late with making your monthly payments. 
Lastly, don't overlook the fact that they offer an auto-payment discount of 0.5%

With the Best Egg, you can expect your origination fee to be anywhere from 0.99% to 5.99%, depending on the loan type and amount you are looking to borrow. 
How Much Can I Borrow from Best Egg Personal Loans?
When deciding whether or not to take out a personal loan, you must take into consideration the amount you need and see if it fits with the loan range.
In case you decide to take out a Best Egg personal loan, you will have an opportunity to borrow from $2,000 to $50,000 which is a good amount for most personal needs.
Keep in mind that the actual amount you will be able to qualify for will also depend on your income and the credit score you have.
How Do I Apply for a Best Egg Personal Loan?
Every lender has different criteria and requirements when it comes to the application process. In case you are interested in applying for a Best Egg personal loan, we will provide you with step by step how to do so.

Here is how to do so:
Provide details on Best Egg's website




You'll be asked how much you want to borrow and what the funds are for, as well as some personal information like your name and email address. There's no hard credit pull at this stage.

Preview loan offers and find the one that fits your budget




You can pre-qualify on Best Egg's website.

Submit an application




Once you find a loan offer that works for you, you'll submit a formal personal loan application. 

Make a plan to repay the loan




Best Egg reports payments to all three major credit bureaus, so on-time payments will help build your credit, but missed payments will hurt it.
Best Egg Personal Loans Pros and Cons
When it comes to finding a reputable company, there are both pros and cons to consider. Best Egg is one such company that has both positive and negative reviews. 
On the plus side, Best Egg has a good reputation for providing good loan services. But, on the downside, some customers have complained about the quality of customer support, and others have said that they were declined loans they were eligible for. 
Overall, it seems that Best Egg is a decent company that offers a good product, but there are some drawbacks to keep in mind.

| | |
| --- | --- |
| Pros | Cons |
| Offers online and over-the-phone applications  | High maximum APR |
| Conducts soft inquiry that doesn't affect your credit score | Does not accept borrowers with new or no credit |
| Easily accessible rates on their website | Has an origination fee |
| No prepayment penalties | Has late fees  |
How Does Best Egg Compare to Other Personal Loan Lenders?
Best Egg and Upstart are online lending platforms offering borrowers access to personal loans for various purposes. Neither charges prepayment penalties, and APR ranges are nearly identical, with Upstart charging between 6.70% and 35.99%.
Both offer comparable APRs and fee structures, but Upstart is likely the best choice for borrowers with low credit scores. Not only is the minimum credit requirement lower than Best Egg's, but the platform also is artificial intelligence (AI)-based and reviews several factors when considering applications. Plus, loans start at just $1,000 in most states and go up to $50,000, making it easier to borrow exactly what you need.
And that is just one of the many other lenders they compare to and in overall aspect, they offer better terms and no prepayment penalties.
Is Best Egg a Reputable Lender?
When it comes to online lending, there are always going to be questions about legitimacy and security. So, is Best Egg a legitimate company? Are they a scam or are they safe? What kind of regulations and security do they have in place?
The short answer is yes, Best Egg is a legitimate and safe company that offers loan services. And they have a number of regulations and security measures in place to protect their customers.
As we have mentioned, Best Egg is a real and legit company that is well-established with a good reputation. They have been in business for over 5 years and have funded over 5$ billion in loans. They are also accredited by the Better Business Bureau (BBB).
Best Egg takes its regulations and security very seriously since they are fully compliant with all federal and state laws and regulations.
Summary of Best Egg Personal Loans
Best Egg is an online lending platform that provides competitive unsecured and secured personal loans for everything from credit card refinancing to vacations abroad. 

They offer their services through Cross River Bank and Blue Ridge Bank and have a wide range of terms and loan amounts.

Best Egg has an A+ rating with the Better Business Bureau and mainly positive reviews online.

By choosing this company you won't have any prepayment fees which is always a plus when it comes to online lenders.
Best Egg Personal Loans FAQs
1. What fees does Best Egg charge?
Best Egg charges origination fees which can be from 0.99% to 5.99% and a late payment fee of up to $40.
2. How long does it take to receive funds from a Best Egg personal loan?
After you have submitted an application and it has been approved, it takes 1 to 3 business days to receive funds.
3. What are the eligibility requirements for a Best Egg personal loan?
In order to get a Best Egg personal loan you must be a US citizen or permanent resident, have an annual income of $100,000 and have a credit score of 640 or more.