May 03, 2023
Reading Time:
4
min
Bitchain Review: Be Careful With Bitchain.Info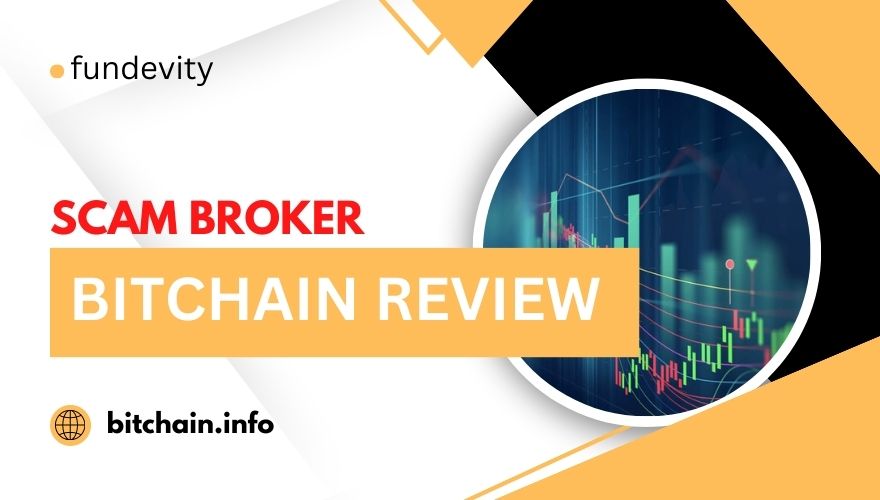 Would you like to find out the truth about the shady operations behind Bitchain? This Bitchain review will examine the broker's license (the lack of it), the trading venue, headquarters, requirements, and payment options.
In this article, you will learn why you cannot trust Bitchain. Without further ado, let's jump straight into the facts! 
Also, we recommend you not to invest in the fraudulent brokers Fxbfi and DG Flex.
| | |
| --- | --- |
| Leverage | 1:600 |
| Regulation | No Regulation |
| Headquarters | n/a |
| Minimum Deposit | $250 |
| Review Rating | 1/5 |
| Broker Type | Forex |
| Platforms | WebTrader |
| Spread | 3 pips |
Bitchain – Compliance and Safety
You are perhaps wondering if there is regulation when it comes to this broker. The answer is no. Speaking of Bitchain's license or regulation, there's nothing to be seen. This fake company didn't leave an authorized address, jurisdiction, or the name of the organization. Also, legal papers include the same reclaimed paragraphs we have seen numerous times before. This is indeed outrageous. To confirm, we reviewed the databases of some respected regulators like the FCA, ASIC, FINMA, BaFin, and CySEC but didn't see any firm by the name of Bitchain. 
All we discovered about this deceitful broker were warnings against it. Instead of using this scam, find a regulated broker, preferably certified by a Tier 1 authority. Authorized European brokers work under ESMA, while US-based brokers need to be registered with the CFTC and NFA. Speaking of Canada, IIROC is your go-to for reviewing the status. Bitchain is an anonymous scam broker with no trading license. 
This fraudulent cyber fraud has been active since 2021 and has scammed unsuspecting traders from the US, UK, Canada, Nigeria, Brazil, and Germany.
Please beware when doing business with firms such as Bitchain, Bitky, and other suspicious entities.
Trading Platforms at
Bitchain
In today's trading world, selecting a broker can be daunting, but trading software is indispensable. In fact, traders are looking for cutting-edge algorithmic and copy trading features that can propel their success to new heights. These traits are mainly available on platforms such as MetaTrader and a few others. However, it is disheartening to note that this broker has not included any of these trusted software. Rather, they have used their own proprietary platform.
Regrettably, the WebTrader software offered by Bitchain Trading Company is poorly designed and not up to par with industry standards. Its unattractive interface is not just unappealing to experienced traders, but also to novices as well. The platform's basic indicators and charting options leave much to be desired. 
The fact that it is susceptible to market manipulation is a major red flag. As a result, it is not surprising that traders are opting for other brokers with more reliable and refined trading software.
Account Types Available
Bitchain, as per the broker's website, presents seven trading account types. Let's take a closer look at each account type.
Basic – Starting at $250.

Bronze – Starting at $5,000.

Silver – Starting at $10,000.

Gold – Starting at $25,000.

Platinum – Starting at $100,000.

Diamond – Starting at $250,000.

Black – "financial advisor."
But wait, there's more! According to the broker's website, all account types come with 24/7 customer service. Additionally, apparently, each subsequent account type has a faster withdrawal approval time, ranging from five to one working day. This could be a welcome relief for traders who value speed if this wasn't a broker scam.
However, it's essential to note that the leverage listed on the account type page is considerably lower than the maximum leverage advertised on the home page. The discrepancy between the advertised leverage and the actual leverage provided is a classic hallmark of anonymous scammers, which raises red flags. As a trader, it's critical to do your homework and explore any discrepancies before engaging with a broker.
Deposit and Withdrawal Methods
Bitchain claims to deliver multiple payment options to clients. According to their page, traders can deposit funds via credit/debit cards, wire, e-wallets, and even Bitcoin. Yet, don't be fooled by their plainly generous options, as Bitchain's true colors reveal themselves when it comes to withdrawals.
The minimum deposit requirement is $250, but withdrawal fees are outrageous. Bitchain charges $50 for wire transfers, $25 plus a $10 fee for card payments, and $25 for e-payments. But wait, there's more! If you fail to reach a turnover of 200 times your deposit, which is almost impossible, the broker levies a 10% charge on your account. It's no wonder experienced traders avoid this broker like the plague.
As a responsible trader, it's crucial to do your due diligence and steer clear of scams. Don't be swayed by attractive payment options and lucrative returns. Remember, if something sounds too good to be true, it likely is. Avoid Bitchain at all costs and protect your money from similar unscrupulous brokers.
Deconstructing the Anatomy of a Swindle: Exposing Bogus Tactics and Tricks
Offshore brokers simply love to operate beyond the regulatory jurisdiction of a trader's home country. While some offshore brokers may indeed be legitimate, traders must remain vigilant to avoid being fooled by unscrupulous brokers. 
These misleading brokers employ a variety of strategies to lure trusting traders, including promising utopian profits or guaranteed returns. They may also resort to hiding fees and extra charges. This makes it challenging for traders to understand the true cost of trading. Additionally, some offshore brokers engage in unlawful practices such as insider trading or market interference, putting traders' investments at risk.
To avoid falling victim to these nefarious strategies, traders must conduct extensive due diligence before opening an account with any broker like that. One key element is verifying if the broker is registered and licensed. Unregistered companies like Bitchain and Crypto Lloyds have been known to deceive their clients. By remaining alert and taking note of the warning signs, traders can safeguard their assets and steer clear of these unscrupulous brokers.
Bitchain
Summary
Bitchain is a forex broker that appears to be a scheming operation. This Bitchain review reveals that the broker lacks regulation and licensing. Bitchain is not authorized by any reputable regulatory body, and the business provides no information about its legal documents. Instead, warnings about the broker are everywhere. 
Bitchain uses its proprietary trading system, which is inadequate, with basic indicators and charting options. Bitchain proposes seven account types, starting at $250. However, the leverage advertised on the account type page is much lower than the maximum leverage announced on the home page. 
Deposits can be made through a variety of methods, including credit/debit cards, wire, e-wallets, and Bitcoin. Nevertheless, withdrawal fees are outrageous, ranging from $25 to $50. Stay far away from this broker scam to protect your investments.
FAQs
Is Bitchain Legitimate Broker?
No. This broker is far from legitimate, and you should stay away from it.
What is the Minimum Deposit for Bitchain?
The minimum deposit payment for this suspicious broker is $250.
What Trading Products Are Available With Bitchain?
This bogus broker offers the following assets: FX, indices, commodities, and cryptocurrencies.