March 06, 2023
Reading Time:
4
min
BitmartExpo Review: Why You Should Avoid This Offshore Firm
Stating fake EU addresses while obviously operating from an offshore zone, Bitmartexpo lies dominate the official web page. False claims also refer to a CySEC license, which we quickly proved was forged. Stay with our Bitmartexpo review to see how to perform a detailed check of a broker by yourself when you need it.
Otherwise, trading conditions that Bitmartexpo offers aren't even half as bad. Or at least they wouldn't be if the company wasn't a com artist aiming to pocket your hard earned money.
With an inactive domain Bitmartexpo doesn't seem like an attractive place to start your Forex trading journey. Let's just hope they stay inactive and not resurface with a brand new identity to carry on with the theft.
| | |
| --- | --- |
| Company | N/A |
| Website | http://bitmartexpo.com/ – inactive |
| Address | Latvia/Hungary |
| Email | [email protected] |
| Phone | N/A |
| Minimum Deposit | $250 |
| Leverage | 1:100 |
| Bonuses | Available |
| Regulation | Unregulated |
| Warning | N/A |
BitmartExpo Regulation and Funds Security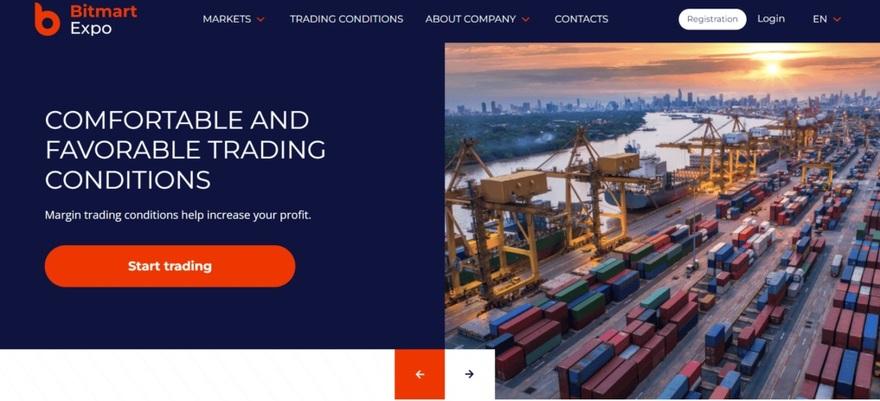 The few starting points we had when examining the Bitmartexpo regulation were the two EU addresses – Hungry and Latvia and claims of CySEC license. Next, Terms and Conditions claim that the broker abides by the laws of the Vanuatu court.
Anyway, offering brokerage services in Hungary requires a license from the National Bank of Hungary. For operating in Latvia, the regulator providing online trading certificates is the Financial and Capital Market Commission. Both financial institutions keep their respective databases of the brokers they have licensed. Scanning them for the Bitmartexpo name showed us no positive results.
The Republic of Vanuatu has their own financial organization that oversees the brokerage activity in the area. Bitmartexpo doesn't appear in their register as a licensed brokerage company either.
To further expand our search, we have also combed through the lists of FCA, CySEC, BaFin, CONSOB, CNMV, ASIC, NFA and AMF. None of the influential institutions supervises the business that Bitmartexpo runs.
After all the info we've researched, we can confidently say that Bitmartexpo doesn't allow deposits on segregated bank accounts for security of clients' funds. Leverage allowed goes up to 1:100, which is more than what EEA brokers can offer.
No negative balance protection or access to compensational funds additionally increase your risk of losing the entire investment and becoming indebted. Keep reading our Bitmartexpo review. We will give you even more reasons why not to trust this suspicious firm.
Trading Platform Supported Overview
Bitmartexpo has a simple, although easily navigated trading software. At first you might even find it useful for practicing if you're a beginner trader. Unfortunately, you will quickly realize how much it lacks the complex features necessary for fast and exact trading actions. Not that you should be surprised at all.
It's quite typical of a scammer to only allow fictive trading through a manipulated terminal. To assert dominance over your investment decisions, they can control the trading software and easily change the parameters. That way you only see what the fraud wants you to see. Devious yet very effective, this method is widely spread among numerous scammers.
Funding Methods Available at BitmartExpo
Bitmartexpo focuses on crypto scamming, so funding methods are also limited to digital currencies (Bitcoin, Litecoin, Ethereum). Needless to mention, these transactions are hardly traceable and almost irreversible, so beware of the fake brokers limiting you to only crypto funding.
Apart from that, the registration fee that Bitmartexpo charges is $250. This sum isn't too high, although there are numerous legitimate brokerage companies offering live trading accounts for far less. Refer to our table of suggestions below for more info.
Don't expect withdrawals to work with Bitmartexpo. A clear sign of a broker being a bogus online services provider is the missing transparency. How can you trust an agent that reveals little to no data about such crucial things as withdrawals?
BitmartExpo Offers Bonuses and Promotions
We've already mentioned that EEA and UK brokers can't offer bonuses as one of the regulatory standards imposed by licensing organizations. Bitmartexpo however does offer them for the obvious purpose of attracting customers.
These bonuses can be in the form of deposit bonus, joining reward, referrals or casual promotions. Sometimes the fraudster will slap these fictitious amounts of money on your trading account and then make up reasons to take them back. Not only the non-deposited funds but your entire investment can be snatched away under different pretext each time.
Frauds may come up with excuses like unreached trading volume, unpaid fees and irrational charges that they demand.
How the Scam Is Undertaken
Bitmartexpo has an approach that is somewhat familiar to that of other crypto scammers.
Main goal towards which all unscrupulous firms gravitate is snatching your money without suffering the legal charges. What surely helps them keep their anonymity is the crypto depositing which Bitmartexpo also enforces.
The thief will also urge you to deposit more cash every time and soon you will lose count of how much money you've given away. Since the trading controlled by the account manager looks like it's going great you will not question anything.
With time you start being suspicious and will eventually ask for a withdrawal. That's when you realize everything was a lie and your life investment is gone.
BitmartExpo Summary
As much as Bitmartexpo tries to leave an impression of a reputable broker dealer, our Bitmartexpo review exposes this skillful liar. Please pay attention to the key evidence we've presented and use it as a small guide to your safe trading.
Again, we have to emphasize the importance of proper regulations and licenses. Whenever in doubt, just check with the jurisdictional financial authority. It's the only solid evidence of your service provider conducting a legal business.
If you're in need of additional advice, please turn to us. We'd gladly hear you out. Having experience in dealing with scam projects like Bitmartexpo? We'd appreciate you sharing the precious knowledge with this community.
FAQs About BitmartExpo Broker
Is BitmartExpo Offer a Demo Account?
Bitmartexpo provides no option of opening a trial account for trading. You have to fund your trading account with real cash to be able to trade.
What Is The Minimum Deposit at BitmartExpo?
Live account demands an initial deposit of $250. The price isn't too high but there are more trustworthy brokers out there that ask for way less.
What Instruments Are Available for Trading with BitmartExpo?
Tradable assets at Bitmartexpo are Forex currency pairs, commodities, shares and digital currencies.