April 21, 2023
Reading Time:
4
min
BitOpps Review: Learn Why This Broker Is a Bad Choice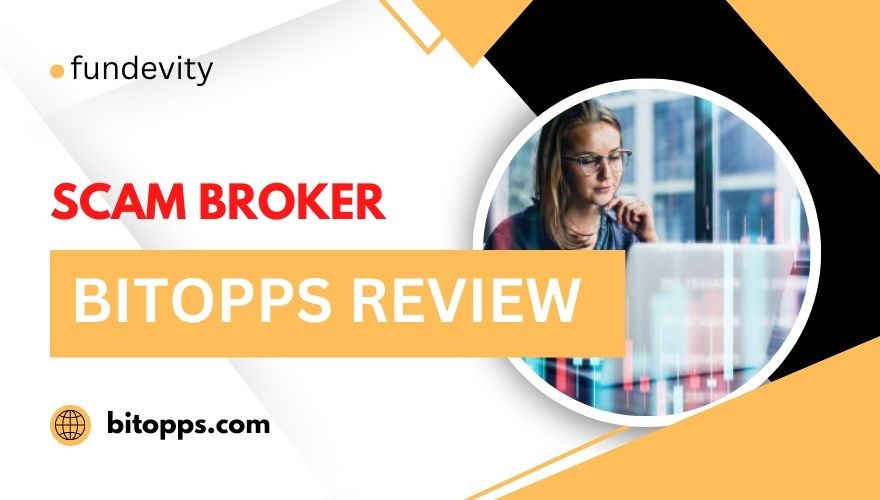 With the crypto market's wild fluctuations, you must be certain that you are partnering with a trustworthy firm that guarantees your safety while trading. 
Sad to say, Bitopps is a dubious offshore broker with a tainted reputation, and we would caution you against trading with them. Our Bitopps review uncovers several issues that plague every aspect of the broker's service. So buckle up and read on to avoid falling victim to the pitfalls of trading with Bitopps.
| | |
| --- | --- |
| Broker Status: | Offshore Broker Scam |
| Regulated by:  | No Regulation |
| Operating Status:  | Active |
| Scammers Websites:  | Bitopps.com |
| Blacklisted as a Scam by: | FSMA, BCSC, CMVM, AMF, OSC |
| Broker Owner:  | Rival Ltd |
| Headquarters Country: | Saint Vincent and the Grenadines |
| Foundation Year:  | 2020 |
| Online Trading Platforms: | WebTrader |
| Mobile Trading:  | No |
| Minimum Deposit: | $1,000 |
| Deposit Bonus:  | N/A |
| Crypto Asset Trading: | Yes |
| CFD Trading Option: | Yes |
| Available Trading Instruments: | Crypto, CFD |
| Maximum Leverage: | 1:10 |
| Islamic Account:  | No |
| Free Demo Account:  | No |
| Accepts US clients: | No |
| Site Grid: | No |
BitOpps Funds Security and Regulation
Prepare to be amazed by the revelations about Bitopps! The broker operates in the shadows of the crypto market, without any regulation or clarity on its location, which is highly worrying. Amid the crypto industry's volatility and the abundance of fraudsters looking to exploit the lack of transparency, it's crucial to partner with a respected broker.
Your best bet for trading in these markets is to opt for a European broker. European brokers must comply with strict regulations enforced by the licensing body of the land they are based in. These regulations ensure that the broker participates in guarantee funds that can restore up to €20,000 per affected person. 
This is if the broker is unable to withstand unpredictable market turns. Similarly, to prevent any potential abuses, brokers are mandated to report their open and closed trades daily. So, choose wisely and trade with a regulated European broker to ensure your safety in the world of crypto trading!
The Trading Platform
Bitopps beckons you to its web-based venue, a gateway to a world of possibilities. Alas, the platform is not without its shortcomings. It pales compared to the illustrious MT5, lacking features that would make any trader swoon. One cannot help but lament the absence of automated trading, a feature sorely missed.
However, Bitopps' spreads are nothing to scoff at. Though the crypto asset world has yet to establish a firm consensus on the proper spread width, Bitopps keeps them under 1% of the asset's price. But beware of the leverage provided, for it is a double-edged sword. 
Trading with 1:10 leverage on such volatile assets is not for the faint of heart – a risky endeavor indeed. Most regulators deem anything over 1:2-1:5 as too much for crypto assets. Nevertheless, Bitopps disregards such regulations. It is not regulated, after all, and can thus offer this alluring yet dangerous leverage in a heinous attempt to attract more clients.
Deposit and Withdrawal at BitOpps
Bitopps is a trading gateway that only accepts credit card deposits, which is good for its clients. This is because credit cards provide a chargeback option that can be used up to 540 days after any transaction, giving clients a layer of protection.
Yet, it appears that Bitopps may require such protection, as we have noticed a clause in its terms and conditions that restricts withdrawals until an almost unachievable turnover requirement is met. Although this practice is not explicitly stated, we have seen it numerous times before. Even so, Bitopps clients can rest assured knowing they have the chargeback option available to them.
BitOpps – Account Types Available
Behold the 6 accounts offered by BitOpps, each one seemingly less enticing than the last:
Basic – a whopping $1,000 minimum deposit

Bronze – an eye-watering $10,000 minimum deposit

Silver – a staggering $25,000 minimum deposit

Gold – a mind-boggling $50,000 minimum deposit

Platinum – an astronomical $100,000 minimum deposit

Black – Ah, but we can only dream of this elusive account type. 
As you can see, the minimum deposit required to open an account with BitOpps is exorbitant. This is especially true when compared to the meager sums offered by legitimate brokers. Micro accounts from reputable brokers often require deposits as low as $10-100.
How Did This Broker Carry Out the Scam?
Exploring the exciting world of FX markets is a natural desire for many. But be warned, scammers are lurking! They know all too well how to prey on easy victims who lack the necessary knowledge.
Using devious tactics, these defrauders set up intricate sites posing as legitimate brokers. Regardless, don't be fooled by their false promises of riches. These shady sites serve no real purpose other than to swindle innocent investors out of their money.
Once they have your contact information, experienced con artists will pounce, relentlessly bombarding you with calls. They will try to lure you with their expert investment advice, but their ulterior motives are far from noble. Their goal is simple: to trick you into spending your cash.
Even if you take the bait and invest, you'll soon discover that it's all a sham. Withdrawing any funds will be impossible. These fraudulent firms often have ambiguous terms, making it challenging to discern their true intentions. In many cases, they will require high minimum trading volumes, or even mask their identities and locations using offshore firms.
But don't despair, you're not alone! Scams can happen to anyone, and there's no shame in reporting them. Always be vigilant and informed. Don't let these sly scammers rob you of your hard-earned money. 
BitOpps Summary
BitOpps is an offshore broker that is not regulated, is unclear on its location, and has been blacklisted by several authorities. So, it is not a trustworthy broker for crypto trading. The platform has poor features, lacks automated trading, and offers dangerous leverage of 1:10. BitOpps accepts only credit card deposits, which offer chargeback options. 
Still, it restricts withdrawals until an almost unachievable turnover requirement is met. All in all, BitOpps is involved in fraudulent activities, and its practices include deceiving investors. It's wise to avoid them! 
FAQs
Is My Money Safe With BitOpps?
BitOpps does not take security seriously and avoids advanced technology to protect your funds.
Does BitOpps Offer a Demo Account?
No, BitOpps does not offer users a demo account to practice and try out their trading strategies.
What Is The Minimum Deposit for BitOpps?
The minimum deposit required by BitOpps is $1000, which is too much.