April 26, 2023
Reading Time:
4
min
Bitsterzio Review: Stay Away from This Fraudulent Broker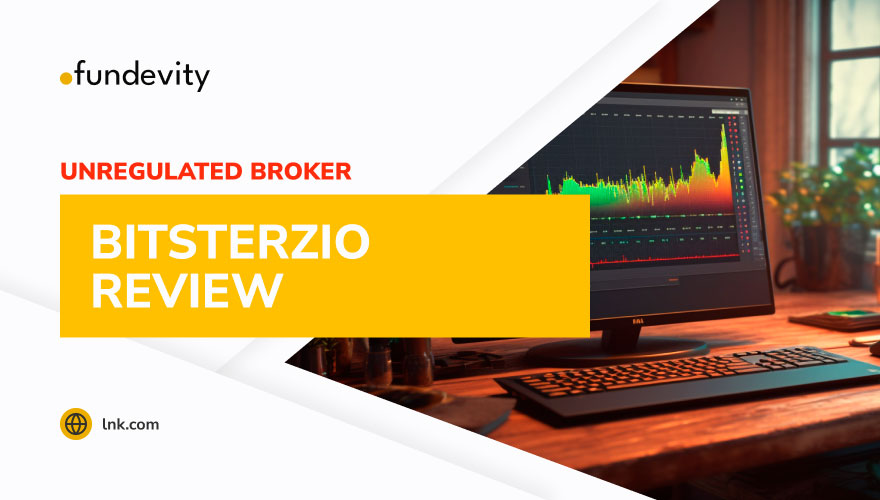 Hello and welcome to another scam broker review. Today we will be discussing Bitsterzio which is allegedly a UK-based company that offers you the possibility to invest in forex, CFDs, and cryptocurrencies.
But that's not all ladies and gentlemen. Bitsterzio has many warnings issued against them and of course, in the true offshore, scammers way, they also have fake regulation claims.
And yes, they are totally anonymous in the true meaning of that. You can't find their phone number, email, or any address anywhere as they so proudly claim they have on their website.
And that regulation and license that they so boast about having, is nowhere to be seen. After we tried to find their so-called license, we just found that once they get it, they will put it on.
That's why in this honest Bitsterzio review we will give you all the needed information about this online trading scam company and why you should stay away.
But before we continue, don't forget to read our Profit Trade and StarTrader scam brokers reviews. They are also just another scam investment.

| | |
| --- | --- |
| Leverage | 1:400 |
| Regulation | Unregulated offshore broker |
| Headquarters | UK (allegedly) |
| Minimum Deposit | €10,000 |
| Review Rating | 1/5 |
| Broker Type | Forex, crypto, CFDs, indices, shares, commodities |
| Platforms | Proprietary platform |
| Spread | N/A |
License and Regulations of Bitsterzio
We don't want to discourage you from making investments but we do want to highlight that Bitsterzio is unregulated and they will just steal your money. 
Although they do claim that you can trust them and that your security comes first, there isn't anything that can back up their words. 
Basically, the only thing that you will get from them is an empty promise of how you will have total security of your account and that all of your funds are secured also. 
Unfortunately, the reality on the other hand is very much different. mainly because those are just words they put on their website to make it look like they know what they are doing for inexperienced people. They also lack basic information such as their phone number and address.
To put it in simple words and in terms of regulation, they have none. And they also have a lot of warnings issued against them by FSMA, CONSOB, CNMV, AFM, ATVP, FI and FSC.

Profit Trade is also an unregulated broker, so don't forget to avoid them as well.

Trading Platform Available at Bitsterzio
In the true scammy way, Bitsterzio also claims they have cutting-edge technology when it comes to their trading software.
But here comes the haha's. There isn't any trading software available or any platforms whatsoever. The only thing you can see is that they allegedly offer you both the web trader and mobile trader, but that's all we could find.
MetaTrader4 and MetaTrader5 are the industry standards by now, so always opt for them and brokers that are regulated. 
Bitsterzio Account Types
Bitsterzio scam company offers many different trading account types. Those accounts include the following ones: 
Bronze 10,000€

Silver 25,000€

Gold 50,000€

Platinum 100,000€

Diamond 250,000€

Premium 500,000€

VIP 1,000,000€
While we were conducting this Bitsterzio broker review, it took us by surprise when we saw that they were asking for a minimum deposit of 10,000€. 
Not only is that too much to ask for a beginner to invest but it raises more suspicion they are nothing more than scam brokers who want to take as much money as possible.

But that's not all. They also don't offer any Demo account, which means their agents will push you to open a real account and deposit those €10,000.
Deposit and Withdrawal Methods
After we were browsing their website, we came upon their deposit methods that as they say offer you the possibility to activate the account using the following:
Visa debit or credit card

Master debit or credit card

Wire transfer
That sounds completely fine but here comes the fun part. They have stated the withdrawal process takes between 3 to 5 business days and that there are no fees associated. After we took a closer look we came upon a different paragraph that states there might be bank fees.
That's not all, we also stumbled upon many customer complaints in regard to the withdrawal issues. Customers stated that withdrawing their money is not possible since their agents ask that you pay a certain amount as a fee to do so.
In case you have made a deposit with them or any other fraudulent broker, getting your money back is possible and you don't need to feel ashamed reporting a scam.
Offshore Brokers Fraudulent Tactics
Fraudsters like Bitsterzio and StarTrader pose as legitimate brokers to take advantage of the general public's lack of knowledge of trading. They employ smooth-talking agents so they will call you and get you on board with making an investment.
Ads that you will see online are full of fake stories that will promise easy earnings. Once you decide to leave your personal information in order to find out more about this, you will get daily calls until they make you believe that what they are offering is a legit thing.  
So, in case you have ever been scammed by such swindlers, remember that getting your money back is possible but it just takes time. We would be thankful if you can share your experience with us since we can help you report your scammers to the authorities.  
Bitsterzio Summary
While conducting this broker review we found that Bitsterzio is yet another offshore broker that is claiming to be based in the UK. It goes without saying that this fraud follows no regulations and therefore offers no safety for trader's funds. Keep in mind that if the broker is claiming to be in the UK, they must be regulated under FCA, which is of course not the case here.
Additionally, they have multiple warnings by some of the biggest regulatory bodies including FSMA, CONSOB, CNMV, AFM, ATVP and more.
The minimum deposit requirement is also set at €10,000, which is just outrageous and you will never see with a well-established firm.
Lastly, the broker doesn't even offer a demo account for potential traders, which is typical with frauds. Remember to always think twice before investing anywhere and make sure you read the reviews first.

FAQs About Bitsterzio Broker
Is Bitsterzio Regulated?
No, Bitsterzio is not a regulated firm you can trust as they have been issued multiple warnings for being a trading scam.
What is The Minimum Deposit for Bitsterzio?
The minimum deposit for Bitsterzio is just crazy high as they demand at least €10,000 as an initial investment.
Is Bitsterzio a Trustworthy Broker?
We can confidently say that this broker is as far from a trustworthy firm as a broker can be. They are just trying to swindle people and steal their money.