April 02, 2023
Reading Time:
3
min
Bittradehouse Review: Learn Why This Broker Is a Bad Choice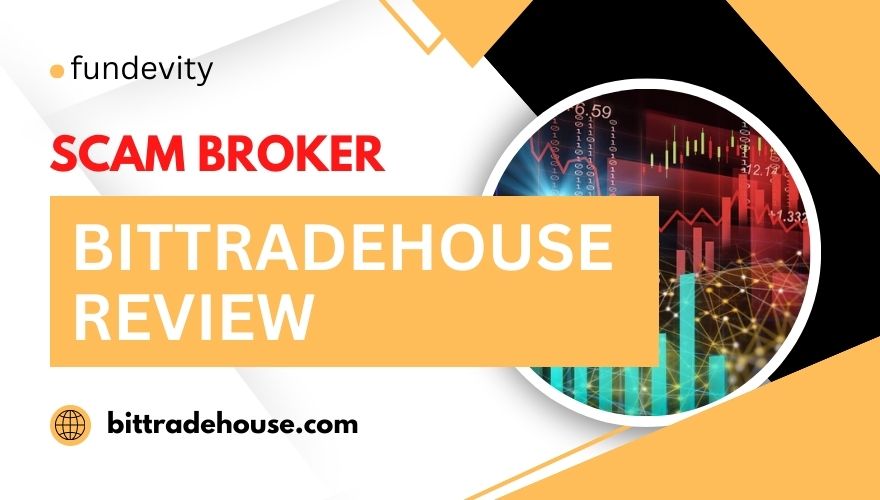 After taking a look at the Bittradehouse broker website, it shows that they do not fall under any regulating agency. That alone is a major red flag! That should be enough for you not to invest with them.
And they also work with websites that offer "automated trading software" which is another red flag, as these kinds of websites are notoriously famous for scamming schemes.
Another red flag is that they are claiming to be regulated by CySEC, which is of course not true, and there are no legal documents to support that claim. With all of this said, read this Bittradehouse broker review to find out more about the lies this investment scam used to take your money.
| | |
| --- | --- |
| Company | Bttraderhouse |
| Website | https://www.bittradehouse.com/ |
| Address | UK |
| Email | [email protected] |
| Phone | +442038415331 |
| Minimum Deposit | $250 |
| Leverage | 1:50 |
| Bonuses | Yes |
| Regulation | Unregulated |
| Warning | N/A |
Bittradehouse Funds Security and Regulation
Regarding regulation and security, the Bittradehouse has none. They are of course claiming to be regulated and licensed by CySEC, which of course is not true. In order for that to be true they need to follow certain regulations set by CySEC such as the maximum leverage of 1:30, which they don't.
On top of that, they offer bonuses that are prohibited by all major financial authorities in Europe since in order to withdraw your profits you would need to reach a certain turnover. All regulated brokers obey these rules and are fully transparent with their clients.
Bittradehouse, on the other hand, is missing a lot of information on their website and they also pay people to write positive reviews about them which also lack a lot of vital info.
The Trading Platform Used on Their Website

The Bittradehouse website does not provide clear information about the most important tool for forex trading which is the software. Our attempts to register a new account with Bittradehouse were unsuccessful, so we were unable to confirm whether Bittradehouse has a trading platform at all.
But even if Bittradehouse had such a platform, that would not make this website credible. Scam brokers use trading software to mislead their victims that their money is really being invested. But this trade is entirely fraudulent.
Deposit and Withdrawal at Bittradehouse

Now that we have established that Bittradehouse is nothing but a scam, looking to take your money, it's not a surprise they offer skittish deposit methods. They include the following:
Visa or Master crest or debit card
Wire transfers
All regulated brokers will offer you much more deposit and withdrawal methods than this or any other fraudster. Luckily, getting your money back is possible and we can help you get it back. Don't feel embarrassed about reporting a scam since it can happen to anyone.
Bittradehouse Account Types Available
Regarding the available account types, they offer the following ones:
Keep in mind that we don't know how much money they require for these accounts, so it's best to stir away from them. Regulated brokers will let you start as little as $5 or $10, some even for nothing.
Lastly, this broker also failed to provide a demo account for any potential clients to try out their services before signing up for a live trade account.
How Did This Broker Carry Out The Scam?
Ads that can be found online are full of fake stories promising easy earnings. Once you decide to leave your personal information in order to find out more about these never-seen-before ways to make money, the agents will call you daily to try and convince you that what they are offering is a legit thing.
Initially, they will ask for a "smaller" amount just enough to cover the minimum deposit requirement. But if you agree, they will begin to persuade you to invest even more. Many think they are immune to these fake stories the agents are going to tell them or they will just sense if something is off, but in reality, it's much harder to stay firm.
Bittradehouse Summary
While we were conducting this Bittraderhouse review, we found that not only are they unregulated but they are also operating offshore. With them, you will allegedly have an opportunity to invest in forex and CFD, but in reality, just lose your money along the way.
It's well known that fraudulent brokers choose offshore locations since there are no laws they have to follow when it comes to regulations. But this one additionally claims to operate from the UK, all in order to look more legit.
In conclusion, we advise you to stay away from them since you would be putting yourself and your funds at risk. Remember to always be careful with where you invest your money and don't forget to read legit reviews made online.
FAQs About Bittradehouse Broker
Is My Money Safe With Bittradehouse?
Bittradehouse is an unregulated and unlicensed broker and we would advise you to never work with them as your money isn't safe.
Does Bittradehouse Offer a Demo Account?
No, Bittradehouse only offers 3 live accounts and no demo account for any potential clients.
What Is The Minimum Deposit for Bittradehouse?
The minimum deposit is set at $250, even though you will find on multiple websites that is $0, which is false.