November 08, 2023
Reading Time:
4
min
Breakfree Trading Review: An Inside Look into Its Trading Strategies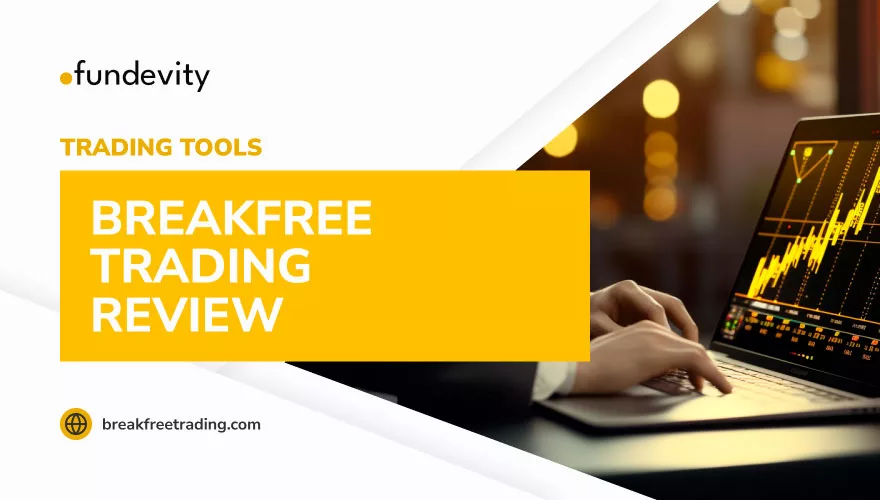 If you're considering Breakfree Trading for your day trading adventures, you've come to the right place. In this Breakfree Trading review, we'll break down what this trading platform has to offer. We will do our best to include all the relevant details in this informative article! Let's dive into the facts and see if this firm is a good fit for you.
| | |
| --- | --- |
| | General information |
| Name | Breakfree Trading |
| Type of company | Trading Tool |
| Regulation status | Unregulated/Not expected |
| Warnings from Financial Regulators | No official warnings |
| Website link | breakfreetrading.com |
| Active since | 2018 |
| Registered in | London, United Kingdom |
| Contact info | Data is hidden  |
| Trading platforms | Web Terminal |
| Majority of clients are from | United Kingdom, United States, Australia, South Africa |
| Customer support | FAQs and chat  |
| Compensation fund | No |
What's Breakfree Trading All About?
Breakfree Trading is a day trading platform that claims to help you find trading opportunities and analyze market trends. It covers various markets, and claims to have many helpful features. They even integrate with over 600 brokerages globally. Sounds promising, right? Well, let's take a closer look.
One thing that stands out is the lack of background or history info on the platform. This can make it tricky to truly estimate their credibility. The platform doesn't provide any concrete results to back up its mentorship program. This is a big concern, as traders usually want to see evidence of success before jumping in. On the plus side, their website is sleek, but it's filled with terminology that can leave you scratching your head. It surely left us speechless! 
As for the founders, Anton Khan and Asger Emborg, they're not exactly household names in the trading world. In fact, they seem to be more like paid actors than industry experts. This raises questions about their authenticity.
License? What License?
One big concern here is the lack of proper licensing. Break Free Trading isn't licensed or registered to offer trading services globally. This means they aren't held to the standards and regulations that licensed platforms are. Trading with an unlicensed service is a risk you may want to avoid.
The absence of clear terms and conditions only adds to uncertainty. Without those terms, your investments may not be covered in case of any issues. Plus, they ask for a $1 payment for security clearance, which is not refunded. It's a shady practice that should make you think twice about using this platform.
Breakfree Trading Algorithm
This company uses a proprietary algorithm to process and decode market structure for us. Here are some key features of the Breakfree Trading algorithm:
Real-time trades

: The Navigator is a powerful platform that combines real-time trades, risk management, and alerts in one.

A range of markets

: This platform covers a large variety of markets, including forex, stocks, crypto, bonds, futures, and more.

Modern interface

: The platform offers smart technical charts and uses an algorithm to identify support and resistance levels.

Gamification

: Each interaction in the app gives you experience points. Whenever you level up, you unlock special titles, badges, and trading opportunities. 
What Can You Trade with Breakfree Trading?
This company claims to cover a wide range of assets. This includes CFDs, commodities, crypto, forex, indices, and metals. They also talk about an impressive 70.3% accuracy rate based on a stress test. 
Yet, the lack of clear information and real-time trading data to back up these claims leaves room for doubt. Keep that in mind! 
Note: Leelo Trading is a prop firm based in Montana, USA. It offers a great platform for trading futures. Yet, we must note that the interface is not so modern here. 
How Much Does Breakfree Trading Cost?
Now, let's talk about money. Breakfree Trading offers different pricing plans to cater to traders with various budgets and preferences. Here's a quick breakdown:
Wings Plan:

Neural agents: 1

Up to 2 active markets

Price:

$33

monthly

Profit Sharing: 10%

Ascension Plan:

Neural agents: 1

Up to 4 active markets

Price:

$66

monthly

Profit Sharing: 10%

God Plan:

Neural agents: 1

Unlimited active markets

Price:

$249

monthly

Profit Sharing: 10%
These plans offer some flexibility, and you can cancel anytime with a single click. It's good to have options, but make sure you know what you're signing up for. This is a fact! 
Breakfree Trading Navigator 
Breakfree Trading Navigator is a tool offered here. The navigator analyzes market data and provides real-time alerts to help traders identify high-probability opportunities. At least, that is what it apparently does. 
The tool is said to be user-friendly and customizable, allowing traders to tailor it to their needs. While the site provides some information about the navigator, it is not clear how it works or what specific features it offers. As with any trading tool or software, always research and understand it fully before using it.
Breakfree Trading Trustpilot Reviews
Good news for the Breakfree Trading app! According to Trustpilot, they're doing pretty well. They've got a great 4.8 out of 5 star rating based on 236 user reviews. So, the majority of clients seem to think they're doing an excellent job. It's a solid sign that this platform may be reliable. Just don't forget that they are not regulated and operate unlawfully.
When you're looking for a trading platform, aiming for one with a rating of 4.5 stars and up is a smart move. For instance, you can go for WarriorTrading and similar companies! It means you're likely to have a safe and satisfying trading experience.
Making Money through Trading
If you're thinking about making money through online trading, you're on the right track. It's not as complicated as it might seem. What's more, we're here to help you every step of the way. You can reach out to us for free consultations and expert advice on top-notch trading platforms. And don't forget about our AI Analysis Bot, your intelligent guide offering handy predictions!
The most promising part? You can try it for free for 20 days, no strings attached. With access to detailed FX analysis reports and stock analysis reports every month, you can boost your profits with ease. Give it a try today!
Final Verdict
As you consider your options for trading, remember that user reviews can be a great indicator of a platform's performance. Breakfree Trading's high rating on Trustpilot is certainly a good sign. Yet, it's important to keep in mind the concerns raised about their licensing and transparency. In trading, security and reliability are important. 
While this company may have its values, it's always a smart move to explore alternatives, like our AI Analysis Bot. This one offers practical insights and predictions. Stay informed, make educated choices, and stay safe in the FX world.
FAQs
How Much Does Breakfree Trading Cost?
Breakfree Trading offers plans ranging from $33 to $249 monthly.
How Does Breakfree Trading Work?
Breakfree Trading helps users find trade ideas and analyze trends in different markets.
Can I Make Money From Proprietary Trading?
Yes, making money from proprietary trading is possible, but it requires skill and discipline.