September 11, 2023
Reading Time:
4
min
Brighter Trade Review: Is This Estonia-Based Broker a Scam?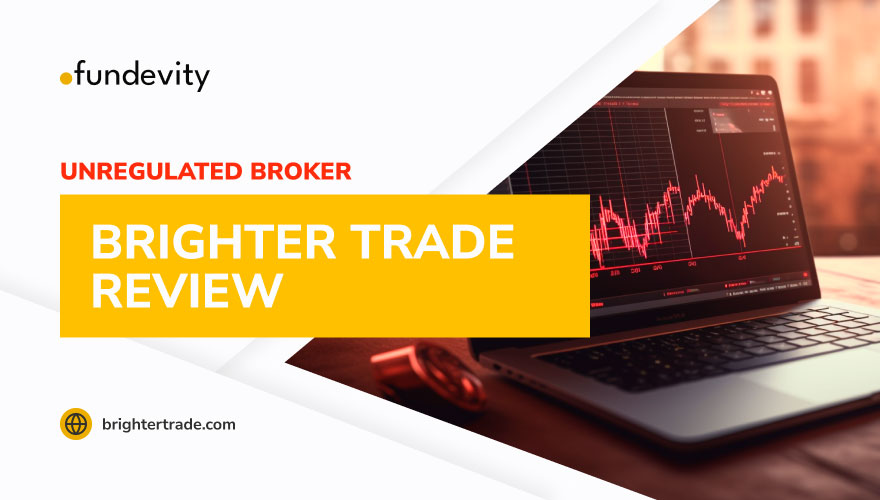 Are you curious about Brighter Trade, the Estonia-based forex brokerage? If you're on a quest to avoid potential surprises, this Brighter Trade review will be your guiding light. Join us as we dive deep into the world of Brighter Trade. Keep reading! 
General information
Name:

LOGAMET LTD and INGOTEN OU

Regulation status:

Unregulated Broker Scam

Warnings from Financial Regulators:

FCA, ASIC, FMA

Website link:

brightertrade.com

Active since

2023

Registered in

Estonia

Contact info:

[email protected]

, 0144 638 2070

Trading platforms:

Tradersoft

The majority of clients are from

United States

India

United Kingdom

Poland 

Canada 

Customer support:

Email and phone

Compensation fund:

No
Brighter Trade Legitimacy
Brighter Trade doesn't talk about regulatory oversight. The company, Ingoten OU, operates from Estonia. Still, they currently lack the credibility that comes with proper regulation. So, what does this mean?
We all know that regulation matters in the world of trading. Tier 1 regulated brokers follow strict rules, protect your funds, and undergo rigorous oversight by authorities. It's like having a financial safety net. We should know that CFD providers regulated by FCA, ASIC, and CySEC offer such protection. It's an assurance that your investments are in safe hands, giving you the peace of mind to focus on your trading strategies and goals.
Warnings
Brighter Trade, a Forex, CFD, and crypto broker, operates under the Brightertrade™ corporate group. As you partially know by now, it's operated by LOGAMET LTD and INGOTEN OU. 
Now, let's address some big red flags. BrighterTrade has received warnings from multiple regulatory agencies, and it's not a good sign. The Financial Conduct Authority (FCA) has clearly stated that BrighterTrade and its parent company, Ingoten OU, lack the necessary authorization to operate in the UK.
But that's not all. The New Zealand Financial Markets Authority (FMA) and the Australian Securities and Investments Commission (ASIC) have also issued their own warnings regarding BrighterTrade.
These warnings remind us to be cautious and do our checks when choosing a broker. Always proceed with caution when it comes to your money.
Trading Assets Available
Brighter Trade opens the door to many trading options. Let's take a look:
Forex, 

Stocks, 

Bonds, 

Commodities, 

Crypto, and 

Indices. 
It might seem like a buffet of choices, but here's a handy tip: regulated brokers offer an even wider selection of assets.
Why is this important? Well, think of it this way – more options mean more opportunities. Diversifying your portfolio by trading a wider span of assets can help you manage risk effectively. It's like having many ingredients to craft a more resilient and balanced strategy. 
So, why limit yourself when there's a world of opportunities waiting for you with regulated brokers? Keep your trading options open for a brighter financial future.
Tradersoft Software – Is it Good? 
Brighter Trade scam relies on Tradersoft, a web-based platform that they promote. It comes with some charts, analysis tools, and real market data. 
But, and this is a big 'but,' the absence of MT4 or MT5, two powerhouse platforms, is a significant drawback. Sadly, their website reliability is debatable, potentially ruining your trading experience. You can compare this scenario to another shady broker called ROIMAX. 
Trading Conditions: Leverage and Spread
Sadly, the Brighter Trade scam doesn't share key details like spreads or leverage on its broken website. Transparency should be a broker's middle name. Still, our investigation revealed 3.0 pips spread for EUR/USD, higher than what we'd consider ideal at 1.5 pips. 
Speaking of leverage, we know that it's a double-edged sword. The EU and UK are cautious, limiting it to 1:30 for retail traders to protect them from potential losses. Understanding these factors is crucial for making good decisions.
Our recommendation is to use regulated brokers with crystal-clear trading conditions. Your investments deserve nothing less.
Brighter Trade Account Types
Brighter Trade offers 3 account classes: Basic, Standard, and Pro. Here's the catch! The minimum deposit for the basic account is $250, which is considerably higher than the industry standard ($10-50). 
Lower deposits mean lower risks, especially in uncertain terrain. But, remember, with the lack of regulation and leverage info, treading cautiously is wise. Ultimately, you'll never see the Brighter Trade login page after all. 
Withdrawal Procedure
For deposits and withdrawals, Brighter Trade accepts Visa, Mastercard, Maestro, and wire transfers. The Terms and Conditions reveal a $100 minimum withdrawal amount and a 10% withdrawal fee. 
Such fees and conditions aren't the hallmarks of a legitimate broker. It's a good practice to test a broker's reliability with small withdrawals. We lean toward brokers with transparent payment options, like PayPal, Skrill, Google Pay, Advcash, bank cards, and cryptocurrencies.
Trader Reviews on Trustpilot
When you glance at Brighter Trade's Trustpilot rating, it's not a pretty sight – just a sad 1.8 stars. That low rating is a clear sign that something's not right in the world of Brighter Trade.
So, what's the takeaway here? When you're on the hunt for a broker to trust with your investments, look for the best options with ratings of 4.5 or higher. Your trading journey deserves nothing less than a reliable and reputable partner by your side.
Tip: Aside from Brighter Trade, there's also another broker scam you should avoid – UnionStock. 
How Does the Scam Really Work?
Watch out for these scam broker tricks:
Withdrawal hassles.

Some offshore brokers can make it tricky to get your money. They may add surprise fees or delay your funds intentionally.

No such thing as guaranteed profits.

Brokers who promise guaranteed profits may not be forthcoming. Trading has its ups and downs and no one can promise you'll always win. Be cautious and pick brokers with strong rules and oversight.

Unregulated brokers.

Offshore, unregulated brokers can be sketchy. They may mix your money with theirs, limit withdrawals, or make it tough to profit.
To avoid brokers like Brighter Trade and Likewood Invest, do your research! Study brokers thoroughly, look for regulation, and be wary of too-good-to-be-true promises. Your financial security matters most.
Can Online Trading Be Profitable?
Explore online trading possibilities with our free consultations. We're here to assist you in making smart decisions and finding a reliable trading ally. 
Also, there's something even more interesting! We have our new special AI Analysis Bot, designed to streamline your research and empower faster, smarter choices. You won't regret using it! 
Profitable trading is attainable when you have the right knowledge and tools at your disposal. Always remember that! 
FAQs
What Is Brighter Trade?
Brighter Trade is a shady and fraudulent Estonia-based broker.
Is Brighter Trade Legit?
No. This company is not legitimate and has received many warnings.
How much is Brighter Trade's Withdrawal Fee?
Brighter Trade's withdrawal fee is 10% with the lowest withdrawal amount of $100.