November 12, 2023
Reading Time:
5
min
BrightFinance Review: Read Our Findings and Avoid This Scammer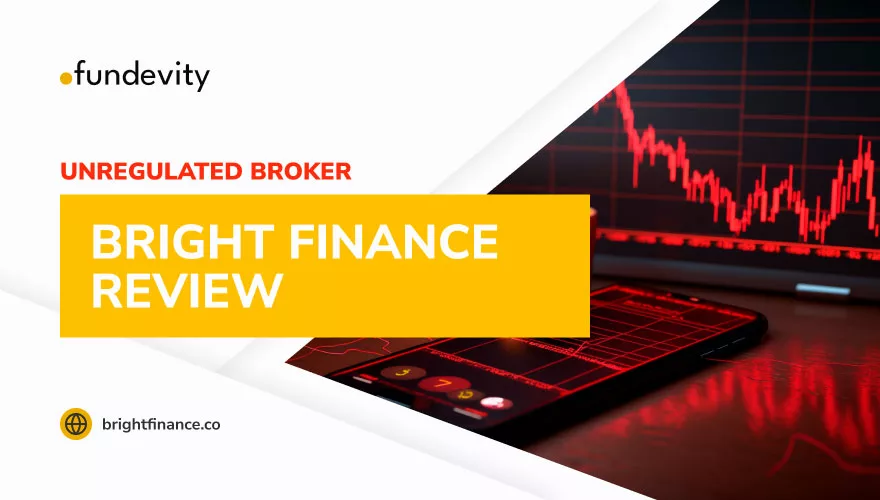 Shady brokers like BrightFinance typically do everything in their power to trick you into believing they are legit. They are so blatantly involved in fraudulent activities that it is borderline insulting. 
We go into detail about this broker's license and trading environment in our BrightFinance review, so make sure you read it and learn how we uncovered the BrightFinance scam. Let's go!
General information
Name:

Capital Letter LTD

Regulation status:

Offshore broker

Warnings from Financial Regulators:

FCA, KNF, CNMV, FSMA, BaFin

Website link:

brightfinance.co

Active since:

2020

Registered in:

Marshall Islands

Contact info:

Telephone: 1379646529

Email: [email protected]

Trading platforms:

WebTrader

The majority of clients are from:

Australia 

Canada 

United States 

Germany

United Kingdom

Customer support:

Live chat

Compensation fund:

No
Regulation Info
Let's first cover the BrightFinance regulation. If you look at the bottom of their website, you will see two legal entities – one in Germany and the other in the Marshall Islands. 
Checking the German one was a piece of cake, and we can report BaFin does not have BrightFinance in its register. Not only that, but they even issued a public warning against this fraudster! 
But that is not all. Having a Marshall Islands office always points to a scam, and we are not the only ones who think so. FCA, CNMV, KNF, and FSMA all blacklisted BrightFinance in their regions. 
It is one thing when you uncover a scammer on your own, but it is entirely different and more serious when a reputable regulatory body confirms that as well. Therefore, we say BrightFinance is undeniably unregulated, and you should avoid any contact with them at all costs! 
BrightFinance Profile
The first point of entry is the broker's website, and it can be a pretty good indicator of what is to come. Lucky for you, BrightFinance has a prototypical scammer website, and it would be enough for you to figure out their true intentions. 
Firstly, barely anything on it works. The broker put buttons in the top row, but they do not lead you anywhere. The contact page is empty, there is no info on the trading platform you can expect, not the BrightFinance account types.
We were surprised to see no BrightFinance bonus since scammers usually have them to attract more clients. But why is this all important? 
Well, you would not do a bungee jump if you did not know where you are jumping from, how it works, if you have any training, etc. The same thing applies to brokers. 
If you do not know what platform you would be trading on, what the deposits are, and what leverage you can expect, among other things, you would not invest a dime. This is exactly how BrightFinance operates, and you know better than to give them your money!
Is This Broker Safe?
Is BrightFinance legit? If you've read anything by now, you would know this broker is a scammer and, therefore, extremely dangerous. 
Most notably, it does not have a license, and no legitimate broker operates without one. That regulation is the safety net for you, providing the much-needed financial security in a risky market. 
Additionally, some of the most respected regulatory authorities warned the public against investing with this scammer. Those bodies do not do that for no reason, meaning BrightFinance is indeed a fraudster! It is no different from UKBTC and YellowStoneFX in that you cannot trust them. 
But your trading adventure does not have to come to a screeching halt because of this misjudgment. There are plenty of legit brokers who can show you the bright side of trading, and we know where to find them. So contact us for free consultations, and we will advise you on your journey to making it in trading!
Trader Reviews – Sharing Experiences
You can find BrightFinance on Trustpilot, and things are looking grim for them. They have a 1.6 rating with 29 total reviews. A whopping 93% of their clients gave them only 1 star, which was expected if you ask us.
One of them said: 
"I deposited £250, it's built up to £600 and now I want to withdraw, everyone is ignoring me – their Support email, the Live Chat, and even my Broker. I've literally just had my phone number blocked by my broker asking for help withdrawing. It's a bit of a shame there's no pic upload available here or I could show how they immediately turn 180 degrees from pushy (to get money in) to ignoring you when you want money out again."
How Does the BrightFinance Platform Reach Clients, and Who Are They?
In our research, we found that BrightFinance mostly targets traders from:
Australia 

Canada 

United States 

Germany

United Kingdom
Suffice it to say that it does not have a license from any of these countries. Some of the best regulators in the world come from the above areas, and BrightFinance could not fulfill their requirements, to say the least. 
We do not know how they target traders, but we would not be surprised if they even contacted people directly, so beware!
Deposits and Withdrawal Methods
When it comes to deposits and withdrawals, we do not have much to report. Continuing in the same direction, the broker does not disclose any information about the accepted payment methods. 
Moreover, we do not know anything about BrightFinance's withdrawal policy or fees. Legitimate brokers would never hide this information, which only goes to show you how fraudulent BrightFinance is. 
Reasons To Avoid This Company
There are so many reasons to avoid BrightFinance that we could take the whole day listing them, but we will keep it short. Much like EpsilonFx, this broker is an offshore one, meaning they are not regulated by anyone. This allows them to walk away with your money scot-free, leaving you with no one to ask for help. 
Furthermore, BrightFinance does not disclose any valuable information like the minimum deposit, leverage, account types, trading platform, etc. You do not know anything about their trading environment, which means you would be exposing yourself to enormous risk should you invest. 
And last but not least, the broker uses and advertises AnyDesk. This is a remote desktop access app that gives access to the user's PC from anywhere. The use of this app is common among scammers, and it allows them to hijack your computer and steal all your money. 
Long Story Short – BrightFinance
We hope our BrightFinance review convinced you to find a better broker. There is nothing to like about BrightFinance, so you would just be wasting your time with them. But we know many brokers that won't waste your time or your money. Send us an email today, and let's find the right broker for you! 
FAQ Section
Is BrightFinance Legit?
No, BrightFinance is not legit. They operate without a license and even have several warnings issued against them.
Are Funds Safe With BrightFinance?
No, they are not. Because BrightFinance is working outside of regulatory frameworks, it cannot guarantee financial safety.
How To Contact BrightFinance?
You can contact them by email, phone, or on their live chat. However, many reported not getting any BrightFinance feedback, so keep that in mind.