November 18, 2022
Reading Time:
4
min
Broker Capitals Review – Reasons to Avoid This Scam Broker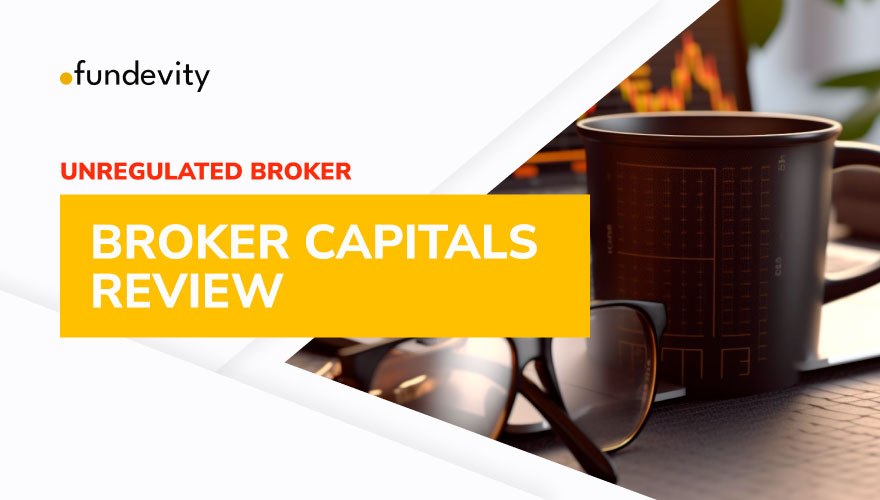 Broker Capitals advertises itself as an EU regulated brand. If a broker like this one claims to be legally registered for financial services in the UK, they would have to be regulated by the top tier regulator operating in the UK – Financial Conduct Authority (FCA). A look through the register of the aforementioned regulator provided no results whatsoever about a broker called Broker Capitals. Conclusion: broker is being dishonest about their license! 
| | |
| --- | --- |
| Leverage | Up to 1:1000 |
| Regulation | Not regulated |
| Headquarters | N/A |
| Minimum Deposit | $200 |
| Review Rating | 1/5 |
| Broker Type | Forex |
| Platforms | Web based |
| Spread | 0.0 to 1 pips |
Not only is this broker not regulated like they claim to be, but they've also been blacklisted as a scam by another jurisdictional regulator. The Italian regulator CONSOB has already issued a warning about this brokerage firm. This means that Broker Capitals cannot be trusted under any circumstances, so please avoid accepting their services. 
Is Broker Capitals Legit or Scam? Regulation and Security
Dealing with unregulated brokers carries an extreme risk of loss. Since they're not being keenly observed by jurisdictional regulators, fake brokers remain virtually anonymous and free to operate illegally. By remaining anonymous, they ensure it to be almost impossible to track the actual owning company in case a client has been defrauded and is asking for refund. 
The investors are at risk of losing all the money invested, not because of their bad trading decision, but because they've put trust in an unregulated broker. Phony brokers don't meet the regulatory standards and have a single goal of defrauding clients, not providing the services they promise. 
Broker Capitals Trading Software 
Broker Capitals offers access to a simple web based trading software. Platform reveals some basic features offered but not even spread is readable. Many of the expected features are missing and it makes the platform incomparably inferior to the popular MT4 and MT5. 
All this  further deepens the doubt about the software just being manipulated for the purpose of fictive trading. Fraudsters are known to make their users believe they're trading while in actuality nothing is happening and investors are just robbed of their hard earned money. 
Account Types Option
Several account types are available at Broker Capitals:
Micro account is available if a minimum deposit of $200 is reached. This account type provides leverage of 1:1000 and spread from 1 pip. Other account types require a higher amount of initial deposit, give smaller leverage and a supposed spread from 0.7 and 0.0 pips.
Since we are dealing with a fraudster, it is expected to see a high amount for deposit required and services that sound too good to be true. 
Trading Instrument Available at Broker Capitals
Investors can choose between a few major groups of assets such as currencies, stocks, commodities and shares. The site even explains how CDF's work and what is margin, leverage and liquidation for those less informed investors. However, all this information is presented in such a way that sounds best for the fake broker. Misusing the information is a common method used by scammers to attract the potential victims and make them invest. 
Broker Capitals Deposit and Withdrawal Process
Broker Capitals promotes so-called Fast Bank Transfer. It is supposedly a fast and reliable technology. With the help of it, investors can securely fund their trading account from their personal bank account. Needless to say it should be out of the question for every trader to even remotely consider giving their credit card info to third party sites to deposit cash. Their initial purpose is stealing credit card information and abusing it to their will. Minimum deposit amount is $200, as it was mentioned before.  
Withdrawal process is said to be swift and secure with Broker Capitals, but since the promise comes from a scammer, it can't be taken as honest. Broker Capitals also emphasizes not to be responsible for lack of legal documentation needed from the bank to complete the withdrawal. They also firmly hold the banks fully accountable in case any additional withdrawal fee is required. 
Broker Capitals Scammed Me – How Can I Recover My Money?
First and foremost, when you start suspecting that your broker is a fraud, immediately stop investing and request a refund. Do not accept paying any additional fees and unexpected taxes that the broker requires to supposedly complete the withdrawal processing. These are just another way to extort money. 
The safest would be to ask for a refund from your bank, because as long as the six month period hasn't expired, you are allowed to withdraw money deposited via debit/credit card. Of course, the unscrupulous broker would try their best to convince you to keep investing, but the key point is saying no and recovering the funds they have stolen.
Jurisdictional authorities and government financial institutions would probably know best how to help you, not the so-called recovery agents who are just the extension of the sophisticated scamming scheme.  
Broker Capitals Summary
Unregulated and unlicensed, just falsely claims to be
Blacklisted by Italian CONSOB 
Basic and unreliable trading platform
Unusually high leverage 
FAQs About Broker Capitals Broker
Is Broker Capitals A Good Broker?
Broker Capitals claims to be a reliable broker but is blacklisted as scam.
Is My Money Safe at Broker Capitals?
No, investments are not safe when a broker is unregulated.
What Is The Minimum Deposit for Broker Capitals?
Minimum deposit required at Broker Capitals is $200 for the Micro account.