August 22, 2023
Reading Time:
5
min
BUX Review: Disclosing the Future of Mobile Investing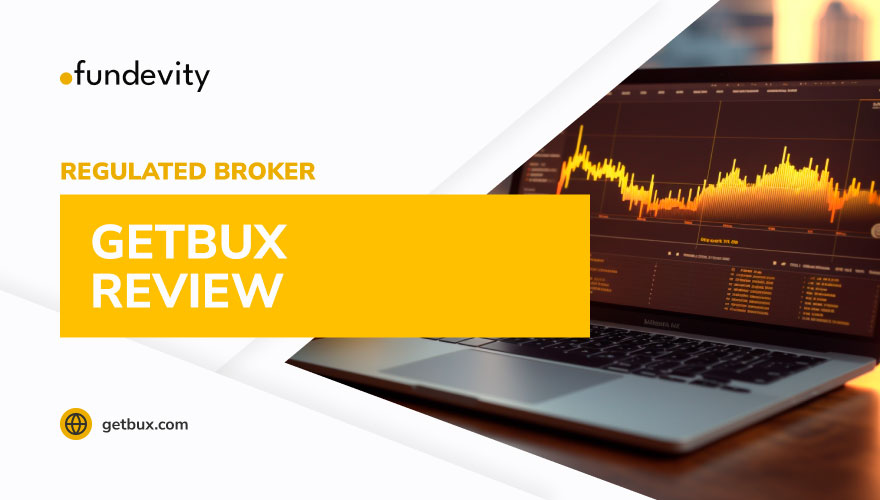 Since its start in 2014, BUX has been making waves as a leading broker in Europe. Anchored by its flagship services, namely BUX Zero, BUX C, and BUX X, the platform is on a mission to revolutionize traditional trading norms. 
With a focus on providing an all-mobile experience, BUX is not just a broker; it's an educator, catering to a new generation of traders. They operate in countries like the Netherlands, Germany, Austria, France, Ireland, and Belgium. Moreover, BUX intends to expand its innovative services to Spain and Italy, signaling a promising future for traders.
BUX Legitimacy: Transparency and Compliance
BUX is a standout investment firm known for transparency and regulatory compliance. 
They are based in Amsterdam, Netherlands. BUX B.V. manages investment services by handling Client Orders for specific Financial Instruments. Its credibility is solidified by registration under ID 58403949 with the Dutch Chamber of Commerce. And, they are also licensed by the Dutch Authority for Financial Markets (AFM).
BUX Alternative Investments BV (BUX AI) plays an important role in the cryptocurrency markets. Its affiliation with De Nederlandsche Bank N.V. (DNB) qualifies it as a crypto services provider. They adhere to regulations like the Money Laundering and Terrorist Financing (Prevention) Act. While BUX AI operates independently without DNB's direct supervision, its commitment to compliance and user protection remains steadfast.
General information
Name:

BUX B.V. 

Regulation status:

Regulated by AFM

Warnings from Financial Regulators:

No official warnings

Website link:

getbux.com

Active since

2013 (2010 for domain age)

Registered in

Netherlands

Contact info:

BUX HQ

Plantage Middenlaan 62

Amsterdam, 1018DH

Netherlands

Trading platforms:

BUX Zero, BUX C, and BUX X.

The majority of clients are from

Netherlands

United States

Belgium

Germany

Customer support:
Yes (at [email protected])
Compensation fund:

Yes
BUX Trading Assets: Diverse Options at BUX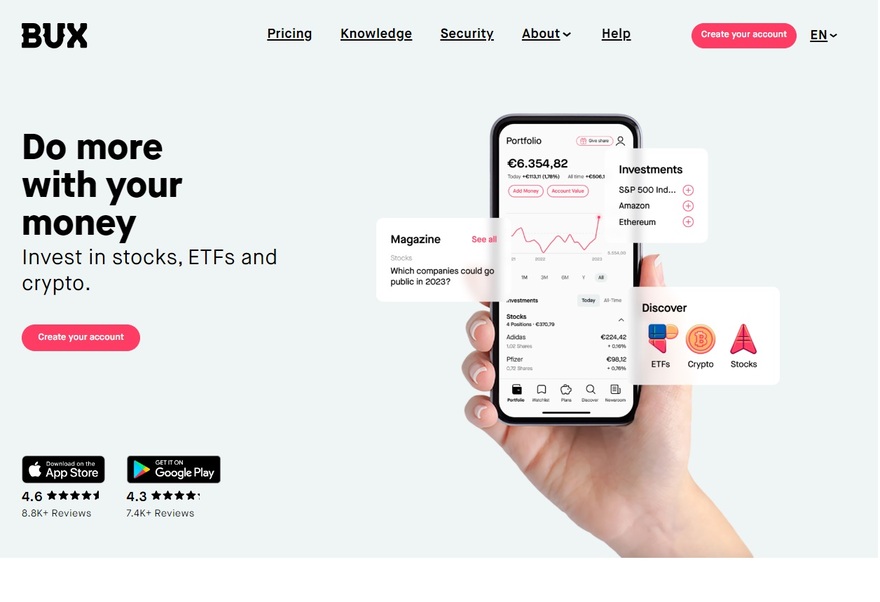 BUX brokerage offers a rich array of trading assets. There are BUX stocks, ETFs, and cryptocurrencies, empowering investors with a full range of choices. 
From traditional stocks to cutting-edge crypto projects, BUX provides a vast selection of trading assets. Notably, they do it to suit many investment preferences. Investors at BUX can explore and trade a variety of assets, including shares of prominent companies, ETFs tracking market indices, and the exciting world of digital currencies.
With a focus on inclusivity, BUX brings together a diverse portfolio of trading assets. It truly ensures there's something for every trader, whether they're interested in traditional or emerging markets. The trading asset options available at BUX reflect the platform's commitment to enabling investors to diversify their portfolios and seize opportunities across different financial markets.
Note: Make sure to avoid unregulated FX brokers like LCM FX. Keep your money safe. 
Trading Platforms Available at BUX
BUX B.V. specializes in developing and designing stock trading applications. It facilitates practice sessions, connecting all traders, and offering insights into stock markets. Its services truly cater to customers worldwide.
BUX Zero: A Game-Changer in Investing
BUX Zero, the flagship among BUX's offerings, is reshaping investing by eliminating trading fees. 
This transformative shift empowers investors to grow their capital without the burden of extra charges. The platform offers a diverse array of assets, encompassing stocks and ETFs, appealing to both newcomers and experienced traders.
BUX C and BUX X: Services for Empowered Investors
BUX goes beyond the norm, customizing its services to cater to individual preferences. BUX C and BUX X are tailored to different types of investors. BUX C introduces contract-for-difference (CFD) trading. 
On the other hand, BUX X fosters a lively community atmosphere, encouraging users to learn from peers, exchange strategies, and engage in valuable market insights.
Remember: Stay safe with your money by not using unregulated brokers like JPY500.
Exploring the BUX Crypto Offerings
Based in Amsterdam, the BUX Crypto world opens doors to the domain of cryptocurrencies. The platform, comprising sections like BUX X, BUX ZERO, and BUX Crypto, offers a platform for buying and selling digital currencies. Its UI-friendly approach empowers users to navigate the intricate world of crypto assets with confidence.
BUX's appeal extends beyond its offerings. It thrives on user-centered design philosophy. 
General Trading Conditions at BUX
Before embarking on any investment journey, it's prudent to weigh the pros and cons. Here's a concise overview:
Pros:
Commission-free trading through BUX Zero

Tailored experiences with BUX C and BUX X

Accessible crypto trading via BUX Crypto

User-friendly mobile interface

Expanding European presence

Abundant educational resources
Cons:
Limited regulatory supervision for BUX crypto offerings

A lack of other Tier 1 regulations
Empowering Traders: BUX's Commitment to Education
Beyond facilitating trading, BUX empowers users with knowledge. The platform offers a wealth of educational resources, spanning articles, videos, and webinars. 
By providing insights and strategies, BUX fosters a community of informed investors. BUX also provides a virtual trading environment to allow users to practice their strategies without any risk. This allows users to gain confidence and build up their knowledge before entering the real markets. Ultimately, this helps users to make more informed and successful investments.
Can I Earn & Withdraw from BUX?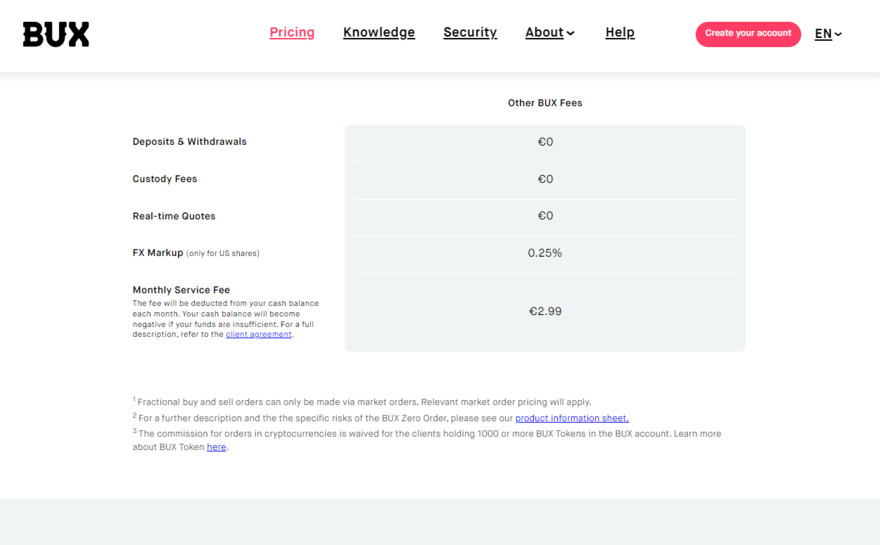 Certainly, BUX offers a seamless avenue for users to earn and withdraw funds. With its user-friendly interface, you can easily track your earnings and make withdrawals as needed. BUX Zero's transparent fee structure ensures that your earnings remain intact, allowing you to maximize your profits. 
Whether you're a seasoned trader or a novice investor, BUX provides the tools and flexibility to earn and withdraw with confidence. Your earnings are just a few clicks away, empowering you to manage your financial goals effectively.
Customer Service Excellence: Connecting Traders With Support
Navigating the intricacies of investment can be daunting. But BUX simplifies the process through comprehensive customer support. The BUX Zero app serves as a gateway to a world of FAQs, ensuring that users can self-educate on essential topics. 
Besides, the BUX community forums provide a platform for peer-to-peer learning and knowledge sharing, enhancing user engagement and understanding. The comprehensive in-app FAQs provide essential information. You can contact their customer support via email at [email protected].
Traders' Insights: Glimpses Into the BUX User Experience
The real testament to any platform lies in its users' experiences. With BUX Zero, traders find themselves immersed in a seamless environment that fosters informed decision-making. The app's intuitive interface offers a comprehensive overview of balances, positions, and investment plans. Notably, BUX Zero's approach to transactions, including preset limits and asset safeguards, contributes to user confidence and peace of mind. 
BUX's thriving community is a testament to its impact. Traders' reviews on Trustpilot shed light on the platform's user experience. While BUX garners a TrustScore of 3 out of 5, user feedback reveals a mix of perspectives. 
Long Story Short – Bux
A pioneer in the investment landscape, BUX combines innovation, accessibility, and education. 
Offering a diverse range of services and prioritizing user experience and compliance, BUX offers a nice opportunity. Keep in mind that BUX, just like Saxo, unlocks thrilling possibilities, but wise choices remain crucial. 
Through BUX, you're not simply trading.  You're actively contributing to a financial evolution that's shaping tomorrow. With BUX, you get the opportunity to try something different. It's a chance to be part of the modern investing landscape and unlock potential for yourself and your future. You can trust BUX to provide you with access to education and a secure platform. Also, your choices within BUX contribute to a transformative narrative in the financial world.
Feel free to contact us for a free consultation if you need help choosing top-notch regulated brokers.
FAQ Section
What is BUX?
BUX is an Amsterdam-based mobile brokerage company.
Is BUX Regulated?
BUX is regulated by the Dutch Authority for Financial Markets (AFM).
What Are The BUX's Platforms?
There are three platforms: BUX Zero, BUX C, and BUX X.