December 18, 2022
Reading Time:
7
min
Buy Now, Pay Later Services – Learn How BNPL Works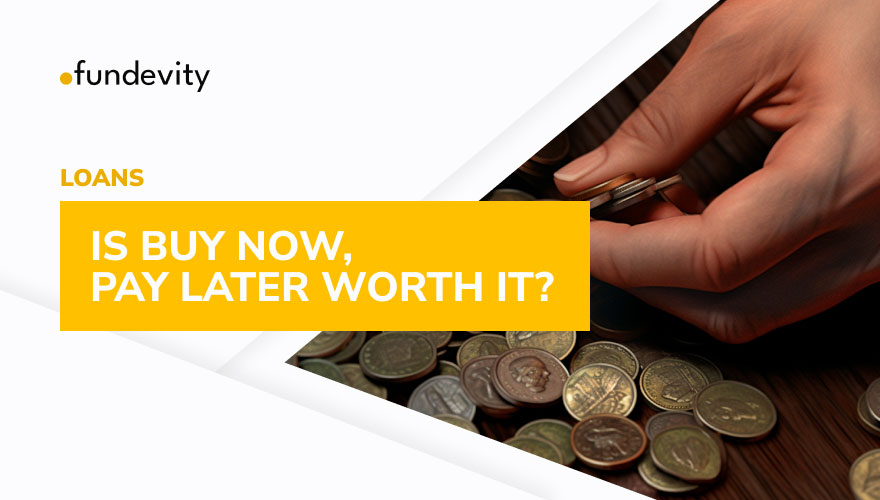 At the time of checkout, you might have been presented with the option to split the cost of a significant purchase into many payments. This type of offer is referred to as a "Buy Now, Pay Later" (BNPL) offer, and it is becoming increasingly common for shops to provide immediate approval point-of-sale loans to their customers.
Typically, a third-party organization is the one that makes the offer available. For instance, if you use your Chase Sapphire card to buy a Peloton bike and choose to pay for it in installments, you are financing your purchase through a third-party organization called Affirm and not through Peloton itself.
Companies that issue credit cards have also jumped on board, and they are now providing customers with the option of paying off their balances in installments for a flat cost rather than accumulating revolving interest charges.
The opportunity to make several payments over the course of an extended period of time can make a purchase appear to be more desirable to customers, which in turn can result in more sales for the vendors. 
These arrangements can be beneficial to both buyers and sellers. However, taking advantage of a BNPL offer isn't always the best course of action, particularly if it promotes spending more money than one presently possesses the financial means to do so.
Here's what you need to know about BNPL.
What Exactly Is Buy Now, Pay Later (BNL)?
One variety of installment loans is known as a buy now, pay later (often abbreviated BNPL) loan. It will break up the total cost of your purchase into several equal installments, with the first one being due when you check out. Your debit or credit card will be charged for the remaining balance until the total amount of your purchase has been paid in full.
These plans may be subject to interest and fees; however, depending on the supplier, certain programs may neither charge interest nor fees. 
When you purchase online, you'll frequently come across BNPL payment plans, and companies typically stock a wide variety of these plans for customers to choose from. In addition to that, BNPL is available for both traveling and medical needs.
How Does Buy Now, Pay Later Work?
During the checkout process, you will have the opportunity to split the total cost of your purchase into multiple payments and pay only a portion of the remaining balance at this time.
In the event that you are interested in applying, there is a brief application that can be found directly on the screen throughout the checkout process. It is possible that it will ask for information such as your name, date of birth, email address, phone number, and Social Security number. You'll also need to offer a method of payment.
After that, the BNPL provider may conduct a soft credit check, which will not have an effect on your credit score, and then decide within a matter of seconds whether or not to approve your application.
The criterion for approval can vary, but even if you have poor credit or none at all, it is possible that you will still be qualified.
The plan that your provider makes available to you will also vary, although many businesses utilize a model known as "pay-in-four," which breaks up the whole cost of your purchase into four equal installments, with the first payment being required right away and the remaining three due at two-week intervals.
For instance, if the total amount of your purchase is $500, you will be required to make a down payment of $125 at the time of checkout, and then you will have three more payments of $125, each of which will be due two weeks apart. You will have paid for your purchase in a little over a month provided that you are prompt with all of your payments.
In most cases, a pay-in-four plan will not charge interest; however, longer-term BNPL programs may charge interest at an annual percentage rate of up to thirty percent. Depending on the organization, the fees for things like late payments or rescheduling payments can run anywhere from $1 to $10 and can sometimes be as much as 25% of the total purchase price.
Pros and Cons of Buy Now, Pay Later
Pros
Allows for payments to be broken up. It's possible that this will make it easier for you to acquire a pricey item because you won't have to pay for it all at once.
There is no rigorous check of your credit history. When compared to requesting a new credit card, getting approved for a BNPL is simpler. 

This indicates that a person who is new to the concept of credit or who does not have an established credit profile would find it more enticing to make a purchase using this method.
Simple to accomplish. Customers who shop online, for example, may find that the instant pleasure of obtaining exactly what they want in a manner that is simple to comprehend is a more desirable method to shop.
Can assist in the management of cash flow. A BNPL can assist a person in purchasing what they require at a payment plan that is suitable for their financial situation.
Cons
When considering an offer of funding such as this one, it is important to keep in mind that there is the possibility of falling into certain traps.
There may be a few different terms. Before agreeing to the terms of a BNPL loan, it is essential to have all of the necessary information. 

For instance, there is a possibility that the introductory 0% interest rate will not apply for the entirety of the loan, in which case you would be subject to costly finance charges in the future, and there is also the possibility that there will be extremely steep penalties if you fail to make a payment or skip a payment.
There are some that have consistent prices. These are the kinds of programs that tack on a predetermined charge to your monthly payments, which might end up costing you more money over the course of the loan than you would have to purchase the item outright.
They do not contribute to the building of credit. Even if you are prompt with your payments, it will not boost your credit. However, late payments could potentially be recorded, which would have a detrimental effect.
This could lead to unnecessary overspending. When making a purchase, having the option to pay for it in installments can give the impression that it is less financially burdensome.
Who Offers Buy Now, Pay Later Services?
When it comes to increasing overall sales volume, buy now, pay later services are highly regarded by retailers. Because of the demand from stores, there are now more BNPL options than ever before. The following are three highly recommended choices.
Paypal – PayPal is a BNPL lender despite being better known as a safe online payment system. Pay in 4 is their flagship offering, and it's a loan product that splits up payments for a transaction across four installments without charging interest.
Shop Pay – In the form of Shop Pay Installments, Shopify provides a powerful BNPL service to its customers. By using Shop Pay Installments, merchants that use Shopify as their e-commerce platform can extend the payment period for their customers' purchases by up to four months without incurring any interest charges.
Afterpay – Afterpay's smart credit limit tool lets users set a maximum purchase amount based on their credit score. This safeguards against their going into debt beyond their means.
Are Consumers Protected in Buy Now, Pay Later Purchases?
Even while there are greater safeguards for consumers when it comes to credit and debit cards, which are subject to more stringent regulations, there are still some protections for consumers when it comes to buy now, pay later arrangements.
For instance, you are shielded from any financial responsibility if you use a debit card issued by Mastercard to pay off loans. This means that you are not liable for any costs associated with fraudulent use of your credit card in a transaction involving buy now, pay later options.
It is possible for the process of returning an item and resolving a dispute to be relatively straightforward when using a credit or debit card; however, the procedure for using a buy now, pay later service may vary from one provider to the next. For instance, the provider may require you to continue making payments on a product while the return is being processed.
Buy now, pay later offers a wide variety of creative options for upgrading an outdated music system or paying for a vacation to Santorini. Sticking to a manageable repayment schedule is the most important factor.
Does Buy Now, Pay Later Affect Credit Score?
No, provided that your payments are made in a timely manner – at least for the time being. A soft credit check is a type of credit check that does not reflect on your credit record and does not have any bearing on your credit score. Installment loan providers generally conduct soft credit checks before approving borrowers for installment loans. That is, however, beginning to change.
Installment loans, which can help build credit for those with shorter credit histories provided payments are made on time, will soon be reported by credit bureaus.
However, just like with other types of loans, payments that are made late can have a negative impact on your credit score. Learn if your lender discloses your account activity by reading the loan agreement on their website.
Is Buy Now, Pay Later Worth It?
Buy now, pay later loans are a sort of consumer borrowing that is considered to be relatively healthy and do not incur any interest if the borrower is able to complete all payments on schedule.
However, a credit card is preferable if you want to establish or improve your credit history and can make payments on time. The same holds true if you're interested in comprehensive legal safeguards against fraud and transparent, consolidated reporting of loans.
If you're worried about being late with a credit card or other loan payment and are considering a "buy now, pay later" company, check sure the total amount of fees you'll incur is less than the fines and interest you'd pay if you were late.
Bottom Line
Consumers can get their hands on the goods they require right away, and they are given some breathing room in terms of making the final payment.
Buy now, pay later financing is something to consider if you don't think you'll be able to pay for anything in full right away or if you don't want to.
These loans provide you access to more credit without hitting you over the head with exorbitant interest rates, but they also come with a repayment plan to keep you from getting into an unmanageable amount of debt.
However, you should think about whether or not the payments are within your financial means and what the consequences may be if you are unable to pay. When considering a buy now, pay later financing option, it is important to read the fine print thoroughly so that you have a complete understanding of the terms to which you are agreeing.
Finally, compare the benefits of utilizing point-of-sale installment loans to the benefits of using other financing alternatives, such as rewards credit cards or personal loans, and make your decision based on the results of this comparison.