April 06, 2023
Reading Time:
3
min
Cambrill Review: Do Not Deal With This Broker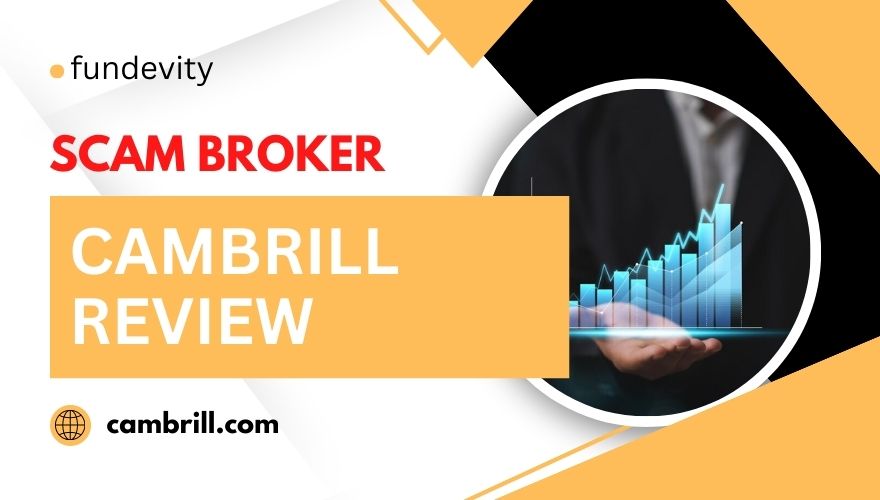 Cambrill broker is just another Ponzi scheme promising investors up to 14% return on their investment.  The reality on the other hand is far away from what they are trying to market. They are an unlicensed and unregulated offshore broker that is operating from St Vincent and Grenadines.
They also claim that their customer support team is ever ready to attend to any issues that traders may have around the clock. That is why this Cambrill broker review will shine the light on all the manipulative tactics this and other investment scams use to strip you of your money.
| | |
| --- | --- |
| Company | Cambrill Trading Services LLC |
| Website | https://cambrill.com/index.html |
| Address | St Vincent and Grenadines |
| Email | [email protected] |
| Phone | N/A |
| Minimum Deposit | N/A |
| Leverage | 1:100 |
| Bonuses | N/A |
| Regulation | Unregulated |
| Warning | N/A |
Cambrill Regulation and Fund Security

Cambrill is neither a licensed nor regulated broker. They have published a fake certificate on their website so that they can easily earn the trust of investors. The truth is this is a fraudulent broker that is not registered and regulated anywhere.
This broker being unregulated is one of the major red flags that you should never ignore.
They also claim to have been in operation for the last 10+ years. They have however not shared any financial records for the many years that they have been in operation. It is a requirement for all financial service providers to share their financial statements. Financial records go a long way in helping an investor decide whether to invest or not.
Cambrill Trading Software Overview
Cambrill trading software is nothing but a few Trading View-enabled charts. No actual trades are taking place.
Although they have a "Demo request" button, it does not work as the platform still requires you to submit a deposit first. Keep in mind that nowadays, brokers provide you with a demo account so you can test what they have to offer before you invest, and this is a must-have.
Beware that scammers operate on the principle of urgency, which is why they often don't provide demo accounts and require you to make a deposit on the get-go.
Cambrill Account Types
Unfortunately, this broker has not shared the account types that they have. This is a big lapse as this information forms the basis for deciding whether to join or not.
This broker has just provided a demo account that anyone can open and learn how to trade.
Failure to disclose many details like minimum investment amount, spreads, and leverage among others makes us question the transparency of this broker. Transparency is very important considering that we are in the financial investment space.
Deposits and Withdrawals Procedure
The only withdrawal that will be affected seamlessly is the first one with the minimum investment amount. Once you invest an amount hoping to make more money, that is the moment you will not see a penny.
Theirs is to lure you to invest more and more money so that they disappear with it.
They lie that automatic withdrawals have been disabled thus they will be manually processed which takes forever until you give up.
We don't recommend you invest with this or any other scam broker alike, since the only thing you will get is a headache from them and nothing else.
How Is Fraud Carried Out?
Ads that can be found online are full of fake stories promising easy earnings. Once you decide to leave your personal information in order to find out more about these never-seen-before ways to make money, the agents will call you daily to try and convince you that what they are offering is a legit thing.
Initially, they will ask for a "smaller" amount just enough to cover the minimum deposit requirement. But if you agree, they will begin to persuade you to invest even more. Many think they are immune to these fake stories the agents are going to tell them or they will just sense if something is off, but in reality, it's much harder to stay firm.
Cambrill Summary
While we were conducting this Cambrill review, we realized that many fraudulent brokers will do anything in their power to look legitimate just so they can scam you.
In the terms of Cambrill, they are an unregulated offshore company that offers unlicensed financial services.
On top of that, this fraudulent broker is not only missing basic information such as a phone number, but they are also falsely claiming to be regulated.
Don't fall victim to this illicit broker's cheap tricks and always do the needed diligence and research the broker before investing your money. And don't feel ashamed about reporting your scammer, Don't let them get away! And remember to always think twice before investing your money anywhere.
FAQs About Cambrill Broker
How Secure is the Cambrill Trading Platform?
Cambrill is not a secure trading platform you should leave your information on or sign up for an account.
Does Cambrill offer a Demo Account?
Yes, Cambrill does offer a demo account for potential clients to try out their services.
What Is the Minimum Deposit for Cambrill?
Unfortunately, we were unable to find what is a minimum deposit requirement in order to start trading with them.