October 01, 2023
Reading Time:
4
min
CapitalPanda Review: What Is There to Know about This FX Firm?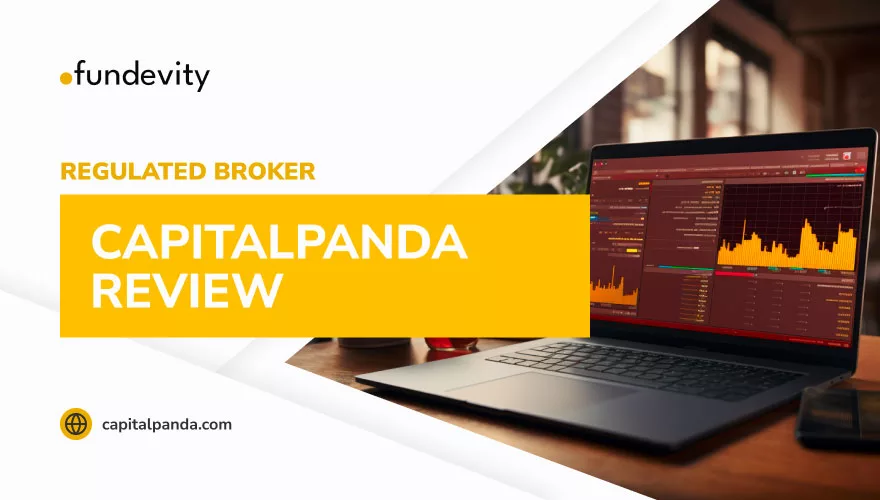 When it comes to trading, one of the most critical decisions you'll make is choosing the right broker. Your investments and trading experience depend on it, by all means. 
Today, we're here to provide you with an updated CapitalPanda review. We'll answer your questions and help you understand the key aspects of this broker.
General information
Name:

BCM Begin Capital Markets CY Ltd

Regulation status:

Regulated by CySEC

Warnings from Financial Regulators:

No official warnings

Website link:

www.capitalpanda.com

Active since

2017

Registered in

Limassol, Cyprus

Contact info:

[email protected]

, +357 25 030 536, +357 25 030 026

Trading platforms:

Autochartist app

The majority of clients are 

Czechia

Hungary 

Spain

Slovakia 

United States

Customer support:

Email, phone, contact form

Compensation fund:

Yes
Getting to Know CapitalPanda
Let's start by getting to know CapitalPanda a bit better. This brokerage is owned by BCM Begin Capital Markets CY Limited, headquartered in Limassol, Cyprus. 
They've been in the business since 2015 and are regulated by CySEC, which offers a big level of security to traders. Interestingly, they also operate under Profitlevel.com and Begin Capital Markets, formerly known as OX Capital Markets Ltd (OxMarkets.com).
Regulation: Why It Matters
Why should you care about regulation? Well, it's like a safety net for traders. Think of it as a guarantee that your investments are protected and your trades are fair. 
Keep in mind it's wise to prefer brokers regulated by trusted authorities like ASIC, BaFIN, or CySEC for that extra peace of mind.
Note: Beware of JB Drax Honoré! It's advisable to stay away from this company as it's been flagged for questionable practices. Protect your money.
What Can You Trade with CapitalPanda?
Let's talk about what you can trade with capitalpanda.com. They offer a range of assets, including:
Forex

Commodities

Indices

Shares

Shares CFD

CFD ETF
However, it's important to note that they don't provide crypto trading. For crypto lovers out there, this might be a drawback. Most popular brokers usually offer a broader range of assets, from forex to stocks, metals, ETFs, bonds, options, and even cryptocurrencies.
Trading Platforms: What's on Offer?
CapitalPanda offers the Autochartist platform, which helps you keep an eye on market growth and spot trading opportunities. Autochartist provides various types of market analysis, including:
Technical Analysis

Statistical Analysis

Fundamental Analysis
But, after all, many traders prefer the reliability of MetaTrader 4 (MT4) and MetaTrader 5 (MT5) offered by other brokers. These platforms are incredibly popular, with MT5 earning a huge positive rating and a massive user base.
MT4 and MT5 are favored by approximately 80% of retail traders due to their customizable interfaces, support for various trading strategies, and a wide array of technical indicators. 
Trading Conditions: What You Need to Know
Let's talk about trading conditions, specifically spreads and leverage. 
CapitalPanda's spreads start at 3 pips, which isn't the most competitive in the market. Some brokers offer spreads as low as 0 or 0.1 pips, which could make a difference in your trading costs. 
Regarding leverage, CapitalPanda claims to offer 1:30. Still, remember, leverage is a powerful tool, but it's a double-edged sword. It can magnify profits, but it can also increase losses. The EU and UK have set a leverage cap of 1:30 to protect retail traders from excessive risk. So, it's a good idea to opt for brokers with lower leverage ratios.
Caution: Onspotcap may not be what it seems. Stay vigilant and consider alternative investment options to save your finances.
Account Types: Which One Suits You?
This FX business offers various account types, each with its own minimum deposit:
Basic

: $10,000

Advanced

: $50,000

Advanced Plus

: $150,000

Advanced Pro

: $250,000

Expert

: $500,000

VIP

: $1,000,000
Website and Customer Support
Their website is UI-friendly, and they offer multiple ways to get in touch, including a contact form, email, fax, and phone number. 
Remember that accessible customer support is always a plus for traders. This goes without saying. 
Withdrawal Policy
Now, let's talk about withdrawals and funding. Deposits can only be made via wire transfer and card, which might seem a bit odd since most brokers offer more secure and faster methods like PayPal or Skrill. 
If you choose to deposit with a card, the minimum amount required is $1000. For withdrawals, the only option is a wire transfer, with a minimum withdrawal amount of $0. Speaking of withdrawal fees, they are non-existent at the moment. 
Tip: Red flags surround UM Capitals – be mindful before working with them. Prioritize your financial safety and explore trustworthy investment opportunities instead. You can always contact us for a free consultation! 
What Other Traders Are Saying
This trading firm has received a Trustpilot rating of 4.1 stars, indicating positive feedback from clients. 
While this is encouraging, it's essential to exercise caution and consider brokers with ratings of 4.5 stars or higher, as they tend to offer a more secure and reliable trading experience. Also, it's always better to see what other people think about a particular company. 
Beware of Offshore Broker Tactics
When dealing with offshore brokers, it's crucial to be sharp. They often come with higher fees and are associated with fake websites and various types of deceptions. 
Traders should also be wary of fraudulent FX signals and EAs (Expert Advisors), as they can lead to significant losses. To stay safe, only choose regulated brokers with Tier 1 regulations.
Can You Make Money with Online Trading?
Yes, you can make money with online trading, but it's essential to have the right knowledge and mechanisms. That's where we come in. 
We offer free consultations to help you choose the best brokers on the market. Plus, we've developed an AI Analysis Bot that simplifies research and provides trading advice based on avant-garde predictions.
With our AI Analysis Bot, you gain a practical advantage, and you can try it out with a solid 20-day free trial, no initial payment required. You'll get access to 5 FX analysis reports and 5 stock analysis reports per month.
Last but not least, selecting the right broker is a significant step in your trading journey. While CapitalPanda has its worth, it's crucial to weigh the pros and cons. Consider alternatives with proven track records and Tier 1 regulations to ensure a safer and better trading experience.
FAQs
Is CapitalPanda Regulated?
Yes, CapitalPanda is regulated by CySEC, providing a layer of security for us.
What Is the Minimum Deposit with capitalpanda.com?
The minimum deposit varies by account type, starting from $10,000. It's $1000 without an account.
How Much Does CapitalPanda Charge for Withdrawal?
CapitalPanda offers wire withdrawals with no fees, but details on processing time are unclear.