May 22, 2023
Reading Time:
5
min
CDO Markets Review: Is this Broker Legit or a Deception?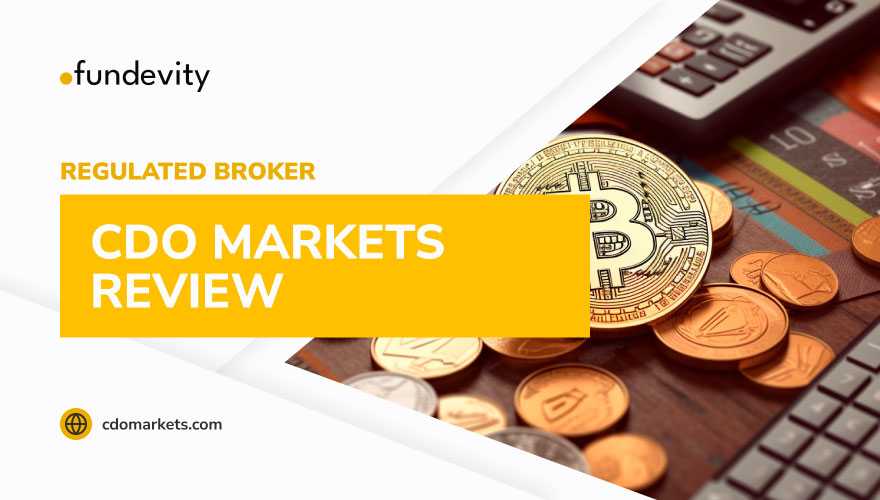 CDO Markets emerges as a CFD and FX broker that raises serious concerns. Their deceptive tactics and ulterior motives reveal an unsettling intention to exploit individuals who dare to sign up. With the promise of favorable conditions and powerful tools for financial success, CDO Markets cleverly conceals its true nature.
Unfortunately, engaging with such brokers often leads to an arduous journey, filled with frustration and disarray. Countless members have fallen victim to their deceitful practices. At this point, we simply couldn't turn a blind eye to the mounting complaints anymore. 
We invite you to embark on a journey with us – a trip through this informative CDO Markets review. Delve into the intricate details and uncover the alarming truth about this dubious broker.
| | |
| --- | --- |
| Company | CDO Markets Limited |
| Headquarters | Port-Vila, Vanuatu |
| Website | cdomarkets.com |
| Warning | N/A |
| Platforms | CDO Trader & MT4 |
| Minimum Deposit | 100$ |
| Leverage | 1:500 – 1:200 |
| Spread | 0.8 – 0.1 pips |
| Review Rating | 2/5 |
CDO Markets – License and Fund Security
Knowing who stands behind the website is paramount. Sadly, CDO Markets remains an enigma in terms of ownership and founding members. Without the names of key individuals, one can't help but wonder if members are depositing funds into an unknown entity. 
Based in the offshore jurisdiction of Vanuatu, CDO Markets adds further doubt to its credibility. This is because offshore brokers have a reputation for abruptly closing operations without warning. Furthermore, their licensing details are questionable at best, as they fail to provide concrete evidence to support their claims. This omission is a red flag, as legit brokers readily provide verifiable copies of their licensing certificates. 
Upon visiting the broker's website, we discover that CDO Markets is both owned and operated by a Vanuatu-based company bearing the same name. According to their claims, the broker is "regulated" by the Vanuatu Financial Services Commission (VFSC). However, it is crucial to note that the regulatory oversight and financial safeguards provided by the VFSC are not on par with esteemed European agencies like the FCA or CySEC.
To protect your investments, avoid brokers with dubious details, such as CDO Markets and Dizl FX Ltd, that don't align with their licensing credentials. Choose brokers with proven track records, transparent details, and a strong commitment to regulatory compliance.
Trading Platform Overview
CDO Markets stands out by harnessing the power of the widely acclaimed MetaTrader 4 (MT4) platform. This strategic choice offers traders a pack of benefits, making it a noteworthy aspect of their services.
The implementation of MT4 introduces a seamless trading experience by providing advanced charting capabilities. What's more, MT4 offers a remarkable environment for the creation of custom tools using MQL (MetaQuotes Language) and supports automated trading systems through Expert Advisors (EAs). This integration with the platform's so-called "marketplace" adds versatility and opportunity for traders.
CDO Markets' notable advantage is their accessibility, catering to traders' diverse needs. The platform is available in many formats, ensuring flexibility for users. Whether it's the traditional desktop download, the convenience of a web-based version, or the freedom of mobile trading with dedicated iOS and Android apps, CDO Markets ensures seamless access to the MT4 platform regardless of preferred device or location.
By combining MetaTrader 4's robust features with its platform offerings, CDO Markets aims to enhance your trading journey. However, please bear in mind that this company doesn't have the best reputation. 
CDO Markets – Bonus Offers
CDO Markets, an offshore broker, offers bonuses in the form of Silver, Diamond, and Gold tiers. While it's important to exercise caution when dealing with offshore brokers, it's worth noting that CDO Markets promotes these bonus levels. This is a fact! 
Yet, the risk of engaging with such entities must be carefully considered. Why is that? Well, they may not have the regulatory oversight and financial protection of renowned regulatory bodies.
Account Types Offered
CDO Markets offers users a choice of three account types: STP, ECN, and VIP. However, all investors need to exercise caution as these accounts appear to be cleverly crafted traps targeting inexperienced individuals. 
Curiously, we noticed that these accounts offer lackluster advantages, raising doubts about their true value. This broker seems to entice users into signing up without thoroughly assessing the features associated with each account. It is paramount for all investors to carefully scrutinize the account features before making any commitments.
What adds to the concern is the exorbitant commissions, amounting to nearly 10%. This is a clear disadvantage for traders, as CDOMarkets significantly cuts into their profits. Trading with this broker becomes a cumbersome process due to their substantial commission rates.
Deposit and Withdrawal
CDO Markets has conveniently streamlined the process of depositing funds, making it quick and effortless. Yet, it is crucial to approach such comfort with caution, as professional con artists often prioritize swift access to funds for their benefit. 
CDO Markets offers funding methods like wire transfer and crypto, which makes it challenging to trace the true owners of the accounts. That's an intentional strategy employed by the broker. They aim to establish a platform where they can easily control and withhold funds at their discretion, leaving depositors in the dark after their initial transactions.
Unfortunately, withdrawing funds from CDO Markets has proven to be a nightmarish experience. Numerous members have encountered insurmountable obstacles when trying to withdraw their funds. This dubious broker presents various excuses and justifications, effectively denying users their rightful withdrawals. Refusing clients the ability to access their funds is a characteristic often associated with professional con artists. Alarmingly, when users inquire about withdrawals, the broker tends to resort to blocking their accounts, further exacerbating the situation.
It is essential to exercise extreme caution when dealing with brokers like CDO Markets, as their debatable practices and lack of transparency can lead to big financial losses. Choosing a broker with a proven track record, positive customer feedback, and robust withdrawal policies that ensure timely and hassle-free refunds is recommended.
Navigating the Risks of Offshore Brokers
Unscrupulous offshore foreign exchange (FX) brokers love to employ manipulative tactics to exploit traders. These tactics encompass a range of deceptive strategies, from misleading advertisements to outright scams. One common ploy is the enticing offer of attractive bonuses. 
Often, these brokers promote enticing features such as low fees, high leverage, and seemingly irresistible perks that give the impression that they are the best option. However, these offers are often a disguise for bait-and-switch schemes in which manipulated prices make it virtually impossible for traders to make money.
Another dubious tactic is masquerading as a reputable entity while lacking any genuine credentials. They may resort to using fake licenses or registrations to create an illusion of legitimacy. In reality, they operate without any oversight or regulation, putting traders at grave risk of falling victim to criminal activities. Fraudulent behavior among offshore brokers extends beyond these tactics. Keep that in mind.
It is imperative to avoid dealing with offshore firms such as CDO Markets and Foxane. Instead, opt for regulated brokers with established reputations and exercise caution when encountering offers that appear too good to be true. By adhering to these prudent steps, you can protect yourself from potential financial losses and ensure a secure trading experience.
CDO Markets Summary
CDO Markets is a suspicious CFD and FX broker, raising concerns about deceptive tactics and a lack of transparency. Operating from an offshore jurisdiction, their ownership and founding members remain undisclosed. Their licensing details are questionable, and withdrawing funds has proven to be a challenging process for many members. 
While they offer the popular MetaTrader 4 platform and various account types, caution is advised. It is recommended to choose brokers with transparent practices to protect your investments. Feel free to reach out to us for a free consultation if you require assistance in finding the ideal broker that meets your specific requirements.
FAQs
Are CDO Markets Good for Beginners?
This broker is not quite reliable so the answer is no.
Is Depositing with CDO Markets Safe and Secure?
No, it is not secure as this broker is suspicious.
How Long Will It Take to Process My Withdrawal Request?
This company does not allow withdrawals.