May 21, 2023
Reading Time:
5
min
CedarFX Review: Eco-Friendly but Not Money-Friendly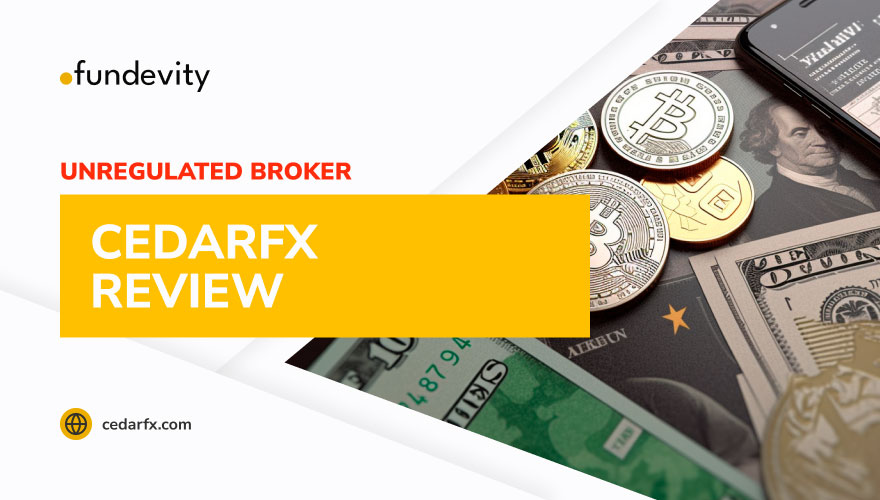 Cedar FX is an FX broker that operates offshore and has a modern marketing strategy. They present themselves as an environmentally friendly broker. Also, they use green in their branding, and they allegedly plant trees. To support this eco-friendly initiative, they charge $1 commission per lot for their Eco account.
It's admirable that they are dedicated to saving the planet, but we also need to know if they rank your money as safe. Read the full Cedar FX review to get all the information you need to decide if this broker is the right fit for you.
| | |
| --- | --- |
| Company | Cedar LLC |
| Headquarters | SVG |
| Website | cedarfx.com |
| Warning | N/A |
| Platforms | MT4 and WebTrader |
| Minimum Deposit | $10 |
| Leverage | from 1:200 to 1:500 |
| Spread | 'ultra-low' |
| Review Rating | 1/5 |
CedarFX – No License or Regulation
CedarFX is from St. Vincent and the Grenadines, which is unsuitable for traders. This place is famous for sketchy financial regulations and scam brokers. Bear in mind that the local authority doesn't license or control FX brokers. We looked into CedarFX's registration with Europe's monetary authorities, but couldn't find anything. So, long story short, your funds might not be safe if you deposit with CedarFX.
If you want a trustworthy Forex broker, you should look for a proven and reliable company. This company should be regulated by CySEC (in the EU) or the FCA (in the UK). These guys are some of the best in the retail Forex industry and follow strict rules and regulations. 
They need an initial capital of 730,000 EUR, qualified personnel, and separate clients' accounts. The most excellent part is that they have money protection schemes like ICF in Cyprus and FSCS in the UK, guaranteeing your deposits' safety. So, if something falls wrong, you can claim up to 20,000 EUR in compensation under CySEC and up to 85,000 GBP per client under FCA. It's like an insurance fund EU member states must operate if a Forex broker fails to meet its financial obligations.
Trading Platforms Available at
CedarFX
Cedar FX has two platforms – MetaTrader 4 and a web-based platform with similar features. MetaTrader 4 is one of the rulers of trading platforms, with many comprehensive tools.
Cedar FX offers the MT4 trading venue but not MT5. That is good news for some traders because MetaTrader 4 is the leading retail FX platform. It's extremely stable and reliable. MT4 has advanced trading features like automated trading, complex indicators, and more. Plus, there's a marketplace where customers can buy or use third-party solutions.
But here's the thing: we noticed something sketchy. Cedar FX will only let you open a trading account if you deposit first. They also need identity verification to start trading. That is a red flag! Legit brokers always ask for identification and let you open a real account before sending money. So, we could only trade on a demo account. And that means we couldn't confirm if the trading conditions on their real accounts were the same.
CedarFX – Account Types
CedarFX offers only two account types: the 0% commission as well as the Eco account. With a low minimum deposit requirement of $10, their offer seems very lovely. However, their benefits can be shady.
While CedarFX provides demo accounts, some traders have reported irregularities. Although a demo account may seem easy and competitive, the reality can be completely different after you open a real account. This is particularly concerning considering the lack of regulation.
It's critical to note that using a demo account is expected in the industry. It allows traders to test the broker's platform and services before risking real money. Yet, CedarFX has discrepancies between the demo account and the real account.
Furthermore, CedarFX's lack of regulation is also a red flag. Bear in mind that regulation is essential because it ensures brokers operate transparently and fairly. Besides, regulated brokers follow strict guidelines to protect your funds. Without proper regulation, anything is possible with a broker, and traders may put their funds at risk.
Deposit and Withdrawal Methods
As a matter of fact, CedarFX reveals that the broker offers two primary deposit options – Bitcoin and credit cards. Yes, credit card payments come with a chargeback policy, which allows users to dispute and recover their money in case of fraud or errors. Yet, Bitcoin payments do not offer the same feature.
This means that users need to be extra careful when making deposits using Bitcoin as BTC transactions are more difficult to trace. Once a payment is sent and confirmed, mistakes can be costly. Although Bitcoin payments are secure, users must exercise caution to avoid any errors or mishaps that may prove challenging to fix. Before making a decision that aligns with your financial goals and risk tolerance, weigh the pros and cons of each deposit option.
Note: Keep in mind that your investments should always be secure. So, exercising the utmost caution while conducting business with companies like CedarFX, Investous, and other unscrupulous firms is wise.
The Mechanisms of Broker Fraud
Offshore foreign exchange (FX) brokers often use deceptive tactics to take advantage of traders. These tactics can vary from misleading advertisements to outright scams. A common tactic is offering attractive bonuses or deals to lure traders in. These brokers may advertise high leverage, low fees, or other perks that make them seem like a wise choice. Sadly, these offers are often bait-and-switch schemes, and traders may discover that the broker has manipulated prices to make it impossible to profit.
Some offshore brokers use another tactic of pretending to be reputable when they are not. They may use fake licenses or registrations to appear legitimate. In fact, they are not subject to any oversight or regulation, putting traders at risk of losing their funds to fraud or other criminal activities.
Offshore brokers may commit other fraudulent behavior, too. They can delay or block withdrawals or provide false information about market conditions. They may use high-pressure sales tactics to convince traders to invest more than they can afford. In some instances, they may even resort to outright theft or other criminal activities.
To avoid fraud, never deal with offshore brokers. Instead, choose a regulated broker with a solid reputation, and be wary of offers that seem too good to be true. These steps can safeguard you from potential financial loss.
CedarFX
Summary
Although CedarFX offers two trading platforms, it's critical to note that the broker is unregulated and based in St. Vincent and the Grenadines. This may not be the safest destination for traders. 
For this reason, finding a regulated broker that prioritizes account and deposit safety is always recommended. It's also worth noting that CedarFX has some red flags, such as requiring identity verification and deposit payment before opening a trading account. As a result, we strongly advise against dealing with CedarFX and PolarBTC broker scams to ensure your funds are secure and protected.
FAQs
Is CedarFX regulated?
No, this broker is not regulated. Bear this in mind.
What is the minimum deposit for CedarFX?
The minimum deposit amount that they ask for is only $10.
Is CedarFX a trustworthy broker?
No, they are not trustworthy and they are not licensed.