February 28, 2023
Reading Time:
4
min
Chartistake Review: Stay Away from Chartistake.Com Broker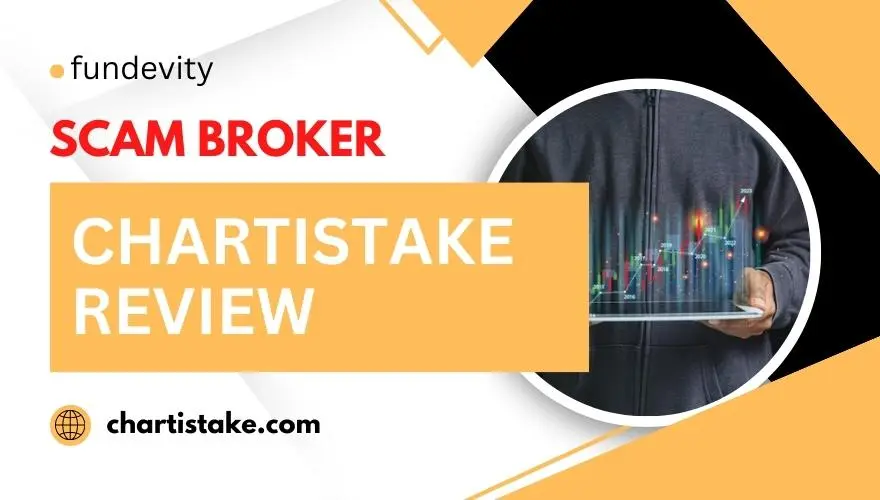 Chartistake claims to be a Mauritius-based company that is regulated by the Financial Services Commission of Mauritius. After further inspection of their so-called license number, we were unable to find their regulation on the official site of FSC.
In this honest and in-debt Chartistake broker review, we will give you all the needed information about this scam broker.
| | |
| --- | --- |
| Leverage | 1:100 |
| Regulation | Unregulated |
| Headquarters | Unknown |
| Minimum Deposit | 250$ |
| Review Rating | 1/5 |
| Broker Type | Forex |
| Platforms | Web |
| Spread | 0.1 |
License and Regulations of Chartistake
As we have mentioned above, Chartistake broker has claimed they are regulated by FSC and they even provided the registration number. When we tried to check that regulation number on the FSC, we were unable to find any company that is regulated and licensed under that number.
This leaves us surprised that a company will go that far and lie about having a regulation. In reality, they are nothing but another investment scam, since all they have to do to obtain a Mauritius Global Business License is maintain an operational capital of between €25 000 and €250 000 depending on the type of services they want to offer.
Trading Platform Available at Chartistake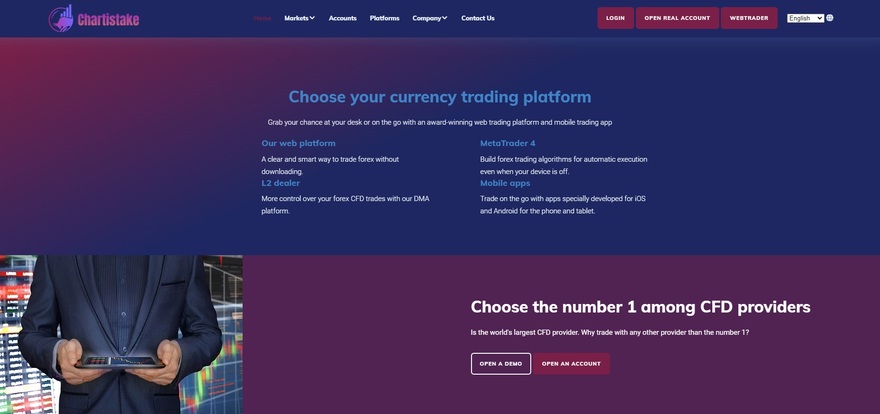 When it comes to their trading software and platform, there is nothing to back up their claim of cutting-edge technology they say to offer.
Their software offers fewer than basic possibilities. We came upon a lot of user complaints about their platform, saying that the software offers only some of the basic indicators and chart types as well as the stop loss/take profit function.
That surely will not give you the most satisfactory trading experience, since the industry standards are MT4 and MT5 software.
Deposit and Withdrawal Methods
After taking a look at their deposit methods, we were unpleasantly surprised that they only offer wire transfers and nothing else. Although that is a very secure form of sending and of course tracing the money, remember that Chartistake is a scam broker and you will only put your money at risk.
We also came upon a lot of user complaints made against the broker, stating they have a lot of withdrawal issues. Mainly that they are unable to take their money out and that agents gave them a call asking why they want to do so.
Once the customers say they just want to take their money, agents become aggressive to keep them from doing so and if that doesn't work, agents just disappear. Stay away from this and many other alike scam brokers.
Chartistake Offers Bonuses on Deposit
While we were conducting this Chartistake review, we saw they offer bonuses. After trying to see what exactly those bonuses apply to, we were unable to find any useful information.
This is not the first time a fraudulent broker has put they offer bonuses but you need to complete certain steps in order to get one. We believe this is also the case with Chartistake and their so-called bonus.
In case you were wondering have they violated any terms and conditions with this, the answer is yes, they did.
Offshore Brokers Fraudulent Tactics
A lot of fraudulent brokers have very shady tactics when it comes to stealing your money and Chartistake doesn't fall behind.
This scam broker uses manipulative trading software to make it seem that you are making a lot of profit fast but that is all just to get you to invest more. In case you don't want to invest more money, they will start with their pushy tactic saying that if you don't invest more, you will lose all of your current profits.
That's where a lot of people realize they are nothing more than a scam. On top of that, we have uncovered they have a 20% withdrawal fee that they didn't mention anywhere on the website but you can only see that once you try to withdraw your money but you fail.
If you have invested with them or any other scam brokers, getting your money back is possible. Don't feel embarrassed about reporting a scam, since it can happen to anyone.
Chartistake Summary
Chartistake claims to be a regulated and licensed broker but that's all a lie since there is no company under that name in the FSC data base. They failed to mention anywhere that they charge a 20% fee on withdrawal unless you try to do so and fail.
Their trading software uses manipulative malware to make it seem that you are making profits so they can get you to invest more and steal your money. They lack any other deposit methods besides wire transfers.
In conclusion, this is another scam broker who is interested only in your money and not you.
FAQs About Chartistake Broker
Is Chartistake Regulated?
No. They have fake regulations and there is no mention of them in the FSC data base.
What is The Minimum Deposit for Chartistake?
They have stated on their website the minimum required deposit is 250$.
Is Chartistake a Trustworthy Broker?
No. They are just another fraudulent broker who is more interested in money than you.