June 16, 2023
Reading Time:
6
min
City Index Review: Online Broker With Seamless Trading Services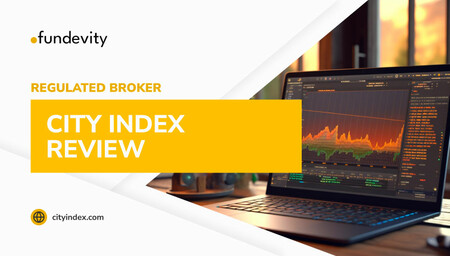 City Index, a renowned online brokerage corporation, caters to your diverse needs. With a legacy dating back to 1983, City Index has emerged as a prominent player in the financial markets. With its broad selection of tradeable assets, City Index opens doors to a world of possibilities.
City Index is a well-established FX broker with a strong reputation in the financial industry. Trading on its venue is superb, and they have amazing trading tools. Stay tuned and check out our City Index review to discover more.
Headquarters

UK

Regulated

FCA,

ASIC, and MAS

Year Established

1998

Execution Type

rapid execution

Minimum Deposit

0$

Trading Platforms(s)

WebTrader, MT4

Signals

Yes

US Clients Accepted?

No

Islamic Account

Not Available

Segregated Account

Yes

Managed Accounts

Yes

Support Hours

from 5 p.m. Sunday to 5 p.m. Friday

Customer Support

24/5

Demo Account

Yes
Is City Index Safe? Security and Regulation
City Index operates as a reputable brokerage firm. It is under the supervision of respected regulatory organizations. This commitment to regulation ensures a secure and reliable trading environment for clients. It has a strong emphasis on accountability and transparency.
The activities of the City Index are monitored and overseen by key regulatory bodies, including the Australian Securities and Investments Commission (ASIC) in Australia, the Financial Conduct Authority (FCA) in the UK, and the Monetary Authority of Singapore (MAS). These regulatory bodies play a crucial role in upholding industry standards and defending traders' interests.
Clients of City Index benefit from reimbursement schemes that compensate for potential losses. These schemes serve as a safety net, instilling confidence and peace of mind when entrusting funds to the company.
Compliance with regulatory rules and criteria is not optional but mandatory for firms like City Index. It is a prerequisite for obtaining and maintaining licenses in specific jurisdictions. City Index demonstrates a strong commitment to ethics and professionalism in its operations.
Before engaging with any broker, including City Index, it is essential to verify their regulatory status. This step is vital to establishing a secure and dependable trading environment.
In conclusion, City Index operates under reputable financial regulatory bodies. These organizations diligently oversee brokerage firms and take appropriate action when necessary. While City Index has faced past challenges and regulatory breaches resulting in fines, it is critical to note that such incidents can occur across industries. Companies must learn from these experiences, improve their practices, and ensure better regulatory compliance. 
City Index: Account Classifications Available
City Index offers a spectrum of account options. These account options vary in terms of minimum account balance, maximum leverage, and extra services.
The first account type is the

Trader account

, which has no minimum account balance rule. Traders with this account can enjoy leverage of up to 30:1, allowing them to amplify their positions. Yet, this account does not come with extra services beyond City Index standard features.
You can choose a

Premium Trader account

if you want enhanced benefits. A deposit of £10,000 is required to open this account. Premium Traders are assigned a dedicated relationship manager. The manager provides personalized guidance and support, helping traders make informed decisions.

City Index offers a

Professional account

designed for experienced traders. To qualify, traders must have a minimum portfolio of €500,000 or significant working experience in the financial sector. With the Prol account, clients enjoy leverage of up to 400:1, maximizing their trading potential. Professional account holders are assigned a dedicated relationship manager for personalized support.
Additionally, the broker includes corporate accounts for businesses. It offers a Self-Invested Personal Pension (SIPP) account option for UK-based traders. That account allows tax-efficient trading within pension schemes.
This company offers you a free demo account with a duration of up to twelve weeks. This demo account gives you 10,000 demo credits and grants access to all platform features.
A Range of Trading Instruments Presented by City Index
City Index includes a diverse range of assets when it comes to trading. It provides traders with numerous opportunities. Here are some examples of the assets available:
Currency pairs: The firm offers CFDs for 84 currency pairs, including popular ones such as EUR/USD, CHF/USD, and AUD/USD.

Indices: Traders can access CFDs for 21 indices, including Wall Street CFD, DAX30 CFD, and FTSE100 CFD. These indices represent specific markets' performance and provide insights into broader market trends.

Global shares: The City Index allows trading CFDs on approximately 4,500 global shares. That includes well-known companies like Barclays, Amazon, and Meta.

Commodities: The broker provides CFDs for 25 commodities in total. It allows traders to participate in price movements. Examples include UK Crude CFD, US Crude CFD, Cotton CFD, and Sugar CFD.
While City Index offers a wide selection of trading assets, crypto assets are not among them.
Trading Platforms Overview
City Index empowers traders by providing access to a broad scope of trading platforms. These platforms can be seamlessly used on desktop computers, smartphones, and tablets. This allows traders to execute their strategies easily. One such platform is Advantage Web, a proprietary trading platform offered by City Index. It is known for its UI-friendly interface and avant-garde charting tools. 
Besides, City Index supports the widely recognized MetaTrader 4 (MT4) platform. MT4 is a popular choice for traders worldwide. It offers features such as automated bots and custom indicators. MT4 is a powerful venue that provides clients with an expansive array of tools for successful trading.
Deposits and Withdrawals at City Index
The company includes a range of deposit and withdrawal options that are free of charge. However, it is necessary to note that some credit cards do not support withdrawals.
Why does this choice matter? There are two key reasons. Firstly, if you fund your trading account in the same currency as your bank account, you can avoid conversion fees. Secondly, to save on conversion fees, consider opening a multi-currency bank account with a digital bank. These banks offer accounts in multiple currencies, competitive exchange rates, and cost-effective international transfers. Opening an account is quick and easy using your smartphone.
Choosing the Right Base Currency
City Index provides three base currencies: EUR, GBP, and USD. While this selection may be limited compared to other brokers, if you wish to change the base currency of your account, you can contact the City Index support team.
City Index does not charge deposit fees and provides various options, as mentioned earlier. You can fund your account using bank transfers, cards, and PayPal. Yet, it's worth noting that once the account base currency is set, you can only deposit funds in that same currency. Bank transfers typically take several business days, while credit/debit card payments are instant. Remember that you can only deposit money into accounts registered in your name.
Regarding the minimum deposit requirement, City Index does not specify an amount. Instead, the broker evaluates the client's savings, verifies the bank account, and determines the appropriate deposit amount based on these factors. This personalized approach ensures that deposit requirements align with the client's financial situation.
For precise information about any other requirements, traders should contact City Index directly.
Education and Resources
City Index is not just a trading platform. It's also a platform for learning and personal growth. It offers a wealth of educational resources aimed at nurturing trading skills. Webinars, tutorials, and comprehensive guides are readily available. Education supports both novice traders and proficient clients in their quest to push beyond boundaries. 
City Index fosters mastery by providing a risk-free environment for experimentation through its highly regarded free demo account. Traders can use this account to refine their strategies and improve their skills without consequences. That allows traders to make mistakes and learn from them. It also encourages traders to take risks and become more confident in their abilities.
Blackwell Global is another legitimate broker with extensive education materials you can check out. 
Customer Support 
Regarding client support, City Index maintains a responsive and knowledgeable team. They are available to assist clients with their inquiries 24/5. 
Support is accessible via phone, email, and live chat, ensuring clients can readily seek assistance when needed. City Index ensures that clients never traverse the winding path alone. This is extremely important. 
Follow Us on Social Media and Find the Best Broker
Don't miss out on this incredible opportunity to enhance your trading skills. Follow us and access our daily reviews of the top FX brokers. That will ensure you stay informed about regulated brokers, trading instruments, fees, and more. Immerse yourself in invaluable insights and expert analysis that will empower you to make confident investment decisions.
Take control of your financial future and seize each day as an opportunity to shape your success. Don't let a more rewarding trading experience slip away. Embrace the present moment and read more about us to make trading safer. Start your journey toward financial prosperity now.
City Index Overall Summary
City Index is a reputable online brokerage firm that caters to traders' diverse needs. With a wide range of tradeable instruments, City Index offers a world of possibilities. 
The broker is known for its user-friendly platforms, comprehensive educational resources, and responsive customer support. Regulatory bodies such as the FCA, ASIC, and MAS oversee City Index's activities, ensuring a secure trading environment. The broker offers various account types, including Trader, Premium Trader, and Professional accounts, each with different benefits. City Index provides a diverse scope of instruments, although cryptocurrencies are not available. 
The minimum deposit requirement is personalized based on the client's savings and financial situation. What's more, people can access multiple trading platforms, including Advantage Web and MetaTrader 4. 
City Index offers educational resources and a risk-free demo account for traders to enhance their skills. You cannot go wrong by choosing City Index, InstaForex, and similar companies. 
FAQs About City Index
Are my deposited funds protected at City Index?
This broker is regulated. Your funds are protected with them.
Where can I view City Index legal documentation?
You can view legal documentation on their web page.
What Bodies Are City Index Regulated Under?
They are regulated by FCA, ASIC, and MAS.