April 24, 2023
Reading Time:
4
min
Clair Capital Review: Do Not Deal With This Broker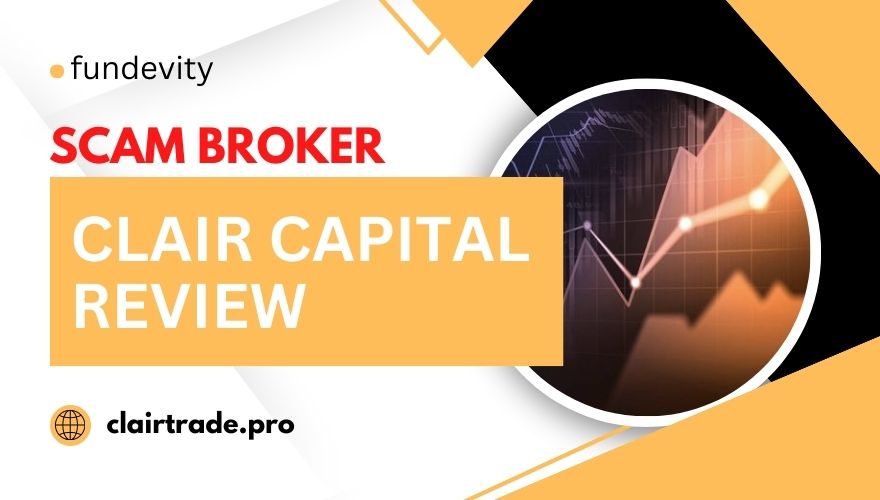 Looking to jump into the exciting world of trading? Clair Capital might be calling your name. This broker scam claims that trading is easy as ABC with their no-nonsense strategy and straightforward trades. However, there is a catch. Clair Capital has yet to obtain any official licenses to offer its services. This raises quite a lot of questions. 
Are they operating without regulations or just inexperienced? Don't worry, we've got you covered. In this informative Clair Capital review, we'll dig deep into its background and reveal everything you need to know. So let's get started.
| | |
| --- | --- |
| Broker Status: | Offshore Broker Scam |
| Regulated by:  | No Regulation |
| Operating Status:  | Active |
| Scammers Websites:  | clairtrade.pro |
| Blacklisted as a Scam by: | CBR, ASF |
| Broker Owner:  | Smart Oasis LLC |
| Headquarters Country: | Saint Vincent and the Grenadines |
| Foundation Year:  | 2022 |
| Online Trading Platforms: | ClairTrader |
| Mobile Trading:  | No |
| Minimum Deposit: | $250 |
| Deposit Bonus:  | 20% |
| Crypto Asset Trading: | No |
| CFD Trading Option: | Yes |
| Available Trading Instruments: | FX, commodities, indices, shares |
| Maximum Leverage: | 1:100 |
| Islamic Account:  | No |
| Free Demo Account:  | No |
| Accepts US Clients: | No |
| Site Grid: | Clair.capital |
Clair Capital – Regulation and Fund Security
When it comes to Clair Capital, Networkfsi, and similar scam brokers, digging into the nitty-gritty reveals a troubling pattern.
Firstly, Clair Capital is a subsidiary of Smart Oasis LLC, a brand registered in 2022 in Saint Vincent and the Grenadines. This offshore haven is infamous for having lax financial regulations.
The broker is supposed to be regulated under SVG's legal jurisdiction. However, that's a red flag because the country's Financial Services Authority explicitly stated it doesn't cover granting permissions to FX, CFD, or binary options brokers. Rather, Clair Capital's purported regulation should be with Tier 1 authorities in the country where it operates, such as CONSOB or BaFin.
Also, the broker's lack of transparency about trading facts, such as spread and leverage, is a major warning sign of shady activities. Without this vital data, it's hard to trust anything about Clair Capital.
Finally, the broker's supposed office is in SVG, but the contact point is a UK phone number. This mismatch raises doubts about Clair Capital's legitimacy. Based on all of this, it's likely that Clair Capital is a financial scam that's targeting unwary traders.
Tip: StarTrader also appears to be an attractive broker at first glance, but in reality, it is a dubious one. 
Clair Capital – Trading Software Overview
Clair Capital claims its trading platform, ClairTrader, is the ultimate solution for traders who want superior trading software that's accessible via a web browser, desktop, or mobile app. Yet, our experience with the platform didn't meet this promise. After registering, we found a basic WebTrader without any special features. Even worse, we couldn't locate any apps that the broker said would be available.
The platform does offer some useful features, like a market overview, trading news, pending orders, and trading history. Regardless, it still falls short of being considered superior trading software.
When it comes to superior platforms, third-party software like MT4, MT5, and CTrader is worth mentioning. These platforms offer a wealth of technical analysis tools and other advanced features that many traders prefer. Sadly enough, Clair Capital doesn't provide any of these options.
To sum up, Clair Capital's platform doesn't live up to its promise of providing a superior trading experience. Traders would be better off seeking alternative options that offer the features they need to succeed in the markets.
Clair Capital – Account Types
Be warned about Clair Capital's account types – each designed to take your hard-earned cash and leave you feeling cheated:
Start: For a mere $250, you'll receive a meager 5% welcome bonus, and don't count on any trading signals. You're essentially on your own in this cutthroat world of trading.

Basic: This one will cost you $1,000, and all you'll receive in return is a 10% welcome bonus and three trading signals. Not very exciting, to say the least.

Advanced: For those big spenders who are ready to take their financial downfall to the next level, deposit $5,000 and receive a 15% welcome bonus. You'll also have an account manager at your disposal but don't expect any actual help in making a profit.

Premium account: The crème de la crème of Clair Capital's account types. Deposit $10,000 and receive a 20% welcome bonus for accessing an automated trading feature that doesn't actually exist. Good luck trying to make any money with this account.
In conclusion, Clair Capital's account types seem designed to prey on unsuspecting traders who are looking for ways to grow their investments. Be careful when choosing an account and do your research before investing your money.
Deposits and Withdrawals
This broker appears to accept both debit and credit cards for deposits. Nonetheless, it's not as straightforward as it seems. They employ a third-party website called "abncbp.com," which raises concerns about its reliability. Besides, using BTC or ETH to deposit your funds can be risky, as it may be quite challenging to retrieve your money if anything goes wrong.
On the bright side, if you use a debit or credit card, you can file for a chargeback with your VISA or Mastercard issuer if needed. This is especially important when dealing with offshore scammers like Clair Capital. We strongly suggest taking immediate action if you encounter such issues.
Moreover, Clair Capital allegedly requires a minimum deposit of $250, which is standard for many.
How Do Fraudsters Commit Fraud?
Beware of fraudulent brokers who like to use various tactics to deceive people. One of the most common methods is luring investors with promises of significant profits. These fake brokers may pressure you to invest your money and engage in bogus trades or abscond with your funds. Besides, offshore brokers may use deceitful tactics to appear credible.
To avoid becoming a victim of such schemes, it's crucial to conduct research before investing your money. Be cautious and never disclose your personal or financial information unless you're confident that the company is reliable and trustworthy. Stay safe and invest wisely!
Clair Capital
Summary
If you're considering Clair Capital as your forex broker, we urge you to be careful. The company has raised several red flags, including false information and suspicious business practices. Once you deposit funds with them, retrieving your money may become an arduous task, leaving you in a precarious situation.
Although their common minimum deposit requirement may be enticing, it's a good idea to think twice before investing in Clair Capital. We hope that our Clair Capital review sheds light on the truth behind their dubious practices, enabling you to make an informed decision. Remember to prioritize your safety and invest wisely!
FAQs
How Secure is the Clair Capital Trading Platform?
Clair Capital's trading platform is not regulated and not secure. Keep that in mind.
Does Clair Capital offer Demo Account?
No, this broker does not offer a demo account for you to try out the platform.
What Is the Minimum Deposit for Clair Capital?
The minimum deposit for this broker is $250 which is relatively common.