November 15, 2023
Reading Time:
4
min
ClayTrader Review: Behind the Scenes with ClayTrader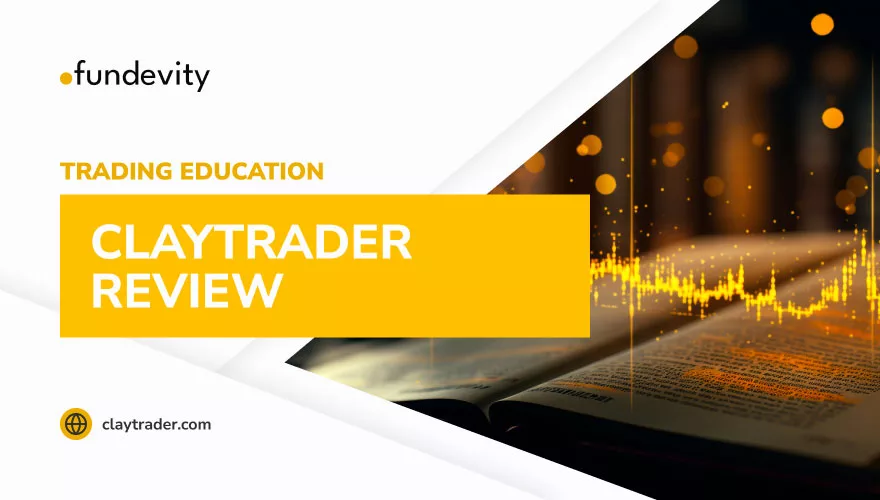 The ClayTrader platform, led by Clay Huber, offers a wide range of trading courses and videos. In this ClayTrader review, we explore the platform's site, credibility, products, and value for traders. Let's dive into the details and discern whether this company is a worthwhile investment.
| | |
| --- | --- |
| | General information |
| Name | ClayTrader |
| Type of company | Trading Education |
| Regulation status | Unregulated/Not expected |
| Warnings from Financial Regulators | No official warnings |
| Website link | https://claytrader.com/ |
| Active since | 2013 |
| Registered in | Grand Rapids, Michigan, 49514, United States |
| Contact info | [email protected] |
| Trading platforms | Web Terminal |
| Majority of clients are from | United States, Canada, India, Nigeria, United Kingdom |
| Customer support | Email  |
| Compensation fund | No |
Who is ClayTrader?
In contrast to Wall Street aficionados, Clay values family and friends over flashy wealth. Venturing into trading in 2005, Clay initially grappled with emotional trading, leading to many losses.
Yet, over the years, he has transformed into a strategic trader. He started relying on technical analysis and past experience. Founded in 2013, ClayTrader has a notable presence on Investorshub, providing insights into day trading. Despite some fuzzy details in the records, Clay remains an active contributor.
Products and Services
We can see that this trading company has many interesting features. Let's hop into them! 
ClayTrader Inner Circle

– At the heart of ClayTrader's offerings is the Inner Circle. The main focus here is personal growth. Priced at an annual or quarterly fee, this product provides access to live chats, watchlists, ideas, a newsletter, and more. It not only serves as a platform for learning but also fosters a sense of community among clients.

ClayTrader Chat Room

– The heartbeat of ClayTrader's community lies in its chat room. This one facilitates real-time information exchange among members. We must say this is rather amazing! Exclusive to Inner Circle and Trading Freedom Pathway members, the chat room serves as a conduit for Clay and his team to share daily trading alerts and more.

Power Profit Scans

– This is definitely a premier feature of the Inner Circle. Power Profit Scans provides access to Clay's personal watchlists and scans via a weekly newsletter.

Networking

– The Inner Circle is not just about learning. We can see it's a chance for members to build lasting relationships with other traders. A mobile app boosts accessibility and creates a sense of community on the go. This is a top-notch feature in our opinion!
Inner Circle Prices
To join the Inner Circle, traders need to invest $99 per quarter or $297 annually. While some may find the interaction distracting during trading, the Inner Circle offers a network of traders at a reasonable price. In comparison to Investors Underground and other firms, claytrader.com is budget-friendly.
However, it's essential to note that the live chat rooms may not include real-time streaming of Clay's trading account. Notably, this raises some questions about transparency and trust. If you're looking for networking opportunities, the Inner Circle seems okay, but we're not sure how effective it is.
Tip: Stock Master is a mobile stock market guide that provides real-time stock data and more. The business indeed has an outstanding reputation! 
Trading Freedom Pathway
The latest premium service at claytrader.com is the Trading Freedom Pathway. This one unites the old ClayTrader video library. What's more, this one costs $2,497 per year or $497 every 30 days, with a total of 6 payments of $2,982. Also, this package offers a great set of benefits:
Clay Trader University Lifetime Access:

Lifetime access to a variety of online classes.

ClayTrader's Scanner Setting Guide:

Guidance on setting up the market scanner.

Weekly Online Training With Clay:

ClayTrader live trading events for excellent and smart trading habits.

Personal Interaction with Clay:

Direct communication for addressing queries.

One-Year Inner Circle Access:

Inclusion in the Inner Circle that is worth $297 per year.
This package truly offers multiple benefits, making it a worthy investment choice! 
ClayTrader on YouTube
The ClayTrader YouTube channel has more than 590,000 subscribers. We must say that this plays a pivotal role in keeping the community updated on the latest trends in day trading. Everyone seeks free education on YouTube. This is a fact!
The platform uses YouTube as a primary medium for sharing trading videos. We can really see how this strengthens its online presence.
Proof of Performance
To show credibility, we sought public account statements, but without success. 
This company uses occasional screen recordings on YouTube. They do that instead of sharing real-time trading accounts like some competitors. Yet, the lack of comprehensive performance documentation raises some notable transparency concerns. It's important to keep this in mind!
Reviews from Other Clients
So, here's the scoop from Trustpilot! This company has an average rating of 2.8 stars. We must say this does not instill confidence at all! It does raise a few questions and makes you wonder about its reliability.
Reviews are a mixed bag, and when the average falls below 3 stars, you can't help but question what's going on. To play it safe, it's best to lean towards platforms with safer tools, and for those golden 4.5 stars or higher.
Trustworthy tools mean a more solid experience. Opting for higher-rated platforms increases the chances of a smoother trading journey, by all means.
Tip: CyberTradingUniversity has been offering online day trading education since 1995. The firm was founded by Fausto Pugliese, an original SOES bandit in the '90s.
Bonus: Earning Money Trading
Are you ready to dive into the world of making money through online trading? It's easier than ever, and we've got your back every step of the way. Contact us to get free consultations and expert advice, and meet our mind-blowing tool, the AI Analysis Bot.
It's your outstanding research assistant, dishing out solid trading predictions.
What's the kicker? You can test out our AI Analysis Bot for free for a generous 20 days with no upfront payments. Check out detailed FX analysis reports and stock reports each month. Go ahead, give it a try, and see the difference!
Final Words
When it comes to online trading, selecting the right platform is key. Yes, you can access ClayTrader robotic trading and many other solid tools, but you may not get the top-notch features. Of course, the one in the spotlight might have its quirks. Yet, our AI Analysis Bot is the real MVP! This tool exists to offer top-notch features and spot-on predictions.
Always choose wisely and stick to platforms that put your satisfaction first. Make sure to dive into your trading adventure with confidence and a savvy game plan.
FAQs
What is ClayTrader?
ClayTrader is a trading platform offering courses and videos, founded by Clay Huber in 2013.
Is ClayTrader Worth the Money?
The value varies. Always check reviews and assess your trading needs.
What is Proprietary Trading?
Proprietary trading is when companies use their own funds to trade stocks and gain profit from fluctuations.