November 06, 2023
Reading Time:
4
min
CyberTradingUniversity Review: Real Stories of Success and Transformation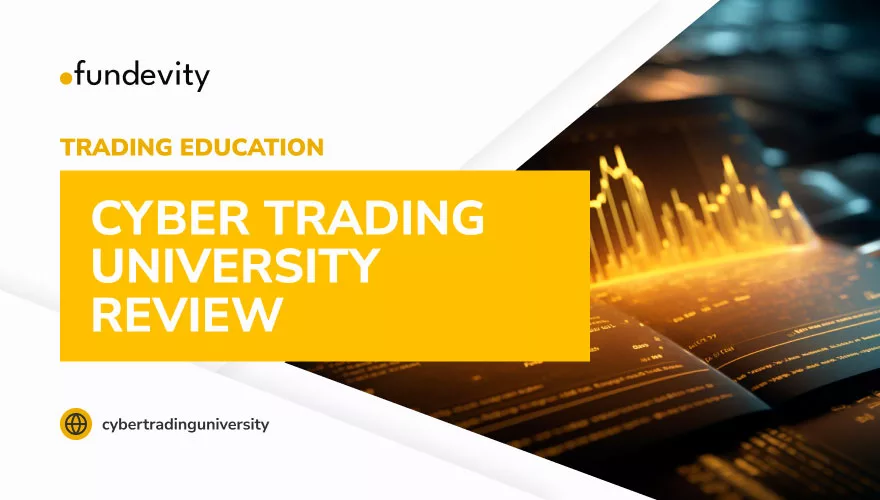 Cyber Trading University (CTU) looks like a solid learning company. It offers accessible and comprehensive training programs. These are designed to ease the complexities of the trading market. In this CyberTradingUniversity review, we'll take a closer look at CTU's straightforward approach. 
We'll examine their experienced instructors and the resources they provide. Join us as we explore this further! See if CTU is a noteworthy choice for anyone eager to learn more about day trading. Keep reading for more! 
General information

Name

Cyber Trading University

Type of company

Trading Education

Regulation status

Unregulated/Not expected

Warnings from Financial Regulators

No official warnings

Website link

cybertradinguniversity.com

Active since

1995/2020

Registered in

Syosset, New York, US

Contact info

[email protected]

, (877) 702-9237

Trading platforms

Web Terminal

Majority of clients are from

United States, Canada, United Kingdom, India

Customer support

Email, Skype, and phone

Compensation fund

No
Main Company Details
Cyber Trading University has been an online day trading school since 1995. The firm was founded by Fausto Pugliese, who was an original SOES bandit in the '90s. Notably, the school was born out of Fausto's wealth of practical experience in the trading world. 
Overwhelmed by requests for advice from other traders, he created CTU to share his insights in a structured environment. Today, Fausto balances his trading with the mission of improving CTU's quality and scope.
This firm has been educating people about day trading for nearly 3 decades. Thousands of investors across the nation have chosen CTU for continuing education and updates. The school's commitment to quality is evident through its instructors. Each has a minimum of 8 years of experience and must pass a broad qualifications assessment.
Exploring CTU's Main Page
The main page of Cyber Trading University's website serves as a warm introduction to the world of trading. It shares Fausto's story, the school's mission, and a glimpse of what's to come. Engaging video content featuring Fausto provides a personal touch. 
Visitors are encouraged to sign up for newsletters, gain access to free trading guides, and learn. Links on the main page offer an easy path to explore various aspects of CTU. There are many educational courses, a trading room, and authentic student testimonials.
Trading Room
CTU's Trading Room is the hub where real-time market action takes place. Traders immerse themselves in live data, fueled by Fausto and skilled instructors. Yet, we must say the overall interface here is not so UI-friendly. 
The chat room here allows traders to connect and learn from one another. Also, a personal education advisor is available to offer guidance. This is to ensure traders make the most of the platform's features.
A Range of Courses
CTU offers a range of on-site and online courses that suit everyone, from beginners to experts. Topics covered include technical analysis, options trading, and day trading strategies. Instructors, who have a solid trading background, teach these courses. 
They bring a wealth of experience to the table, making complex concepts easy to grasp. The education page features testimonials from students who've found success through these courses. We'll talk about that now! 
Tip: Is Level Fields a worthy company? Your budget, goals, and strategies determine the answer. Finding hidden market insights is easy with Levelfields AI.
Testimonials and Reviews
The testimonials and reviews page shows feedback from students who have taken CTU's courses. Whether they've completed Phase 1, Phase 2, or Phase 3 training, the resounding sentiment is quite positive. 
Students laud the school's educational quality and the expertise of its instructors. The page also includes video testimonials. They show firsthand accounts of how CTU has transformed students' lives.
Client Reviews on Glassdoor
What about reviews from platforms like Trustpilot and Glassdoor? We can see that this company lacks Trustpilot reviews. But the firm shines on Glassdoor, earning a solid 4.1 out of 5 stars. Reviews from 4 people vouch for its solid offers and reliability. This rating indicates that learners find substantial value in the knowledge CTU imparts. 
As you consider your options, it's wise to lean toward platforms with ratings of 4.5 stars or more. This guarantees a safe and rewarding educational journey.
Tip: Mabicon has a solid-looking website, and it looks like a reliable FX broker. Yet, they lack Tier 1 regulation. Keep that in mind.
Selecting Your Ideal Trading Education Platform
Choosing the right trading education platform is pivotal to your success. Here's a straightforward guide to help you find your perfect fit:
Define your needs:

Start by understanding your goals. If you're new, focus on platforms that offer basic resources and clear support. For experienced traders, look for advanced analytics and customizable charting.

Research reputation:

Check for platforms with positive reviews. Feedback from other people provides valuable insights into a platform's strengths and weaknesses. Platforms endorsed by reputable institutions or experts are generally reliable.

User-friendliness:

A good platform should be easy to navigate. Test its search function and evaluate how easily you can access information. Look for platforms offering diverse learning formats, such as videos and articles.

Evaluate customer support:

Responsive customer support is crucial. Choose a platform with a dedicated support team.
Make sure to always consider these factors. By doing so, you'll discover a suitable trading education platform that suits your goals.
Earning Money Trading
Interested in making money through online trading? It's simpler than you think. Our team is here to provide guidance at every step. Feel free to reach out for no-cost consultations and expert insights on the finest trading platforms. Meet our AI Analysis Bot, your trusted research companion, which delivers valuable trading predictions.
The best part? You can try it for free for 20 days! Explore five detailed FX analysis reports and five stock analysis reports each month, effortlessly boosting your profits. Give it a try and see how it improves your trading journey today.
Final Words
When it comes to trading, it's essential to make informed choices. Cyber Trading University offers valuable trading education, by all means. Still, we recommend exploring our AI Analysis Bot, a thorough tool designed to elevate your trading experience.
It offers unparalleled insights and predictions, allowing you to explore the markets with confidence. Remember, in trading, simplicity and reliability are key, and our AI Bot is here to ensure just that.
FAQs
What is Cyber Trading University?
This is an online day trading school, founded in 1995, offering accessible trading education.
Can I Learn How to Trade With CyberTradingUniversity?
Yes, the firm provides comprehensive courses for beginners and experienced traders alike.
Can I Make Money With Proprietary Trading?
Yes, with proper skills and strategies, proprietary trading can be profitable.