February 01, 2023
Reading Time:
4
min
Clyde Trade Review – Lies Behind This Scam Broker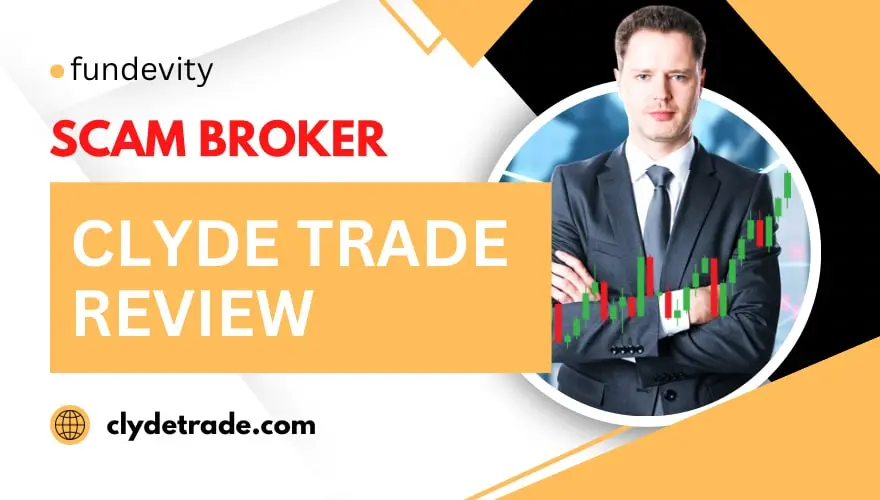 Clyde Trade is just another scam company operated by Tetris Group LTD. This group already had two scam websites before, ClydeTrade.co and CyldeTrade.pro.
All of this just confirms the suspicion that Clyde Trade is nothing more than yet another investment scam.
In this Clyde Trade broker review, we will break down all the schemes this fraudulent company uses and show you why you should stay away.
| | |
| --- | --- |
| Company | ClydeTrade.com |
| Website | ClydeTrade |
| Address | 8 Copthall, Roseau Valley, 00152 Commonwealth of Dominica |
| Email | [email protected] |
| Phone | +44 7418 357851 |
| Minimum Deposit | $250 |
| Leverage | 1:300 |
| Bonuses | Yes |
| Regulation | Unregulated |
| Warning | CONSOB |
Clyde Trade's Regulation and Funds Security
ClydeTrade.com is based in the Commonwealth of Dominica and this is a major red flag. This is because the laws of this country do not recognize forex trading as a separate industry. And because of that, there are no specific rules in the sphere and locally registered brokers are not obligated to meet any requirements or answer to strict authorities.
Simply put, Clyde Trade broker is not regulated or licensed to offer financial services. On top of that, the Italian financial regulator CONSOB has recently deemed issued a warning on ClydeTrade.com. Such a warning is definite proof that we are dealing with nothing more than just another scam.
So, no, Clyde Trade is not a legit company, and investing your money with them will just put you at unnecessary risk. On top of that, there are many complaints made against this broker and that's why we advise you to look for one that hasn't violated any terms and conditions.
Clyde Trade's Trading Platform
ClydeTrade.com offers a web-based trading platform or at least that is what they claim. Once we tried to access the broker's web trader the only thing that it showed is a 404 missing page. This surely isn't a good sign.
We have also found a lot of user complaints regarding the trading platform. Many of them stated that the platform doesn't work most of the time and when it does, it just gives you the possibility to monitor different assets on the market and view charts.
Honestly, that doesn't sound like the best trading experience, especially for a beginner. We do recommend you find a trustworthy broker who can provide you with MT4 and MT5 trading platforms. They are industry standard by now.
Deposits and Withdrawals from Clyde Trade
Clyde Trade states they offer deposits via the following methods:
Visa or Master credit or debit card
Wire transfers
Cryptocurrencies
Although there is nothing wrong with any of these deposit methods, this broker is not to be trusted. With that said, we are unsure where your money will go after you make a deposit with them. Many scam brokers are known to just put your money in their bank account and just show you fake profits on your account.
Another thing we have found is many customer complaints regarding withdrawal. They said there are many issues in that area. Many customers said they are unable to withdraw their money and that there are enormous fees associated with doing so. Also, clients who got a bonus are unable to withdraw their money until they reach a minimum trading volume of x25. In other words, the agents working in the company will do anything to get you to invest more and once they see you will not do so, they will simply disappear.
In case you have been scammed by Clyde Trade or any other illicit broker, getting your money back is possible. If you have made a deposit through a debit or credit card, you have up 540 days after the transaction to submit for a chargeback. And for cryptocurrencies, getting your money back is possible but it's a bit tricky. We advise you to contact your local authorities and report your scammer since they can help you retrieve your money back.
Methods Used to Commit the Scam
Once you leave your details on one of the Clyde Trade ads, their agents will start by sending you an email that will then turn into phone calls.
Remember that their agents are trained in harassing you and pushing you to invest. And once they get you on the line, they will do anything and everything in their power to get you on board. Of course, the motto is the more you invest the more you will make
That is all a lie and just a scheme to take all of your money at any cost. Stay away from this or any other fraudster alike.
Clyde Trade Summary
While we were conducting this Clyde Trade review, we realized that many fraudulent brokers will do anything in their power to look legitimate just so they can scam you. Clyde Trade is just another example of that. They are an unregulated offshore company that offers unlicensed financial services.
They are nothing more than just a bunch of words put on their website to make it look like they know what they are doing. But in reality, they don't even have a functioning trading platform. With that said, it's just best to stay away from them.
FAQs About Clyde Trade Broker
Is Clyde Trade a Trustworthy Broker?
Absolutely not. They are nothing more than another unregulated and unlicensed scam broker.
Is My Money Safe at Clyde Trade
No. Investing with them is just putting your money at waste and at risk.
What Are The Funding Methods for Clyde Trade?
You can deposit via Visa or Master debit or credit card, wire transfer, and crypto.