August 02, 2023
Reading Time:
6
min
Coinivate Review: A Close Look Into The Truth Behind the Broker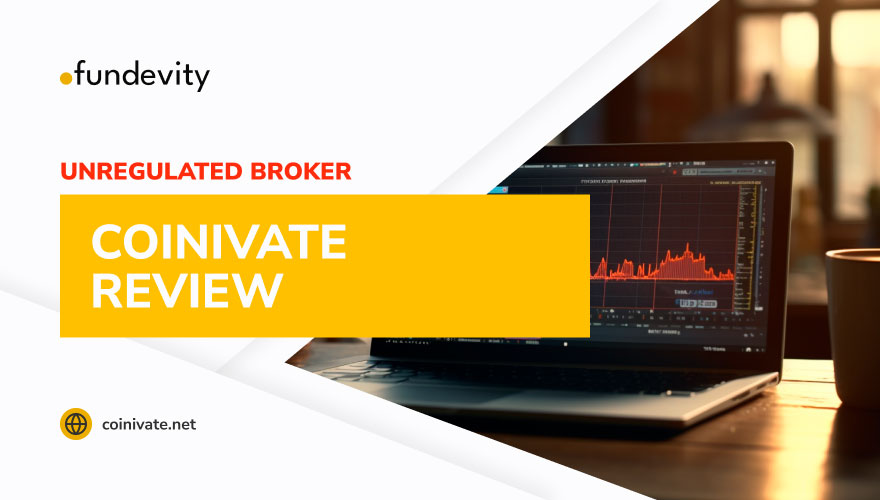 Learn more about Coinivate's minimum deposit, regulatory information, pros and cons, and general assessment of this phony broker by delving into this Coinivate review with us. 
A professional's opinion on whether or not to trust the broker is also available. Continue reading to learn more.
Who Is Coinivate? All About coinivate.net
A brokerage firm that deals in more than 200 cryptocurrencies is called Coinivate. When purchasing and selling cryptocurrency in bulk, Coinivate profits on the trade volume and arbitrage rates. They are fresh to the market because they were only founded in 2023. 
The fact that they are unregulated and the trader reviews are sufficient to cast doubt on this broker raises our worries. You should take every precaution to stay away from the Coinivate scam. They do offer the MT5 trading platform along with their Coinivate app and desktop versions. 
General information
Name
Coinivate
Regulation status
Unregulated
Warnings from Financial Regulators

OSC (Ontario Securities Commission)
CSA (Canadian Securities Admission)

Website link
coinivate.net
Active since
2023
Registered in
N/A
Contact info
Email:

[email protected]

 

Phone: SE: +46812112730

CA: +14184766277

Web Form

Trading platforms
Meta Trader 5
Majority of clients are from
Malaysia 

Brunei

Indonesia

United States

South Africa

Customer support
24/7 Coinivate Support via email and phone
Compensation fund
None
Coinivate Regulation Info
The fact that Coinivate is not overseen by any financial regulatory body is a serious concern. In addition to being unregulated, OSC and CSA welcomed us with two cautions. We could at least give Coinivate the benefit of the doubt since none of his subbranches are controlled. 
You should stay away from Coinivate since your investments are not secure there. We wholeheartedly concur with the Ontario Securities Commission's (OSC) caution to steer clear of the broker. 
Following this, Canadian Securities Admission also issued a warning against Coinivate, telling investors to stay away if they want their money to be protected. 
Finding a regulated broker is essential for many reasons, but the safety of your money is the most important. Without any financial supervision, nobody should be trusted. It is advised to avoid that broker and hunt for alternatives if you are unclear of the broker's regulation and there is nothing stated in the disclaimer or privacy policy. 
Coinivate Broker Profile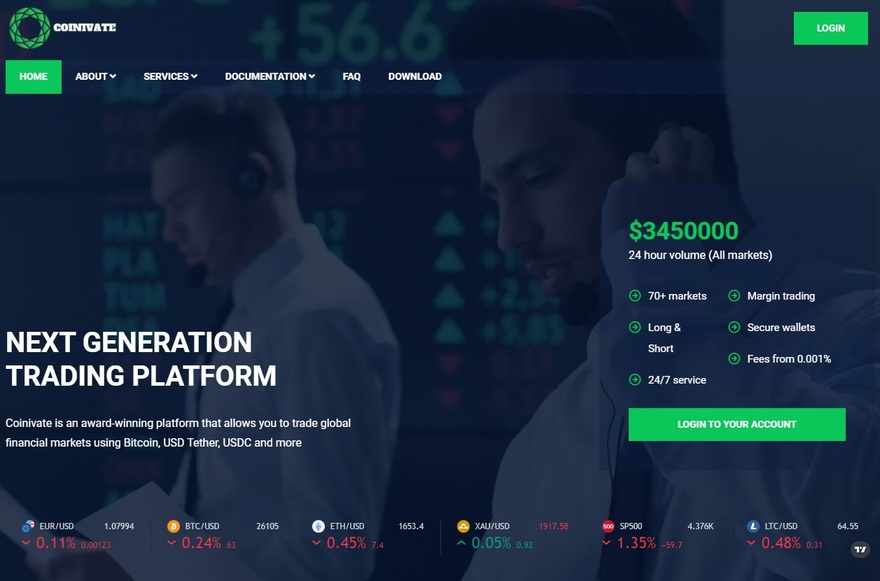 Since the broker solely offers trading in cryptocurrency, it is short on financial instruments. There are more than 200 Coinivate crypto assets. There is no information on their website concerning the different account types. The Coinivate deposit minimum is $250, but we found that out from other traders, not on their website. 
The only information on their entire website is on who they are, what they do, and why you should choose them. Sadly, brokers like that frequently turn out to be frauds. 
Account types:

N/A

Financial Instruments On Offer:

Cryptocurrencies

(200+ including Bitcoin, Ethereum, Tether, Litecoin, Cardano, etc)

Maximum leverage:

1:150

Minimum Deposit:

$250 

Commissions/bonuses:

N/A

Mobile app:

Yes

Desktop app:

Yes

Autotrading:

Yes

Demo account:

No

Education or Extra tools:

None
Is Coinivate Safe To Trade With?
We examined each piece of information that Coinivate offered for our review. We thoroughly reviewed their fees and regulation status, the privacy policy, disclaimer, and terms of service on their website, but none of these things gave us the confidence to declare that they are a secure company with which to transact. 
Furthermore, Coinivate requests that you download TeamViewer and AnyDesk, which is a warning sign. You should avoid this broker and their services because they can't be good since they utilize applications to access your computer. We now think that the Coinivate scam is legitimate because the traders from that company likewise voiced their worries and problems. 
Finding an honest broker is essential for a positive trading experience. We advise avoiding brokers that are comparable to Coinivate as much as you can. Don't be afraid to contact us if you need assistance finding a licensed and trustworthy broker. We can locate one that meets your requirements. 
Coinivate Review: Traders' Thoughts and Opinions
On Trustpilot, Coinivate has had a total of 31 reviews, and the overall rating is 3.2. The fact that more than 30% of these evaluations are critical should be noted because it shows a sizable level of user unhappiness.
Numerous unfavorable reviews highlight a consistent pattern of conduct by the business. After making their initial investment, traders claim that Coinivate personnel contact them and instill a false sense of possibility by making promises of instant wealth and financial success. Instead of following through on these assurances, the business purportedly takes the deposited money and vanishes, leaving traders with huge financial losses.
One reviewer expressed their bitter experience with Coinivate, stating, "They took all my money, and I never got anything they promised me." This sentiment is echoed by other users who feel deceived and manipulated by the company's practices.
In contrast to Trustpilot, the scenario for Coinivate looks to be different on Sitejabber. In contrast to the unfavorable comments on Trustpilot, the company has received reviews from a total of 40 people, and the aggregate rating is 4.
It's crucial to remember that questions have been raised about the veracity of these favorable assessments. Some users believe that these reviews may have been purchased or otherwise altered to enhance Coinivate's standing on the platform. Paid or edited reviews may not fully reflect the experiences of real consumers and may give a false impression of the company's offerings.
A Look at Coinivate's Traders They Serve
Despite having no social media or other marketing initiatives, Coinivate is able to draw customers from a variety of nations, including:
South Africa, 

Malaysia, 

Brunei, 

Malaysia, and 

Malaysia. 
Operating out of these places, the broker attracts traders interested in its services, either through word-of-mouth recommendations or other avenues excluding social media or conventional marketing techniques.
Since Coinivate entered the market in 2023, it is a relative newcomer and its lack of experience and track record may worry some prospective customers. Because they don't have a track record in the business, new brokers frequently encounter criticism. Traders often look for reputable brokers with a track record of providing dependable services and financial protection.
Deposits and Withdrawal Methods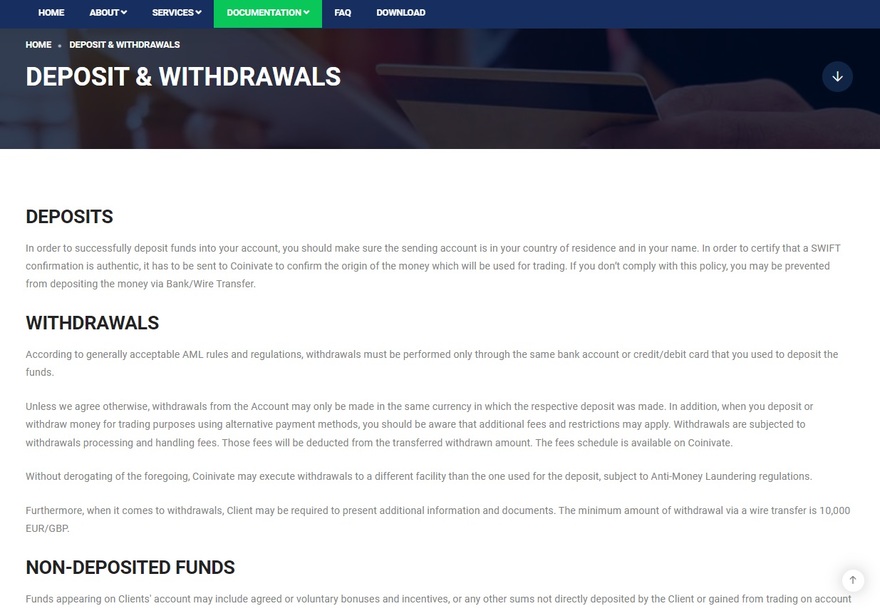 Currently, Coinivate withdraw time varies based on the chosen withdrawal method. When withdrawing using FIAT currencies, the process typically takes around 3 to 5 business days. However, if you prefer to withdraw using CRYPTO currencies, the processing time can be as quick as 3 hours.
To fund your account, you have the option to make deposits using various methods available. These methods include Credit/Debit Cards, Wire Transfers, and Crypto Currency Transfer. For successful deposits, it is crucial to ensure that the sending account is registered in your country of residence and bears your name. 
Withdrawals may be subject to processing and handling fees, which will be applicable based on the chosen withdrawal method. Unfortunately, the amount of the fees is not disclosed. 
Coinivate Pros and Cons
Pros
Cons

MT5 

Unregulated

Lack of transparency

Using TeamViewer and AnyDesk

Hidden fees

Lack of financial instruments

Lack of educational resources
Long Story Short – Coinivate
In summary, Coinivate has a number of serious problems that render it an unreliable broker. The absence of regulation, hidden costs, and a lack of transparency create serious questions about the reliability of the company. Additionally, the unfavorable evaluations that traders have recorded add to the expanding number of warning signs that point to possible risks for users.
Given these problems, it is strongly advised to steer clear of Coinivate and look for superior alternatives in the marketplace. Selecting a regulated and open broker can protect your money and interests while delivering a safer and more satisfying trading experience.
We invite you to get in touch with us right now if you're looking for a trustworthy broker. With the assistance of a reliable broker at your side, learn about the positive aspects of trading. You can trade with confidence and peace of mind thanks to our dedication to openness, ethical business methods, and client pleasure. Remember that you are under no obligation to investigate this possibility, so please don't hesitate to reach out and enjoy the advantages of doing business with a reputable partner.
FAQ Section
Is Coinivate Legit?
Coinivate is an unregulated brokerage company trading in cryptocurrencies. Due to red flags that emerged during this Coinivate review, it's safe to say that the broker is not legit.
What does Coinivate offer?
Coinivate offers trading in 200+ cryptocurrencies including Bitcoin, Ethereum, Tether, Litecoin, Cardano, etc.
How much is the Coinivate withdrawal fee?
Unfortunately, most Coinivate fees are hidden. After examining their website and each section, there is nothing mentioned about the amount of a withdrawal fee, even though it is said that they are charged.