May 05, 2023
Reading Time:
4
min
CoinsBank Review: Signs That This Broker Is a Fraud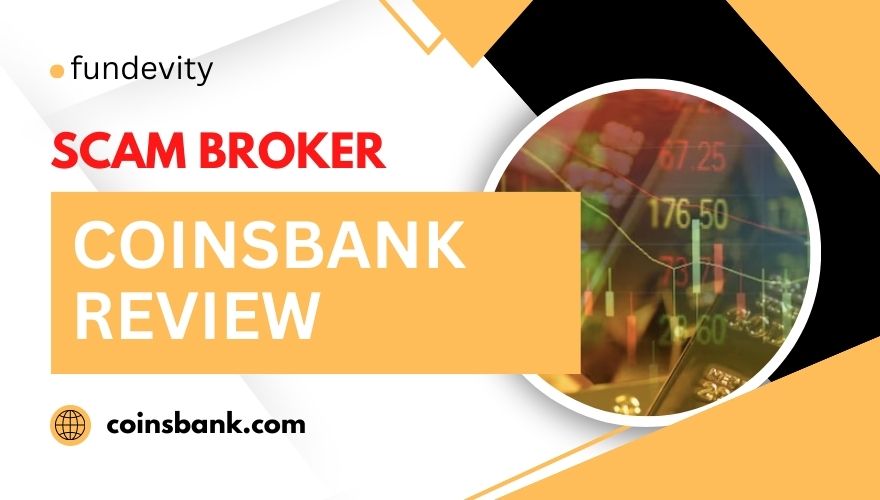 CoinsBank is a brokerage firm that operates anonymously and has garnered a dubious reputation in the trading industry. The company's lack of regulation and transparency has raised serious concerns.
Notably, many traders have reported unethical practices by CoinsBank, such as price manipulation, unauthorized trading, and withdrawal restrictions. Besides, the company has been linked to numerous deceitful schemes, including Ponzi schemes and money laundering activities.
Given its shady history and unregulated status, traders should exercise caution when dealing with this firm. It is best to avoid this broker completely and seek out reputable brokers that prioritize client safety and security. Yet, let's get into this CoinsBank review for more details.
| | |
| --- | --- |
| Company | N/A |
| Headquarters | Undisclosed offshore location |
| Website | coinsbank.com |
| Warning | N/A |
| Platforms | Web |
| Minimum Deposit | $250 |
| Leverage | N/A |
| Spread | N/A |
| Review Rating | 1/5 |
License and Safety of Funds at
CoinsBank
First things first, CoinsBank is a broker that has gained a lot of attention due to its anonymous nature. The company does not disclose any clear information about its trading conditions or markets, making it difficult to evaluate its services. 
Moreover, CoinsBank does not have any license, which raises serious concerns about its legitimacy and reliability. The lack of regulation means that the broker operates in a regulatory gray area and may not adhere to the same security standards as regulated brokers. 
It is crucial to be cautious when dealing with unregulated brokers, as they are not bound by rules and regulations that protect investors. As a result, investors should always think about potential risks before investing their money with CoinsBank, CJC Markets, or any other unregulated broker. In conclusion, CoinsBank's anonymity and its lack of regulation may make it a shady choice for investors who value transparency and security.
CoinsBank – Trading Platform
CoinsBank, another shady offshore entity, follows in the footsteps of many illegitimate brokers with questionable practices. The platform's trading interface, which is a proprietary web trader, is a far cry from what one would expect from a reputable firm. 
Rather than providing popular trading platforms like MT4 or MT5, CoinsBank's interface appears to be a mere TradingView chart with a few basic indicators. It's extremely difficult to imagine how anyone could find this satisfactory.
What's more, CoinsBank hasn't made any efforts to create real and useful mobile apps for their platform. As a result, traders must access CoinsBank through a web browser on their mobile devices. This makes it extremely inconvenient and reflects poorly on the company's lack of competence. If a company can't even provide a basic mobile app in today's world, it's hard to trust them with more important matters. For example, safeguarding one's investments.
Account Types Available at
CoinsBank
CoinsBank is one of those companies that lacks transparency regarding many things. The website is devoid of any data regarding the types of accounts it offers. This leads many to conclude that the company is nothing more than a scam. Regardless, several people have reported that CoinsBank does claim to offer three account types: Silver, Gold, and Platinum.
Upon closer check, it appears that the primary difference between these account types is the required deposit amounts. In addition, there are many hidden fees that you should be aware of. Keep this in mind.
It's worth noting that companies that don't provide clear information about their account types and fees are often unsafe. The lack of clarity raises concerns about the company's legitimacy and intentions toward its clients. Before investing in any company, it's always essential to do your research and ensure that your money is in safe hands.
CoinsBank – Deposit and Withdrawal
This shady broker boasts a variety of options for depositing or funding your account. They claim to accept a wide range of crypto assets, including Bitcoin, Litecoin, Ethereum, and Ripple. These currencies can conveniently be transferred to your CoinsBank digital wallet. 
For those who prefer traditional banking methods, wire transfers are also an option. In addition, customers from Russia and the CIS can use QIWI, while European customers can use SEPA transfers. For those who prefer credit cards, this broker also offers credit and debit card deposits. Overall, this broker offers a range of deposit options to suit various preferences and needs. Yet, given their reputation as a "shady" broker, it is wise to exercise caution and thoroughly research their credibility before entrusting them with your cash.
What about withdrawal? This shady broker provides a simple process for withdrawing or sending funds. Clients can access the withdrawal feature by logging into their accounts and clicking the "Withdrawal" button on the dashboard page. From there, they can select the wallet they want to withdraw funds from and enter the amount they wish to withdraw. 
Clients have the option to select either a crypto wallet or payment system for the withdrawal. Also, they must specify the crypto address of the recipient in the "Enter Destination Account or Address" field or provide the corresponding recipient details. The remaining instructions can be followed to complete the transaction. Yet, again, given this broker's shady reputation, please don't trust them.
How Does This Scam Operate?
Fraudulent brokers have an arsenal of tactics to fool investors. They often create obstacles for customers to withdraw their funds, imposing absurd fees that may exceed 20%, masquerading as "withdrawal processing fees." Some brokers may even demand upfront payment of "profit fees," which should raise a red flag. 
Another common tactic is to promise unrealistic returns, which is a sign of a potential scam. Investors should be wary of any broker who promises high profits, as trading with leverage entails risks, and no broker or firm can guarantee a 100% return. 
Working with reputable and regulated brokers is always advisable to ensure the safety and security of your investments. Remember, sticking to the golden rule of 'safety first' is key to protecting your money from deceitful brokers.
Caution: There are several brokers known for fraudulent activities, including Foxane, TradeFX24, and LCMFX.
Final Verdict
CoinsBank is a broker that has gained a negative reputation in the trading industry for its unethical practices. These practices include price manipulation, unauthorized trading, and withdrawal restrictions. Similarly, the company has been associated with deceitful schemes like Ponzi schemes and money laundering activities. The brokerage operates offshore and is not regulated, which raises serious concerns about its legitimacy. 
CoinsBank offers a proprietary web trader that falls short of what one would expect from a reputable firm. Moreover, the company lacks transparency regarding its account types and fees. The broker offers a range of deposit options, including crypto assets, wire transfers, and credit and debit cards. However, clients should beware and thoroughly research their credentials before doing business with this firm. In conclusion, traders should avoid this broker and opt for legit brokers that prioritize client safety and security.
FAQs
Is My Money Safe with CoinsBank?
No. This broker is anything but safe. You should avoid it.
Does CoinsBank Offer a Demo Account?
No. This bogus firm does not offer a demo account.
How Secure Is CoinsBank?
This broker is not secure and is in fact dangerous.