August 29, 2023
Reading Time:
7
min
Concept Markets Review: Don't Fall For Their Deceptive Practices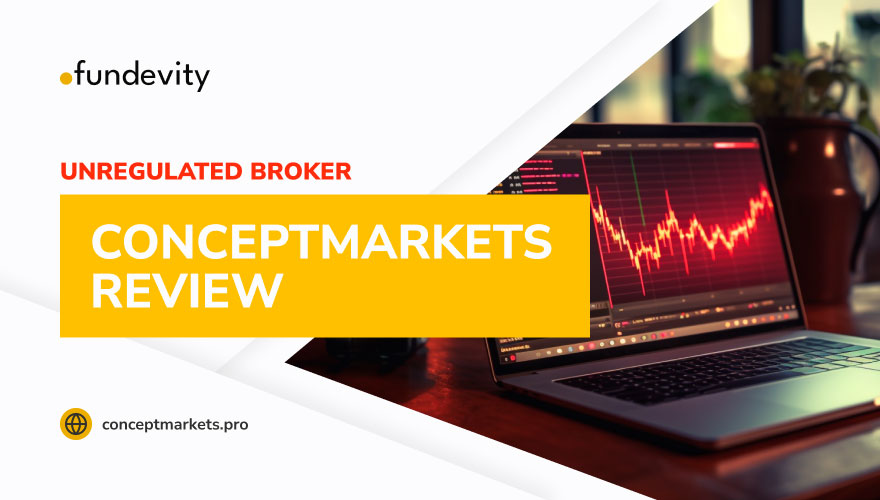 Concept Markets is a suspicious company. Despite its claims and outward appearance, Concept Markets has been found to operate unlawfully. The firm in question exploits people for financial gain. So, we strongly advise against any involvement with Concept Markets or Stellarfx.
Our primary concern is your safety and protection. Therefore, we urge you to exercise extreme caution when encountering such entities. It is crucial to verify the legitimacy of any financial organization before engaging with them. Read our Concept Markets review for more!
Concept Markets Legitimacy
In the world of financial services, trust is truly critical. Unfortunately, Concept Markets raises many red flags when it comes to legitimacy. The company's operations have come under scrutiny due to a lack of regulatory oversight. 
While legitimate brokers, like Monaxa, adhere to strict regulations, Concept Markets seems to operate in the shadows. This is highly suspicious. Namely, this lack of transparency is a major cause for concern, as it leaves us vulnerable to potential scams.
Crypto Blacklist 2023: Protecting Your Crypto Investments
The cryptocurrency market is rapidly evolving, but with its growth comes inherent risks, particularly in the form of scams. Over the past few years, high-profile crypto scams have led to substantial losses for investors.
To protect investors from falling victim to such scams, various organizations have established crypto blacklists. These lists catalog cryptocurrency addresses linked to fraudulent activities. By cross-referencing a crypto address with a blacklist, investors can steer clear of potential scams.
The Crypto Blacklist 2023 is a comprehensive and regularly updated compilation of cryptocurrency addresses associated with scams and fraud. Before sending funds to any crypto address, prospective investors must consult this list.
Note: It's worth mentioning that Concept Markets is included in this blacklist.
General information
Name:

Concept Markets 

Regulation status:

Unregulated

Warnings from Financial Regulators:

No official warnings

Website link:

conceptmarkets.pro 

Active since

2023

Registered in

N/A

Contact info:

Data is hidden

Trading platforms:

ConceptTrader

The majority of clients are from:

Serbia

Germany

Turkiye

Hungary

Croatia 

Customer support:

No

Compensation fund:

No
Concept Markets Trading Assets Available
Concept Markets present an extensive selection of over 500 assets. That includes CFDs on commodities like gold and copper, indices, and currency pairs. Yet, it's important to approach their offerings with skepticism. 
When considering Concept Markets or Gio Fx Gain for forex trading, it's crucial to be aware of the potential risks associated with their status. This absence of regulatory oversight raises concerns about the accountability of their operations. Remember that regulation serves as a critical safeguard for all, and its absence should be viewed as a notable red flag.
Concept Markets ConceptTrader: Unpacking the Hype
The Concept Markets app provides a convenient platform for traders to access their investments. Yet, it's essential to exercise caution and verify the credibility of the company due to its unregulated status. Let's dissect the marketing claims of ConceptTrader's features:
Powerful Charts

. ConceptTrader offers "powerful charts" with multiple timeframes and graphical tools. Yet, remember that many platforms offer similar charting. The real question is how user-friendly and effective these tools are.

Speed

. "High platform speed" is a common promise, but speed alone isn't everything in trading. Execution speed matters, but it's just one piece of the puzzle.

Tools

. ConceptTrader lets you "respond to price changes" with built-in charts. Be wary of expecting miraculous results from tools. Their effectiveness depends on your skills.

Customization

. Customizing charts based on your strategy sounds great. However, not all platforms deliver on this promise effectively. Look beyond superficial customization options.

Account Analysis

. Analyzing results is vital, but it won't guarantee "much more" earnings. Profits hinge on market conditions and your decisions, not just analysis.

News and Access

. "Freedom wherever you are" is standard across platforms. Evaluate news quality rather than device accessibility.

Joining the Network

. Claiming to be part of the "largest trading network" is bold. Investigate the basis of this claim for real trading benefits.

Tools and Calendar

. Access to an economic calendar and tools is useful, but reliability matters more than quantity.

Impressive Charting

. "Impressive charting technology" is vague. Look past marketing and assess specific features and benefits.
In conclusion, skepticism is key. Research, user reviews, and alignment with your strategy matter more than marketing claims.
Concept Markets Account Types
When it comes to trading accounts offered by brokerage firms, a healthy dose of skepticism is not only wise but often necessary. Let's take a critical look at the trading accounts Concept Markets provides, keeping an eye out for potential pitfalls and hidden drawbacks. Concept Markets account types:
START – $250
Minimum Order Size: 0.01 lot

Indicators and EAs: Included

Maximum Order Size: 10 lots

Asset Analysis: Yes

Leverage: Up to 1:30

Powerful Terminal: Included

Technical Support: Available

Limited Asset Choice: Yes
The START account seems like an entry point for novice traders. But, the low minimum Concept Markets investment requirement could be bait for those unfamiliar with trading. With limited leverage, this account might not provide the flexibility experienced traders seek.
STANDARD – $2500
Minimum Order Size: 0.01 lot

Indicators and EAs: Included

Maximum Order Size: 15 lots

Asset Analysis: Yes

Leverage: Up to 1:80

Powerful Terminal: Included

Technical Support: Available

Limited Asset Choice: Yes
Moving up to the STANDARD account appears to offer more room for trading. Yet, the minimum investment requirement is significantly higher. Be cautious of the increased leverage, as it can boost losses as well as gains. Limited asset choices could also hinder diversification.
SILVER – $10,000
Minimum Order Size: 0.01 lot

Indicators and EAs: Included

Maximum Order Size: 20 lots

Trading Signals: Yes

Leverage: Up to 1:100

Powerful Terminal: Included

Work with Experts: Available

Limited Asset Choice: Yes
The SILVER account introduces trading signals, which can be enticing. However, it's essential to analyze the quality and reliability of these signals. The large minimum Concept Markets investment condition may not align with the benefits offered.
GOLD – $15,000
Minimum Order Size: 0.01 lot

Indicators and EAs: Included

Maximum Order Size: 25 lots

Market Overview: Yes

Leverage: Up to 1:150

Powerful Terminal: Included

Trading Manager: Available

Extended List of Assets: Yes
The GOLD account provides a market overview and access to a trading manager. While this may seem advantageous, be wary of potential conflicts of interest when working with a manager employed by the brokerage firm. The extended list of assets should also be thoroughly examined for quality.
PLATINUM – $25,000
Minimum Order Size: 0.01 lot

Indicators and EAs: Included

Maximum Order Size: 30 lots

Market Overview: Yes

Leverage: Up to 1:180

Powerful Terminal: Included

Trading Manager: Available

Extended List of Assets: Yes
The PLATINUM account offers even higher leverage, which can amplify both gains and losses. Be cautious of overleveraging your positions. Always ensure the conditions meet your trading strategy's requirements.
VIP – $50,000
Minimum Order Size: 0.01 lot

Indicators and EAs: Included

Maximum Order Size: 35 lots

Risk Management: Yes

Leverage: Up to 1:200

Powerful Terminal: Included

Personal Analyst: Available

Full List of Assets: Yes
The VIP account may seem like the ultimate offering. Still, the substantial minimum investment requirement should give pause. While risk management is mentioned, it's crucial to understand how it's implemented. Having a personal analyst can be beneficial, but their recommendations should be observed thoroughly.
Remember: Be mindful of potential pitfalls, especially when it comes to leverage, asset choices, and the qualifications of experts. Skepticism is a valuable tool in the world of trading.
How the Broker Scam Operates
Forex scams are an unfortunate reality in the industry. Scammers often employ deceptive tactics to lure traders into their schemes. They may create fake websites, operate call centers, exploit social media platforms, and use misleading advertisements. Once they gain your trust, these scammers make enticing promises of quick profits, guaranteed returns, and attractive bonuses. Yet, these promises are nothing more than illusions. 
The real trouble begins after you make your initial deposit. Scammers will manipulate you into depositing more funds, claiming it will lead to increased gains. When you attempt to withdraw your profits, you encounter many obstacles and excuses. These fraudsters may even insist on upfront taxes before releasing your earnings, all while never returning your money. This is when you realize you've become a victim of a scam. 
To protect yourself, exercise vigilance and caution when choosing a broker. Conduct thorough research and ensure the broker is reputable and regulated. Do not be swayed by guaranteed profits and bonuses. Always remember that if something appears too speculative, it likely is. Focus on your safety.
Concept Markets Deposit and Withdrawal Policy
A critical aspect of any broker's operation is its deposit and withdrawal policy. These policies should be transparent, straightforward, and designed to protect the interests of clients. Unfortunately, Concept Markets' withdrawal procedures leave much to be desired.
Account Funding
Concept Markets' policy regarding account funding appears complex. Clients are required to deposit funds from a specific source, preferably a bank account in their country of residence. This procedure aims to verify the origin of the funds used for trading. 
Besides, Concept Markets accepts funds through various payment methods and currencies, converting them into US Dollars, Euros, or GBP based on market rates. While this may seem flexible, it also raises concerns about potential currency conversion fees and discrepancies. Concept Markets' minimum deposit requirement is $250, which is a high industry standard.
Withdrawal
Withdrawing funds from Concept Markets seems to be a challenging process. Clients are required to follow a series of steps, including filling out withdrawal forms and providing compliance documentation. This bureaucracy can lead to delays and frustrations when attempting to access your funds.
Moreover, Concept Markets' policy states that withdrawals must be made using the same method as the initial deposit. This can potentially limit your options for accessing your money. It's worth noting that this is not a standard practice among reputable brokers.
Withdrawal Processing Time
The time it takes for withdrawals to reach your bank account or card can vary. It often takes up to five business days. 
Delays may occur due to additional security policies and third-party involvement. These delays can be frustrating for traders looking to access their funds promptly.
Concept Markets Fees and Additional Charges
Concept Markets' withdrawal process may involve some fees imposed by intermediary banks. These charges are beyond the control of the company and can further reduce the amount you receive. 
It's essential to be aware of these potential fees before engaging with the broker. All in all, the Concept Markets fees are unknown.
Customer Support
A reliable customer support system is crucial for traders, especially when issues arise. Unfortunately, reports suggest that Concept Markets falls short in this department. 
Traders have reported difficulties in reaching the company's support team and resolving their concerns promptly.
Trader Reviews: 3.7 Trustpilot Rating
ConceptMarkets.pro has an average Trustpilot rating of 3.7, but it's important to be cautious as they lack proper regulation. 
It's advisable to steer clear of unregulated brokers for your security. Instead, opt for brokers that are regulated and have a track record of positive reviews. Prioritizing safety and reliability is essential when deciding on a broker.
Long Story Short
Concept Markets, once a promising institution, faces scrutiny due to questionable practices. This review has explored the intricacies of Concept Markets, highlighting both their advantages and traps. Investors should exercise caution and thorough research when considering involvement with this entity to protect their financial well-being. 
Ultimately, investors should always ensure that their risk tolerance and financial goals are in alignment with the investment decision. It is also important to understand the full scope of an investment before committing to it. 
Are you looking for a broker you can trust? Contact us and we'll provide you with the best brokers for your specific needs.
FAQs
What is Concept Markets?
Concept Markets is an online trading system that claims to offer stocks, indices, commodities, and currency pairs.
Is It Safe To Trade With Conceptmarkets.pro?
Concept Markets lacks regulatory oversight, which raises concerns about the safety of its services.
How Much is Concept Markets' Withdrawal Fee?
That information was not disclosed on their official website.