November 19, 2023
Reading Time:
4
min
Controller FX Review: A Closer Look at Controller FX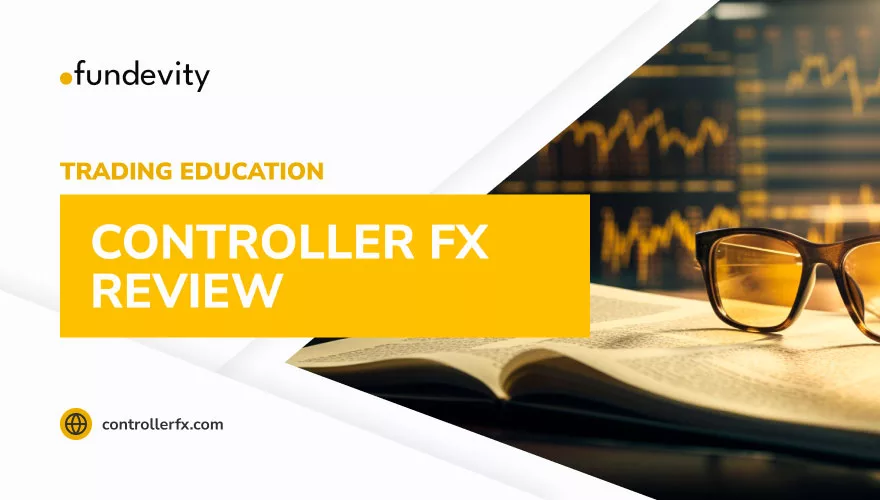 It's time to discover the world of trading with our detailed Controller FX review.
This platform goes beyond just education, aiming to guide traders with a smart approach. In this article, we dive into the Market Mastery Course, mentorship programs, exclusive channels, and unique merch offered. Let's now explore how this platform claims to transform trading novices into savvy tacticians!
| | |
| --- | --- |
| | General information |
| Name | Controller FX |
| Type of company | Trading Education |
| Regulation status | Unregulated/Not expected |
| Warnings from Financial Regulators | No official warnings |
| Website link | https://www.controllerfx.com/ |
| Active since | 2020 |
| Registered in | n/a |
| Contact info | [email protected] |
| Trading platforms | Web |
| Majority of clients are from | United States, United Kingdom, Canada, India, Australia |
| Customer support | Contact form, social media, and email |
| Compensation fund | No |
More Than Just Education
Controller FX is a trading guiding light for everyone. Led by industry expert Don Vo, the Market Mastery Course packs years of trading wisdom into one neat package. We can see the price is $750 for lifetime access. 
Also, it's a fact that this course promises practical insights and effective strategies. 
Moreover, the website's exceptional design speaks volumes about the commitment to user experience. We liked it a lot! 
Design
As we already mentioned, the website of this company is a breeze to navigate! This is something worth talking about, for sure. It's rare to see a trading company with such an outstanding design nowadays. 
Even better, you can find a seamless blend of education and real-world trading opportunities here.
Market Controller FX Course
At the core of Controller FX is the Market Mastery Course. As we previously mentioned, for $750, you get lifetime access, exclusive channels, mentorship, and Zoom sessions. 
We believe this is truly a complete deal to make you a profitable trader. 
Tip: StockMaster is a mobile stock market tool that provides real-time stock data analysis and much more. You can check out their stock quotes, refined charts, and alerts. Lately, many traders have shown interest in this company. 
Exclusive Channels
This company has a Discord Hangout group that you can join for free. Here you join a trading community with exclusive member channels on Discord. 
There's an option to connect with traders from Asia, London, and New York. This truly creates a supportive and inclusive space for all. 
Shop CFX
This firm doesn't stop at education! It extends its offerings to merch through the Shop CFX section.
You can explore the Shop CFX section for unique merchandise. From small Controller FX playbook PDFs, and mouse pads at $14.99 to large pads at $24.99, they offer stylish additions to your trading setup.
Merchandise Details:
Small Playbook Mouse Pad (Black): $14.99

Small Playbook Mouse Pad (White): $14.99

Large Playbook Mouse Pad (Black): $24.99

Large Playbook Mouse Pad (White): $24.99
Signals
Market VIP Signals here offer a straightforward approach to trading insights. We can see signals are conveniently sent through the Discord server's paid-signals channel. For $125 billed monthly, you gain access to live daily analysis, live trade signals with risk management tips, and ongoing education. 
The emphasis on risk management truly stresses the long-term perspective in this trading game. Their subscription plans are available on a monthly, quarterly, semi-annual, or annual basis. This is nice to point out!
Freebies
You can sign up for free to get exclusive 'FREEBIES'. Join a lively forex community with over 3,000 active members daily, creating a supportive environment. 
You can access valuable resources like "The Complete Playbook. This guide provides essential trading insights without overwhelming details seen in other courses. Plus, you can get a free Sample Size Trading Journal to help with back-testing and learning. We must say this feature is outstanding. 
Note: Validus, founded in 2022, is a company from Delaware that focuses on investments and education. They describe themselves as a networking marketing firm. Now, why do we question its legitimacy? It's mainly because there's a clear lack of concrete info, making us wonder about everything. 
Client Reviews on Trustpilot
Controller FX's Trustpilot reviews average 3.2. We can clearly see a mixed sentiment within the trading community. 
Remember, it's crucial to dive deeper into personal experiences and feedback to gain a full understanding. While this rating may not impress, it's vital to consider the other perspectives in trading. 
To make smarter decisions, traders should prioritize tools and brokers with 4.5 stars or higher. This aligns with the community's preference for a safer trading environment. 
Finding Your Perfect Trading Platform
Understanding trading education platforms is a smart move for anyone. We must emphasize that. Here's how to find the right fit:
Know your needs:

Start by figuring out your goals and where you are on your learning journey. Beginners should look for platforms with basic resources and easy-access support. And if you are experienced, you may want advanced analytics and customizable charts.

Check usability:

A good platform should be easy to use. Test the search function to find information quickly. Try to look for platforms offering various learning formats, such as videos and articles.

Research reputation:

Look for platforms with positive Trustpilot reviews. We know that feedback from other traders gives insight into a platform's strengths and flaws.

Explore resources:

Opt for platforms with a wide range of resources covering topics from tech analysis to risk management.

Customer support:

Responsive customer support is crucial. So, choose a platform with a dedicated support team.
These factors will help you find a trading education platform that truly suits you.
Boost Your Trading Strategy Today
Are you willing to explore the world of online trading? Our thorough support includes free consultations and expert advice on leading trading platforms. 
We also have our AI Analysis Bot, a reliable research companion with top-notch predictions. The best part? Try it free for 20 days, without any upfront payments. You will receive 5 detailed FX analysis reports and five stock analysis reports each month. 
With these, you can truly boost your profitability. Try to take a smarter approach to trading with our AI Analysis Bot. You won't regret it! 
Final Thoughts
This trading company offers a mixed picture with an average Trustpilot rating of 3.2. What's more, this education platform has an outstanding web interface and solid features. You can check them out, as there is a Controller FX free download option!
Yet, we propose an alternative – our AI Analysis Bot. This one truly emerges as a reliable, secure option, offering accurate predictions. It's always better to opt for a path that combines wisdom with safety. Remember that!
FAQs
Is Controller FX Legit?
This company may not be the best, but they are solid for new traders.
Where Does Controller FX Offer Services?
They offer services in the United States, United Kingdom, Canada, India, and Australia.
What is Proprietary Trading?
It is when a firm or commercial bank invests in the market with its own money.