June 11, 2023
Reading Time:
4
min
Crypto Guider Review: Uncovering Dubious Practices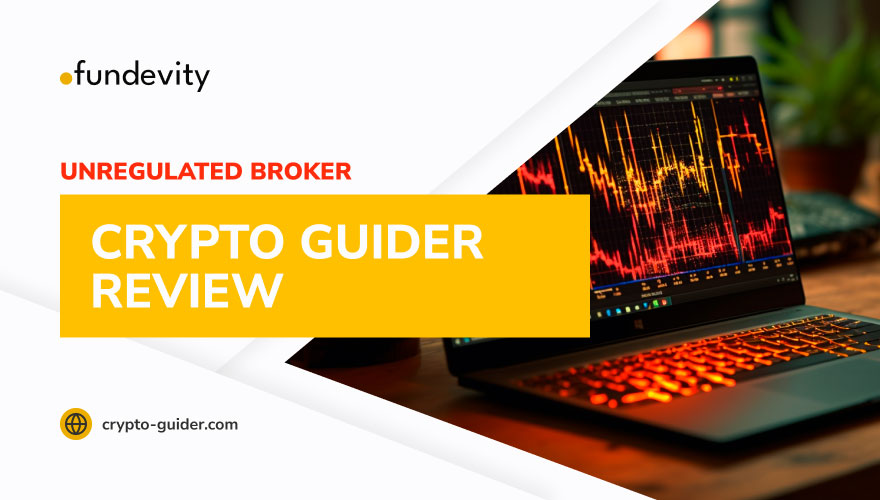 FX trading comes with inherent risks, and dealing with offshore brokers poses one of the greatest threats. Crypto Guider falls into this unfavorable category, failing to provide satisfactory services to its clients. The lack of transparency and astronomical fees clearly indicate its fraudulent nature. 
Furthermore, their bonus policy limits profit withdrawals. Even worse, this broker's trading conditions are unfavorable, giving us no reason to recommend their services. Thus, we strongly advise avoiding this company altogether. Our Crypto Guider review delves deeper into these concerns. Stay tuned! 
| | |
| --- | --- |
| Company | N/A |
| Headquarters | N/A |
| Website | crypto-guider.com |
| Warning | OSC, FCSC, NSSC, ASC |
| Platforms | WebTrader |
| Minimum Deposit | $2500 |
| Leverage | 1:50 |
| Spread | 0.2 |
License and Funds Security at Crypto Guider
It is crucial to mention the complete absence of regulation or licensing. The company operates without oversight or legal obligations. 
This lack of safeguards is not only concerning. Notably, this raises the alarming possibility that Crypto Guider may be nothing more than a scam. Keep that in mind. 
Multiple Regulatory Warnings Issued Against Crypto Guider
Nova Scotia Securities Commission (NSSC), Ontario Securities Commission (OSC), Financial and Consumer Services Commission (FCSC), and Alberta Securities Commission (ASC) prohibit Crypto Guider's operations in Canada.
Unlicensed brokers lack regulatory accountability for bogus activities. For secure trading, opt for licensed firms operating within regulatory frameworks.
Trading Platforms Available at Crypto Guider
Crypto Guider's web-based trading platform is evidently unimpressive. It lacks many notable features. Yet, the real concern lies in platform manipulation. Offshore firms, including Crypto Guider and Crypto Daily Trade, engage in deceptive practices that create the illusion of active trading. Still, funds are frequently misappropriated, allowing scammers to steal deposits.
Offshore firms lack transparency and are not regulated. This lack of oversight creates an environment conducive to fraud and abuse. Keep in mind that this leaves investors vulnerable to exploitation and financial losses. 
MT4 and MT5 are powerful platforms trusted by millions worldwide. They offer an intuitive interface, advanced charting tools, and mind-blowing indicators. This makes them ideal for both beginners and experienced traders. With seamless execution and real-time data analysis, MT4 and MT5 empower users to make educated trading decisions. Choose brokers that support MT4 and MT5. You won't be disappointed. 
Crypto Guider: Account Types
Crypto Guider offers six account types:
Bronze Account:

Initial Deposit: $2,500 – $10,000

Crypto-Guider

Leverage: 1-10

Trading instruments: 50

Margin Call: 80%

Stop Out Level: 50%
Silver Account:    

Initial Deposit: $10,000 – $25,000

Crypto-Guider

Leverage: 1-20

Trading instruments: 75

Margin Call: 80%

Stop Out Level: 50%
Gold Account:

Initial Deposit: $25,000 – $50,000

Crypto-Guider

Leverage: 1-30

Trading instruments: 250+

Margin Call: 80%

Stop Out Level: 50%
Diamond Account:

Initial Deposit: $50,000 – $100,000

Crypto-Guider

Leverage: 1-40

Trading instruments: 250+

Margin Call: 80%

Stop Out Level: 30%
Private Wealth Account:

Initial Deposit: $100,000 – $250,000

Crypto-Guider

Leverage: 1-50

Trading instruments: 250+

Margin Call: 80%

Stop Out Level: 30%
Legacy Portfolio Account:

Initial Deposit: $500,000

By Invitation Only

Crypto-Guider
Deposit and Withdrawal Options
Crypto Guider's $2,500 minimum deposit raises concerns about its legitimacy. Legitimate brokers usually offer micro accounts with minimum deposits of $10. Offshore companies employ this strategy to maximize profits from clients, aware that clients may hesitate to deposit further funds if they discover fraudulent practices.
Also, the substantial deposit amount may incentivize clients to pursue riskier investments. 
Crypto Guider's Withdrawal Policies
There are significant hurdles when cashing out of this broker. Let's take a look:
Withdrawal of profits. Crypto Guider prohibits bonus profits withdrawal. This clause prevents clients from accessing their profits. Also, withdrawing the bonus requires a turnover requirement of at least 35 times the deposit and bonus.

Exorbitant withdrawal fees. Crypto Guider imposes excessive fees during withdrawal, a characteristic associated with scammers. 

Unfair minimum withdrawal requirements. Wire transfers need a minimum withdrawal of $250 before fees, while credit card payments demand a minimum of $100. Considering the exorbitant fees, withdrawing funds will substantially reduce the amount received. Out of the required $145 withdrawal, $45 is consumed by unnecessary and questionable fees.
Crypto Guider's withdrawal policies clearly prevent clients from accessing their profits.
Understanding Scam Tactics
Scammers employ various tactics to deceive unsuspecting individuals. By understanding how scams are implemented, you can better protect yourself. Scam artists often create fake websites or impersonate legitimate businesses. They do that to trick people into sharing sensitive information or making fraudulent transactions. 
They may use persuasive techniques, fake testimonials, or urgency to manipulate victims. It's crucial to stay vigilant and be aware of these tactics to safeguard your financial well-being. Awareness is the key to avoiding scams and protecting yourself from potential harm. Make sure to stay away from bogus companies such as Crypto Guider and Coin2FX. 
Subscribe Now: Stay Informed and Ahead of the Game
Subscribe to our daily reviews for exclusive insights into the top-performing regulated brokers. Stay ahead with our reviews, ensuring you make sound investment decisions. 
Don't miss out on this golden opportunity to stay updated. Join us on this thrilling expedition, where we empower you with essential resources and unwavering support. Subscribe now and embark on a journey toward success.
Crypto Guider Summary
All in all, Crypto Guider is not a recommended broker for several reasons. It falls into the unfavorable category of offshore brokers and lacks transparency, indicating fraud. The company's bonus policy restricts profit withdrawals, and trading conditions are unfavorable. 
The absence of regulation and licensing raises concerns about Crypto Guider's legitimacy. Besides, their withdrawal policies present significant hurdles. All these factors indicate that Crypto Guider is not a suitable choice for traders. To find the ideal broker for your needs, book a free consultation with us. 
FAQs
Is My Money Safe with Crypto Guider?
No. It is advisable to choose a regulated broker with proper security measures.
Is Crypto Guider a Regulated Broker?
No, Crypto Guider is not a regulated broker. It operates without oversight or legal obligations.
What Is The Crypto Guider Minimum Deposit Amount?
The minimum deposit amount for Crypto Guider is $2,500.