May 16, 2023
Reading Time:
4
min
Crypto Messiah Review – Fake On Many Levels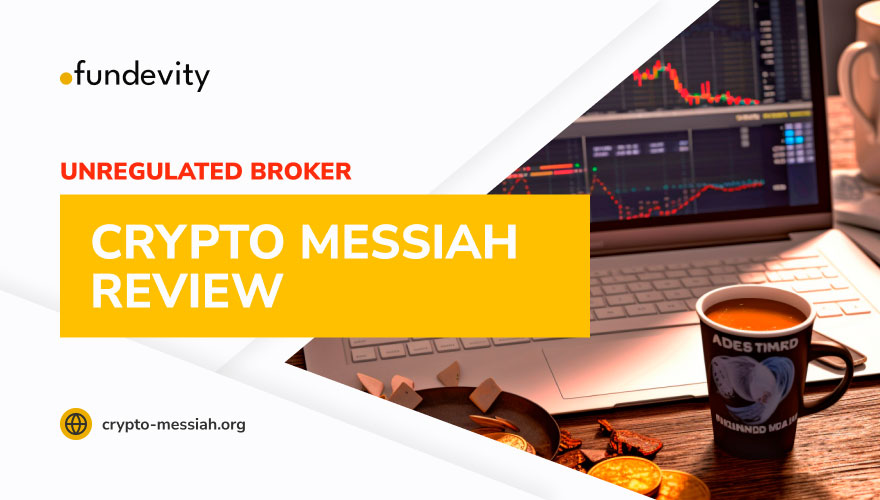 Crypto Messiah broker is one of those thinking they would go around without consequences. We know that crypto transfers are anonymous. But legitimate crypto exchanges are completely transparent. Thus, Crypto Messiah Trading company doesn't think that. In fact, this company knows exactly what they are doing.
They wanted to raise trust with false documentation, get as much money as possible and vanish. What signs to watch for you can find in our latest Crypto Messiah review.
| | |
| --- | --- |
| Company | N/A |
| Headquarters | Wales (allegedly) |
| Website | Crypto-messiah.org |
| Warning | FCA, FSMA, FI |
| Platforms | Proprietary |
| Minimum Deposit | $100 |
| Leverage | N/A |
| Spread | N/A |
| Review Rating | N/A |
Is Crypto Messiah Reliable? Safety and Regulation
The safety of the funds is imaginary with the Crypto Messiah scam broker. Primarily, because they don't share any ownership info. Also, they don't have any kind of regulations. But also they are not even in any register as a legitimate company.
On top of that, the company falsely claims to have compensation funds for traders. Allegedly that insurance is issued by AXA Insurance Pte Ltd. Thus, their register is empty. As well as any other Tier 1 regulator. Starting with FCA which is the primary choice in the UK.
On the contrary, instead of licensing this broker earned a warning from the FCA and Finacial Commission. Consequently, numerous other institutions followed FCA's lead.
Also, we encourage you to check our Robotics Forex and Bitech Max reviews. Expand your knowledge about the trading world to avoid becoming the victim. 
Overview of the Broker's Trading Platform
Since this company is a non-standard broker, we are not talking about regular trading software. This company is a crypto exchange. Traders are purchasing a certain amount of crypto coins. Since the Crypto Messiah scam broker doesn't have a demo account we are unable to test it.
Most likely traders have only basic charting options and crypto news. In general, crypto trading is interesting because of its volatility.  However, with high leverage, it can endanger your account balance. With this investment scam, you don't have to worry about leverage. The only thing questionable here is withdrawals.
Account Types Offered
Crypto Messiah broker has also an unconventional account type offer. Firstly, they claim to provide a guaranteed profit of up to 300%. You understand that if they can predict market movement they wouldn't need your money.
The minimum deposit starts at $100. However, to open any account type you have specific minimum requirements. Your choices are:
A     

$500

B     

$1.000

C     

$5.000

D     

$10.000

VIP  

1 BTC

WP  

5 BTC

MP  

10 BTC

YP   

50 BTC
Profits for each account range between 120-300%. Also, the time period goes up to 1 year for return depending on the account type. Instead of risking your money with a broker already found as a scam, check our list below. Brokers with valid licenses with a demo and micro-accounts. Completely transparent ones.
Available Crypto Messiah Funding Methods
Non-surprisingly, this scam broker doesn't have transparent funding options. As the crypto exchange, we expect them to accept already crypto transfers. However, they claim to have alternative funding options. Thus, they don't reveal which ones.
Another key point is a withdrawal policy. Allegedly, the withdrawal processing time is up to 24 hours. However, the company can delay the procedure in case of unstable operations or maintenance. Which by miracle happens only when you want to withdraw the profits.
On top of all, the broker promotes a referral program. This encourages traders to bring more traders into this investment scam. Of course in exchange for a commission. Even if it's transferred to you, that would look like a Ponzi scheme.
How Does the Scam Intervene?
Many traders get lured by the quick money scheme adverts. Also, these scam brokers don't hesitate to harass you on social media. We have seen many companies trying to build up trust through LinkedIn or WhatsApp. But that doesn't make a difference once you start trading with them.
Practically, they will promote crypto transfers for many reasons. Indeed, cryptos have huge potential. But not with an investment scam like Crypto Messiah. Instead, you should always look to make a debit or credit card transfer. That way you can get a chargeback in case anything goes wrong. That's why we have established a fund recovery team. For these scam brokers, not even regulators are a big threat.
Therefore, traders are left to their own decisions. To avoid headaches about money stolen from you, get in touch with our team. We can advise you on any further steps in the money recovery process. Also, important to know is that our team is equipped with CipherTrace software. It's an amazing tool allowing us to trace those anonymous transfers. Afterward, you are one step away from getting your money back.
Crypto Messiah
Summary
Completely anonymous crypto exchange.

Non-transparent funding options.

Multiple warnings against Crypto Messiah company.

No demo account is available.

The company is falsely presenting documentation to prove legitimacy.
FAQs About
Crypto Messiah
Broker
The Crypto Messiah is regulated?
No. This company doesn't have any licensing to provide crypto exchange services.
Is the Crypto Messiah a Safe Place for My Money?
Absolutely not. Many financial regulators have issued a warning against this fraudulent company.
Is a Demo Account Available on Crypto Messiah?
No. This company doesn't want to reveal the platform unless you purchase crypto.