August 14, 2023
Reading Time:
6
min
Cryptoalgorithm Net Review: The Shady Secrets of This Fake Broker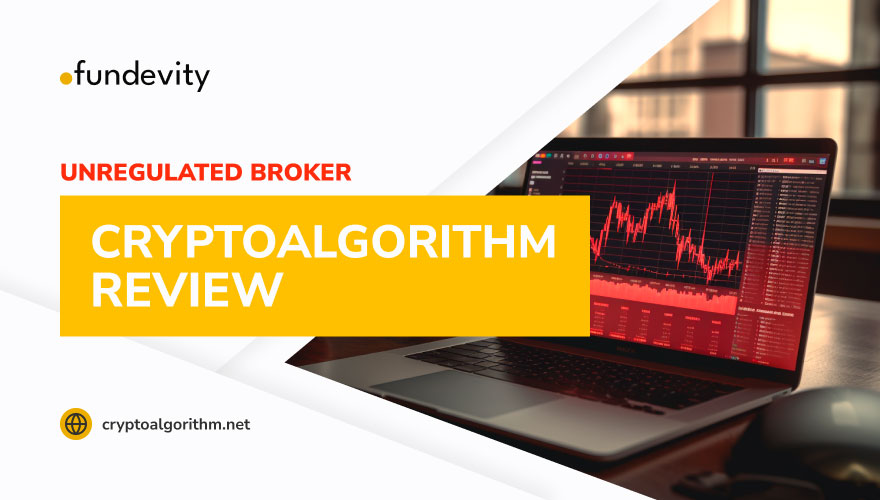 It's a known fact that in crypto trading it's crucial to distinguish between legitimate brokers and potential scams. In this Cryptoalgorithm Net review, we delve into a questionable brokerage platform that claims to offer many benefits and features. 
Yet, alarmingly, there are concerns about its legitimacy. What's more, numerous clients have labeled it a scam. Join us as we uncover the truth behind Cryptoalgorithm Net and shed light on the risks associated with this bogus platform.
General information
Name:

Cryptoalgorithm

Regulation status:

Unregulated Broker

Warnings from Financial Regulators:

The Financial Commission

Website link:

https://cryptoalgorithm.net/

Active since

2022

Registered in

8 Weesperplein, Amsterdam, North Holland.

Contact info:
[email protected]
Trading platforms:

N/A

The majority of clients are from:

Australia 

Slovakia 

United Kingdom

Czechia

Customer support:

Email-only

Compensation fund:

No
Cryptoalgorithm Net Legitimacy: A Closer Look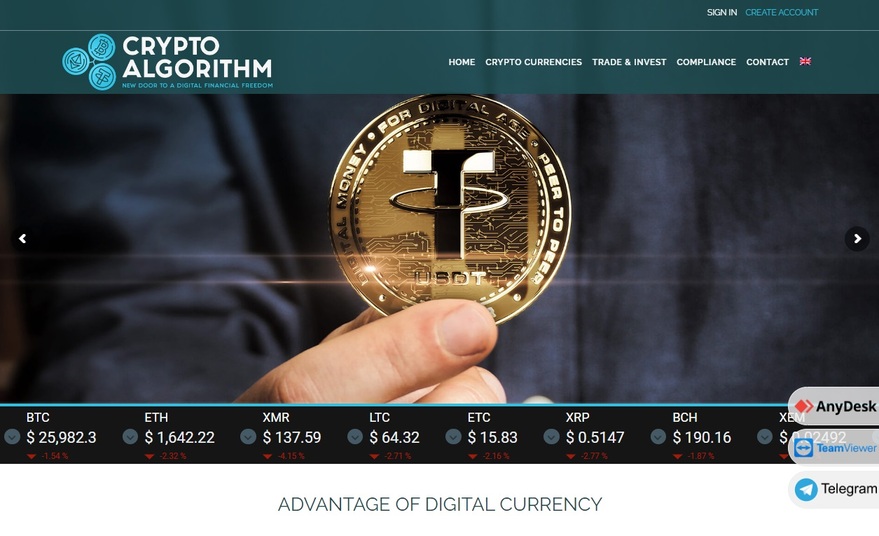 Allegedly nestled within the heart of Amsterdam, North Holland, Cryptoalgorithm Net presents itself as a crypto trading haven. Despite its claims, a noticeable lack of transparency shrouds its operations. Reviews from various sources have raised suspicions about the platform's legitimacy, dubbing it a possible scam broker. Beware of that! 
Adding to the doubt, the Financial Commission has issued a warning against them and all the related websites. Following an accurate review of information submitted by potential customers, the Commission determined that the company's website and associated activities may be aimed at defrauding traders and investors. 
Consequently, the Commission cautions against engaging with any individuals representing this broker on social media or private messaging apps. That has led to Cryptoalgorithm Net's inclusion on the Financial Commission's Warning List, stressing the need for caution.
Regulation is your safety net in the financial domain. It's like having a guardian watching out for your interests. With these rules in place, your investments are better protected, scams are stopped, and shady dealings are exposed. When it comes to trustworthy regulators, keep an eye out for Tier 1 giants like the Financial Conduct Authority (FCA) in the UK and the Australian Securities and Investments Commission (ASIC). These are rock-solid shields that help ensure your financial journey is smooth and secure.
Trading Assets Available: Diving into the Abyss
Cryptoalgorithm Net boasts an array of crypto assets. It includes popular cryptocurrencies like BTC, XRP, DOGE, ETH, SOL, and more. While this breadth of options may seem appealing, it's vital to exercise caution. 
The abundance of assets should not overshadow the credibility of the broker. When considering crypto trading, it's wiser to explore reputable exchanges such as Binance or Coinbase to ensure your investments are in safe hands. They always aim to put their client's safety first, no matter what! 
Note: This dubious broker preys on individuals from various countries, including Australia, Slovakia, the United Kingdom, and Czechia.
Trading Platforms Available and Cons: The Missing Pieces
What is there to know about the Cryptoalgorithm Net platform? Curiously, Cryptoalgorithm Net fails to disclose any details about the trading platforms it uses. Can this be more suspicious? This omission raises many eyebrows, as established brokers typically utilize impressive platforms like MT4, MT5, or proprietary software. 
This noticeable absence of platform information underscores the need for due diligence. Traders are encouraged to seek regulated brokers and crypto exchanges that offer transparent trading environments. If in doubt, our team is available to provide a free consultation, ensuring your trading journey remains secure and solid.
MT4 and MT5: Your Trading Allies
Imagine having trading platforms that feel like your closest companions. That's MT4 and MT5. They're UI-friendly, packed with tools, and can be customized to match your trading style. 
Want to track market trends? Done. Craving advanced analysis? They got you. Plus, their mobile versions keep you connected on the move. With MT4 and MT5, you're surrounded by friends who make your journey smoother and smarter.
Trading Environment: Navigating Account Types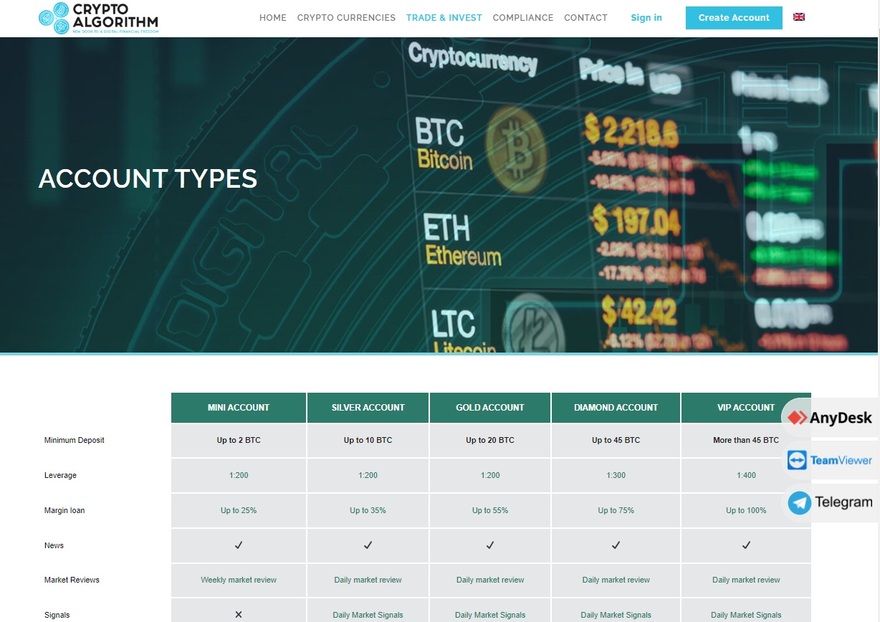 Now, what about the Cryptoalgorithm Net account types? Cryptoalgorithm.net offers several trading account types tailored to different investor preferences. These are as follows:
Mini Account:

Minimum Deposit – Up to 2 BTC, Leverage – 1:200, Margin Loan – Up to 25%

Silver Account:

Minimum Deposit – Up to 10 BTC, Leverage – 1:200, Margin Loan – Up to 35%

Gold Account:

Minimum Deposit – Up to 20 BTC, Leverage – 1:200, Margin Loan – Up to 55%

Diamond Account:

Minimum Deposit – Up to 45 BTC, Leverage – 1:300, Margin Loan – Up to 75%

VIP Account:

Minimum Deposit – More than 45 BTC, Leverage – 1:400, Margin Loan – Up to 100%
The broker clearly attempts to lure people with various account options. Yet, the potential risks of dealing with a dubious platform cannot be ignored. Investors are advised to tread carefully and opt for regulated alternatives that offer a more credible trading experience.
Customer Service
When it comes to getting help, Cryptoalgorithm Net takes an unusual path. No phone or live chat options are available. You will only find an email address ([email protected]) on their Contact Us page. 
It's a bit odd, considering legit brokers usually offer multiple ways to connect. Trusted brokers provide various channels for reliable and swift assistance. So, if you're feeling lost in the support maze, remember, there are better routes to get the help you need.
Earning & Withdrawal: Signs of Deception
Cryptoalgorithm Net reportedly accepts crypto deposits. Also, they feature the logos of Visa and Mastercard on their site. However, reputable brokers and exchanges offer a diverse range of payment options, far beyond just credit card deposits. 
This limited payment selection raises concerns about the platform's transparency and reliability. To ensure your funds remain secure and accessible, consider platforms that provide multiple payment lanes. These can be AdvCash, Skrill, Neteller, PayPal, Payoneer, bank cards, wire transfers, and more. 
Trader Reviews: A Sea of Negativity
Feedback from traders who've interacted with the Cryptoalgorithm Net scam paints a bleak picture. Trustpilot, a popular review platform, rates the broker at a murky 3.1 stars. 
In online trading, where trust is critical, such a rating falls far below the standards set by reputable brokers. Remember that many legit brokers often command 4.5 stars or more. Prioritizing brokers with higher Trustpilot ratings can help protect your money and offer peace of mind. This goes without saying. 
Note: Another unsettling broker has raised suspicions. Quick research reveals that TorroCapital lacks the backing of any reputable regulatory authority.
Tactics of Scam Brokers: Staying One Step Ahead
To avoid scams like Cryptoalgorithm Net or TradeCare365, you need to know their tricks. This knowledge is your best defense. Watch out for offers that come out of the blue, tempting you with investments you didn't ask for. Be cautious of promises that sound too good to be true, like sky-high profits overnight – these often lead to disappointment.
Stay alert if you feel rushed to hand over your funds relatively quickly. Remember that trustworthy brokers give you the time you need to make decisions. Look for brokers who lay their cards on the table, sharing clear details about how they operate and are regulated. Positive reviews and a solid reputation from other traders are like gold. They show you're in safe hands!
Remember, being informed is your superpower against scams. Don't rush, don't be swayed by too-good-to-be-true offers, and always go with brokers who've earned their stripes and your trust. Your financial security is worth it.
Long Story Short – Cryptoalgorithm Net
So, what can we conclude from this article after all? Cryptoalgorithm Net platform raises red flags that cannot be ignored. The lack of transparency, negative reviews, and potential warnings from regulatory bodies paint a problematic picture. 
When venturing into the world of trading, it's crucial to prioritize your security and investment. The same applies to both crypto and FX trading! Avoiding dubious brokers like Cryptoalgorithm Net and TradeDu can help ensure your journey in the crypto market is both profitable and secure.
Seeking the perfect broker for your trading style? Reach out now for a free consultation!
FAQs
Is Cryptoalgorithm Net Legit?
Cryptoalgorithm Net's legitimacy is questionable, with warnings and negative reviews suggesting potential risks.
How Much Is Cryptoalgorithm Net Withdrawal Fee?
Withdrawal fees for Cryptoalgorithm Net remain undisclosed, raising concerns about hidden costs.
How Long Does It Take To Withdraw Money From Cryptoalgorithm Net?
Withdrawal durations from Cryptoalgorithm Net are unspecified, raising uncertainty about reliable fund access.